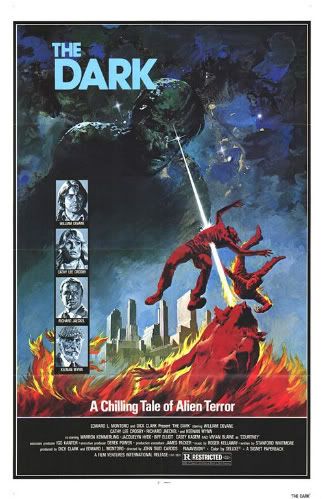 Nothing says seventies sci-fi quite like a nifty pair o'
lazar beam eyes
(dig the old dramatic spelling there, would you?).Why, you could even take a script that originally focused on a supernatural, demonic entity doin' the snuffin' off of folks, that might be helmed by a genre vet like, sayyyy...Tobe Hooper, fire him, bring in an old stunt man-turned-director like Bud Cardos, of
"Kingdom of the Spiders"
fame to complete it halfway through, with the mentality that the film would be better served with a more
sci-fi
tinge, to compete with all the recent space alien-based box office hits of the day and slap together a last minute patch job cash grab and wheel away with 'barrows and 'barrows of long green before audiences even realized what hit them.All it needed was some
lazar beam eyes
.Kids grooved on those, didn't they? Just like action slacks and Supertramp albums.
You could almost imagine Ed Montoro and Dick Clark, the producers of tonight's entry, discussing the direction this film was about to go in, and how everyone involved would be better off for it.Only, things didn't exactly go according to their plans.Neither man ended up blowing a silver platter worth of nasal confectionaries with six half-nude Solid Gold dancers in the Studio 54 bathroom due to
this
movie's release, it's safe to say.They ended up with a lethargic, muddled, uninteresting, sloppy mess that would have died completely forgotten if the folks at Shriek Show didn't emptyheadedly roll out the red carpet and give this gas-filled toilet bowl floater the special edition dvd treatment nearly thirty years later.Naturally, genre hungry fans unfamiliar with the title, pre-order the disc with hopes on high,then see what they've actually been conned into buying, then drop it off at the local dvd Buy/Sell/Trade for about a dollar and a half worth of store credit, where the disc is eventually picked up by Uncle Wop, who's familiar with it, for about four bucks.I endure the thing yet one more time(after enduring it in the cable box days at least two or three times),cull my screenshots,and throw together my review, so that nobody else makes the same mistake the early bird dvd buyer did.The more I think about it, four bucks is pretty steep for what's served up here...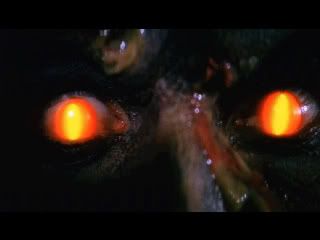 Lazar beam eyes! The kids'll think it's outta sight.
Santa Monica residents start turning up mutilated and beheaded(off camera,of course, how this PG fare
ever
merited an R from the MPAA remains a mystery), one a night, thanks to a powerful, unknown entity the local press has dubbed "The Mangler".Detective Mooney(Richard Jaeckel)gets a hot tip from an eccentric, elderly psychic named DeRenzy who's seen visions of one of the unearthly killer's next victims,a young, nameless, would-be actor she met briefly at a groovy boat party.Mooney laughs off her prophetic warnings, and chooses to threaten an author named Warner(Bill Devane),the father of the first victim, who he'd sent to prison years earlier, instead.Warner looks like a skeevy piece of street crud, rocking a headband, Foster Grants, and bellbottoms while zipping around town in a convertible Corvette thanks to his writing skills, and vowing to one up the police task force with his own amateur investigation.The kindly old psychic goes home and has a stroke for her troubles.Then there's Zoe Owens(Cathy Lee "That's Incredible" Crosby),a television reporter with unrealized dreams of covering a hard news story, and her dissuading producer(Keenan Wynn) who tries to keep a lid on the sensational crimes unfolding before their very (non-Lazar)eyes.The cops have nothing.Even a conference with a pathologist(Casey Kasem) produces no results, other than identifying the skin color of the murderer. That'd be
grey
, for the record.
"Yeah, this is Warner(Bill Devane),whattaya mean my masculinity checked out the second I put this robe on??!!"
Warner plods around his digs in the gaudiest sissy bathrobe ever committed to celluloid, before pitching an impromptu partnership to the the reporter, who not only grooves on the idea of combining resources with the pug-faced ex-con, but also gives him some pussy for God-knows-what-reason along the way.Huh?? Maybe it was Corvette rides.Meanwhile the cops fumble over a growing number of crime scenes, talking about beheaded victims who were clearly disintegrated by ocular rays of some sort. Perhaps
Lazar beam eyes
.Plot continuity? We don't need no stinking plot continuity.Warner and Owens visit the psychic, who's been lying around her devastated flat in stroke-throes for what seems like an hour now,just in time to hear her twisted yap struggle with her earlier prophecy about the unknown actor again.If they can manage to hunt down this young man, they'll eventually come face-to-face with the murderer himself.Some ninety pointless minutes later, in a warehouse surrounded by policemen, they get their wish.The killer(John Bloom)is an eight foot tall, long haired, grey-faced alien, who happens to be wearing a flannel shirt, jeans, and work boots for some unexplained reason.The cops' bullets have no effect on the space invader-turned-construction worker(?), who shoots
lazar beams
from his eyes.After several minutes of lazar explosions and gunfire,Warner casually strolls up to the thing and sets it on fire, causing it to explode into nothing.In the end, even a narrator comes in and explains that not every alien encounter will make sense, exactly the way this one didn't.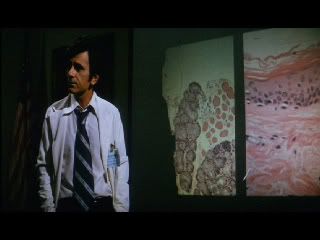 Well,there you have it. Keep your squamous epithelium based with underlying lamina and keep reaching for keratinocytes.
Cardos, who, in his stunt heyday, played one of the junkyard bullies in
Psych-Out(1968
), went on to direct ten motion pictures, and we've already covered the only real noteworthy one here.Devane, who's probably best remembered for his work on Knot's Landing, works steadily in television to this day,and the same goes for Crosby,who never
really
made the leap to the big screen herself.She could probably lay most of the blame on this movie.The late Jaeckel saw a lot of genre action as a favorite of William Grefe' and Billy Girdler, acting in fare like Grizzly,
Day of the Animals
,and Mako:Jaws of Death.Seven foot four inch Bloom, who got his start in exploitation icon Al Adamson fare at the outset of the seventies with titles like Dracula vs. Frankenstein, Brain of Blood, and The Incredible Two-Headed Transplant, before getting a chance in mainstream movies like Bachelor Party and The Great Outdoors, passed away twelve years ago this month at the age of fifty-four.Sadly, tonight's movie can't be a high point in the career of anybody involved.On the scale, one single wop, and that's only because I'm kinda zooted, and feeling generous-like at the moment...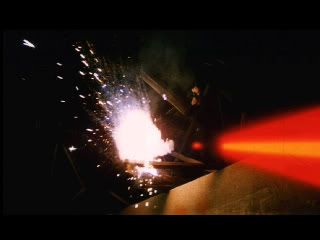 Watch out for those lazar beams, coming from the eyes! He's got lazar beam eyes!