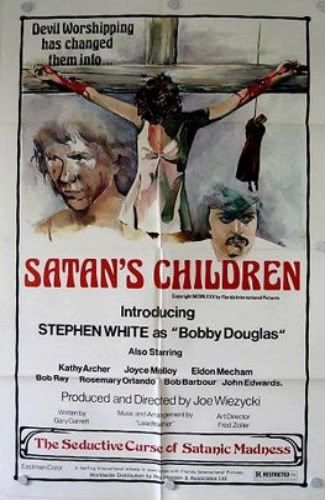 May the Ancient Ones joyously rend the bastards over at Something Weird Video limb from limb for uncovering such a strange and wonderous lost regional drive in piece of seventies shit as tonight's entry, kiddies.I love you SW guys, seriously.Don't let the $38.50 budget fool you, this is one twisted flick, indeed.For a movie that's brave enough to bring to light Satan's(or the filmmakers?) inherent hatred of queers, there sure seems to be a lot of repressed underpantsin' going on here.Shot on a shoestring in Gibsonton,Florida(don't most of the country's sideshow people own a big trailer park down there?and didn't Lobster Boy get popped in that same trailer court in the nineties?) by Wiezycki, a Tampa television director with a burning desire to make real movies.I haven't had a chance to catch his one earlier film,a blaxploitation flick, so I can't say whether or not he ever succeeded in doing so.I'm laying my money on "Fuck,no."...at least until his movie landed under the woproscope here at the Wop!Lead actor(?) Stephen White looks like what you might get if you smashed Gary Oldman and Danny Bonaduce together and then sprinkled the result with homo powder and put it in tighty whiteys for three days worth of shooting.If you think his sexual orientation is foggy, wait 'til you see the local gay-hating Satanists.The whole thing feels like it's a frame away from turning into some skeevy seventies gay porn, which it thankfully never does, still managing to maintain a creepy enough "groovy communal atmosphere" to keep viewers interested until the ghetto-assed final credits roll.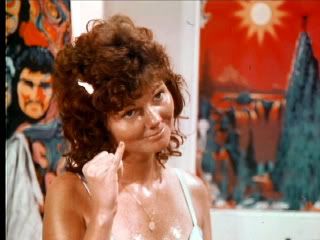 You'll be lucky to get a pinky's worth with a head like that, sister.
After some credits roll over a bogus-assed drawing of the dark lord and master the film's producers must've snagged off my fifth grade art teacher,we're introduced to effeminate teen, Bobby Douglas(Stephen White), who has it real rough, man.He's got like, yardwork and chores to complete before he can groove in his room to tunes under the influence of some shwaggity dirt weed.It doesn't help that his ballbusting fuckfaced sister Janis(Joyce Molloy...who am I kidding,none of these names were ever uttered again in film)takes potshots at his manhood and waves her panty purse in his face every chance she gets.After some dinner table foot-crotchin' backfires, she sings to pop about Bobby's funny bag of tobacco he's got stashed, forcing him to blow the clambake or forfeit his nugs to dad.He wisely splits the scene, but not before telling his father to "Go to Jesus H. Christ Hell!", a place most foul, indeed.At a local bar, Bobby barely avoids the lecherous advances of a lonely old queer, only to end up naked and hog tied in the back seat of a car full of homo hillbillies who gang rape him and leave him for dead on the side of the road.Luckily for him, his punched out carcass is discovered the next day by some nearby Satanists awkwardly huddled together and playing Keep Away with a volleyball.Yeah, that's what I said.Interim cult head,Sherry takes a shine to the abused boy amidst dissent from her fellow lispy Satanists who claim that the Devil has no time for queers and losers.Sherry also strings up a female cultist in her drawers for having lesbian desires.Okay, so these guys are
Straight-anists
.
Now that's what these creeps call a Saturday night mobile ass party.Deliverance on wheels.
By the time Simon, the actual moustachioed leader returns to the compound(from cleaning out Sears of its backstock of the fall men's line for 1973, seemingly), some of his people have been hanged for treason(praying for Simon's return to what looks like a State Fair stuffed animal version of Baphomet,sewn together by dirty kids in a Singapore sweatshop, hanging on a wall), forcing him to have Sherry buried up to her head outside and covered with honey so that the ants will feast on her flesh.Eventually.You've got enough time to run to the concession stand for that Nardone's pizza and fries you've been crying about since the intermission, relax.Bobby escapes the enclosure in his tighty whiteys and flees the devil worshippers into the swamp.One cultist fries himself on an electrified fence(off-camera,you kiddin' me?)and two other of Simon's thugs drown in a dug out pool of about one hundred fifty dollars worth of oatmeal.I mean, quicksand, of course.He makes it back to the homestead to brain his old man with a bottle, score with his own sister, tying her up and throwing her in the trunk of a car, while he drives back to the scene of his earlier rape, serving up buckshot justice to the over-zealous fruits and sawing their heads off(off-camera,c'mon!).He saunters back to the Satanists with a sack full of severed heads to show Simon, who no longer doubts the boy's sexuality or nature.The cultists nail Janis to a cross and hoist her into the air, while performing groovy rituals all around her.Bobby takes the horse-mouthed Sherry to bed for some more awkward-looking, forced kisses. Hail Satan!
Drain the stage blood from the animal-shaped papier mache bags for the ritual!
Kudos to SWV for unearthing such a weird,little flick, released on a special edition double feature dvd with site fave William Girdler's first effort,"Asylum of Satan", which we'll no doubt be looking at in the future here.Though Children is certainly not
good
by anyone's standards, I think it's undeserving of the negative tags for the film's supposed anti-gay slant I've seen a lot of knee jerk 'netters pin on it thus far.So yeah,Gibsonton,you're
not only
the winter getaway for sideshow performers, you're
also
the birthplace of tonight's movie.You might wanna work on some new tourism draws one of these days, as much as I'd love to check you out sometime.I may not be one of your Ectrodactyly-afflicted, pincer-having rascals, but they say great physical beauty can be a flaw, as well, you know.One wop.
Weep not,my children.She was crucified by a hatchet face long before they hammered her up.