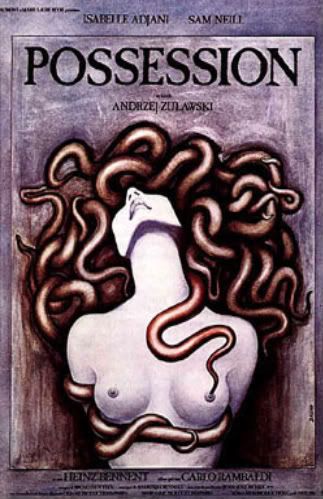 I've had some pretty dismal relationships in my day in the quest for the perfect blend of fierce loyalty, unquenchable sex-fire, and
slight
insanity(can't avoid the I word when you're talking women, can you?), but I've got the feeling that even if you combined all of the most rotten relationships I've ever had into one caustic,abusive black nightmare, it'd play like Rock Hudson and Doris Day compared to whatever the hell Polish exile director Andrzej Zulawski went through during the making of tonight's entry.When Vestron released it in America on vhs years ago, they snipped some
forty-seven minutes
out of the original one hundred twenty-seven minute running time.That's not fucking peanuts.And for an art film from which Zulawski achieved his most widespread international success, permeated with emotional aggression and allegory of a bombastically pulverized marriage and its ghastly byproducts seasoned with horrific gore, coital demons, and a release poster that pre-dates Japanese tentacle porn by a few years, it's safe to say the vast majority of filmgoers walked away from the experience scratching their domes in confusion.If you're looking for a brilliant intellectual dissertation on the film from ol' Wop, you'll have to catch me between lattes in Soho sometime.I just know Big Z captured some truly memorable sequences on film and pulled unbelievable performances out of Adjani and Neill(Adjani especially, she might put you off dating for a while once you've seen her here).Probably not the optimal viewing choice for anybody about to start a new whirlwind romance, but then again, in
my
twisted mind, it kinda is.
Anna(Isabelle Adjani)grinds herself some handburger.
Mark(Sam Neill) resigns from his work for the secret service, to return home with a suitcase full of greenbacks to his wife, Anna(Isabelle Adjani)and young son in Berlin. Almost instantly,he notices his strikingly beautiful mate exuding strange airs; their son Bob being cared for by Margie,who refuses to divulge names or addresses of any guilty male factors involved in the sordid affair.Several increasingly violent and brutal domestic battles ensue,with Anna's erratic behaviour ultimately leads to her matter-of-fact confessions of infidelity dating back a year already, with a flamboyantly self-absorbed middle-aged German named Heinrich(Heinz Bennent),who believes he's attained the highest levels of sexual zen through ballet training, guru mysticism, drug use, and, of course, fashion, all while living with his mother(!), clearly besting the previous record for not leaving the nest held for thirty-eight years by my cousin Phil.The two men have themselves a punch up, with Mark ending up on the wrong end of an embarrassing beating at the hands of the intellectual sissy.Fed up, he breaks camp, leaving his family to sort themselves out on their own, but when enveloping guilt(and a nervous breakdown)brings him home, he finds the situation has degenerated further than he could have imagined, his boy dirty and neglected, his aloof wife often nowhere to be found.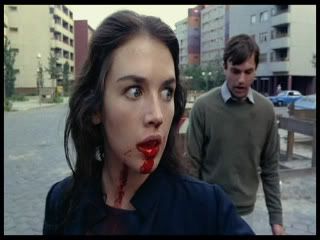 To say Mark and Anna have a rocky marriage is like saying Sharon Tate's crib could have used a Swiffer on Aug 9th,1969.
To further complicate matters,Mark is astounded to discover that Bob's teacher, Helen, is identical in appearance to Anna(perhaps because it's Adjani with different colored hair and contact lenses,but what the hell do I know?),and begins a sex-free relationship of innocence and purity with the doppleganger.On the polar opposite end of the spectrum, things get progressively worse with Anna projecting her harrowing sense of helplessness through blankets, electric knives, and meatgrinders, culminated by a mind-blowing flashback sequence in the Berlin subway station, where she goes apeshit with a bag of groceries, screaming uncontrollably while whipping the bag's contents against a nearby wall, writhing and spasming jerkedly, and oozing blood and fluids from every orifice in her convulsing body.No Midol in those groceries, honey?When she disappears again, and a distraught Heinrich with slighted ego is
not
her destination, Mark hires a detective to tail her on her new path of self-destruction.A dirty, sparsely-decorated, out of the way love nest holds the terrible truth for all interested parties, leading up to a finale packed full of blood, bodily fluids(and parts), tentacles, fucking, murder, and death.If that hasn't sparked your interest to see this one, you might wanna check your pulse to make sure it hasn't stopped altogether.
After getting six shades of shit kicked outta him by a guy doing this,Mark(Sam Neill) gets his guy card pulled indefinitely.
As of this writing, I've never seen any other Zulawski films, mostly French in origin and directed at the arthouse crowd, but I fully intend on doing so before the smoke clears.His mastery of the medium is blatantly on display in this Cronenbergian effort, using camera angles and movement,and even
sound
to disorient the audience for his own complex ends.According to the dvd commentary from the director himself,despite the critical praise for her amazing performance,Adjani allegedly attempted suicide after viewing the finished film.Once you've seen the movie(where it doesn't seem like her character is having a breakdown,but the actress herself is doing so) yourselves, you'll realize that's almost a logical conclusion to such a project.The effects work by Carlo "E.T." Rambaldi,who's also been resonsible for such genre work as Profondo Rosso(1975), Una lucertola con la pelle di donna(1971), and the head mechanics behind Alien(1979), among others, are startling and brilliant.This movie, beautiful and depraved, isn't for everybody, and certainly not something for the usual Freddy Krueger fanboy, and as such, I can only award it two wops on the scale, even if my personal feelings about it are much, much stronger.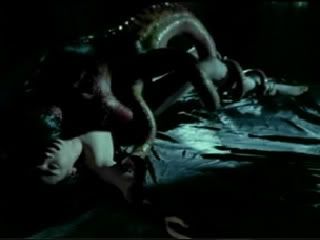 Isabelle earned herself a French Oscar in 1981 for this performance,barely edging a Japanese lady who fucked an octopus onscreen.