Long before Travolta became the 'creepy, tubby middle-aged guy in the see-thru closet'(Is he out
yet
?), he portrayed the fabled 'boy in the plastic bubble' in a glorious made-for-television production full of unintentional laughs, bobbler-heavy mid-seventies teen foxes, and an extra-goofy Kotter-era Travolta walking around in public in an orange velour space suit with a tube sticking out of the top of his head, that you could probably pick up a shitty copy of on dvd for less than the price of a can of rash-inducing generic Mexican Pringles(Chingales, I think they're called...) at the local Dollar Store.For serious.I can't recall exactly which discount department store bargain bin I snared tonight's entry out of, for sure, but it was well worth the buck, crappy, washed out direct-from-vhs transfer and all.Helping Barbarino unsuccessfully attempt to tug at my heartstrings here are Robert "Brady Bunch" Reed(with
and
without paedo-stache and cauco-afro), Glynnis "Ode to Billy Jo" O'Connor, PJ "Halloween" Soles, John "The Wanderers" Friedrich, and even astronaut Buzz Aldrin in a cameo.Director Randal Kleiser has been churning out some headscratching shit for decades, helming tonight's feature before piloting the single most annoying musical of all-time(aren't they all?)just two years later.This is yet another one of those doomed romance tearjerkers tv studios loved throwing at you back in the day, and maybe I'm just a heartless sonofabitch, but it really doesn't work as such.Who am I kidding, "maybe"...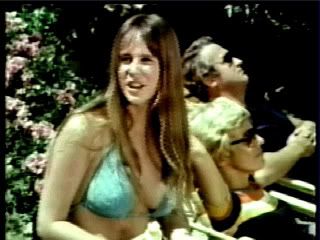 De-germify those righteous bikini-busters and meet me in my bubble, baby...
We're introduced to the Lubitsches, a luckless couple named Johnny and Mickey(Robert Reed,Diana Hyland), whose attempts to conceive a child to this point have ended with immune deficient newborns that stood less chance outside an incubator than a banana snack cake with methaqualone icing in Elvis Presley's lazy susan.They're visited in the seventies-esque-looking fifties by Dr. Gunther(Ralph Bellamy) who fans the flames of hope and informs them they've gotten pregnant again.Maybe this time it'll be diff...yeah, it's
not
any different from the failed past pregnancies, except that their baby boy survives past birth this time, and blossoms into a teenaged Vinnie Barbarino(John Travolta as Tod) thanks to a hermetically sealed germ-free hamster cage that he's kept in at the house.Tod's parents decide to let him attend high school via live closed circuit television camera feed, but he mostly uses the equipment to further spy on his female next-door neighbor, Gina Biggs(Glynnis O'Connor), who's blossomed, herself, into a foxy cigarette-smoking, make-out-on-the-couch teenager with dynamite jugs.At first, Gina's only interested in teasing her neighbor, strolling in wearing a bikini while he pops and locks to groovy instrumentals in his bubble like a skinny white Rerun from "What's Happening", and holding his rubber glove-hand through his portable incu-bubble on the beach just to win a money bet with her friends, leaving the sterilized sweathog all weepy-like and dramatic.In a low karmic state due to her prior bubble boy-ballbusting, Gina volunteers herself(for cash)to drop off Tod's books everyday after school and in return, Tod tutors her in all the subjects she's failing for the money his father's been paying her.Before too long, Tod's got her galloping around his port-a-bubble in the field on her pony(she's got a fucking
pony
...did an eight year old girl write this?)and equestrian show-jumping over him to the dismay of his nurse, who just happens to be "Momma" from "Throw Momma From the Train"(1987).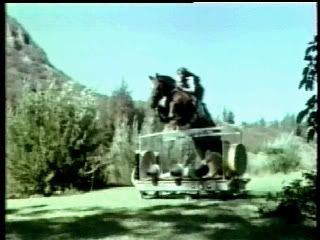 The Friday night Movie of the Week equivalent of Fonzie jumping the shark.
Somewhere along the way, he crosses paths with Roy(John Friedrich), a teen who is also bubble-bound, and discusses masturbation frequency with him.Tod is also visited by astronaut Buzz Aldrin(as himself), who stumbles over dialogue like a couple of sterno bums making a late night racket outside Paulie's window in Rocky III, giving Tod the notion that he should possibly venture out into the world in an orange velour space suit.In public.Where people could see him...in the space suit.You see where I'm going with this.Naturally, all the other twenty-somethings playing teenagers at school gawk and stare at him, and while he's recharging his battery pack, they take him out to the football field where they can burn a quick jibber(cut from some television edits) and ask him some stupid questions.Tod turns down the reefer, as it'd be pretty hard to pull a hit in his fucking
space suit
, and claims to be from a distant planet in the farthest reaches of space, even challenging Gina's usual love interest, Tom, to a contest of push ups, before his suit goes on the fritz(must have forgotten he was a bubble boy momentarily)and is rushed back to his aquarium, pron-fucking-to.Before too long, the fruits of Tod's tutelage pay off, with Gina's improved report card meriting her a college scholarship away from home.Tod pow-wows with Dr. Gunther, who hasn't aged a minute's worth since the boy was born(how's that done, Hollywood!), about his immunities and how they've strengthened over the years, but speculation concerning bubble-departure should be just that, as he'd surely explode Scanners-style or something if he tried to sneak out.Willing to risk it all for love, Tod strolls out of his bubble in the middle of the night, rousing Gina from her sleep next door, so they can ride off on her pony together as the sun rises.Seriously.If I don't have diabetes after a sugar-coated dump ending like that, I probably never will.
Sweathogs in orange velour space suits turn P.J. Soles on.
Cheers to
Cool Ass Cinema
, for digging up the vintage TV Guide advertisement for tonight's review.Visit them frequently and let 'em know that Wop sent ya.Kleiser teamed up with Travolta again two years later for that fucking musical-that-shall-not-be-named(no, not the Travolta-in-Divine-fatsuit for Hairspray musical remake, the
other
atrocity with Olivia Newton John), also directing Brooke Shields in her island cherry-popapalooza, The Blue Lagoon(1980), Big Top Pee Wee(1988), and even two episodes of Family in '76.Travolta enjoyed a months-long liason with Diana Nyland, who was eighteen years older than him(that's right, he passed on the sexy little O'Connor gal for a cougar living on borrowed time) and going through divorce preceedings, before she succumbed while he was filming Saturday Night Fever(1978)."What Would They Say", the theme song as penned and cackled by unlengthy songster Paul"Phantom of the Paradise" Williams, is as unsexy as a Whoopi Goldberg sex tape, to say the least.Reed, a thespian long forced into small screen astroturf hijinks on The Brady Bunch, enjoyed a busy acting career as a secretive homosexual until, hiv positive, he died of colon cancer and lymphoma at age 59.O'Connor has had a long television career, even acting opposite
another
70's teen idol, Robby Benson, in a few films.On the scale, Bubble is three wops deep, and a must-see for any self-respecting woprophile out there.Worse things you could spend a buck on, believe me...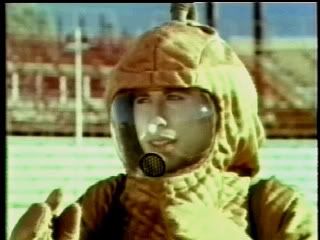 Oh yeah?Well, up yer orange velour space suit with a rubbah hose!