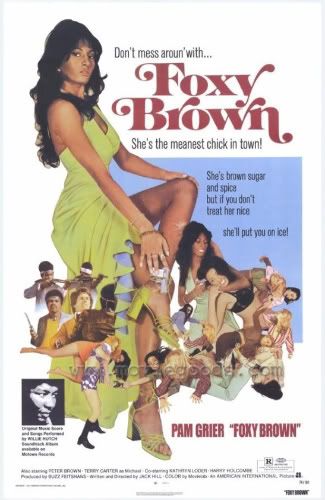 Pillow-chested stick o' chocolate dynamite Pam Grier hit the blaxploitation/Women in Prison scene like a pimpslapped cheek back in 1971 with a role in director Jack Hill's The Big Doll House and established herself thereafter as a familiar and formidable box office draw whose performances dripped with raw sensuality and gritty violence in some of the genre's finest offerings of the decade.Tonight, we'll be viddying what's got to be her crowning grindhouse work, the second of two blaxploitation movies she collaborated on with Hill(Coffy came a year earlier); a
delirious mash up of racial stereotypes, dated boogie-wear, domepiece squib hits, sloppily executed fights, afro wigs, and a pair of girthy mams that'd give Truck Turner heart palpitations, can you
dig
it?Also on board as Foxy's perpetual fuck up brother is none other than Antonio "Huggy Bear" Fargas, who's never been shiftier, in my opinion.Add to the mix blaxploitation vet Juanita Brown, long-time Hill-faves Kathryn Loder and Sid Haig, and a funkified r n' b soundtrack from Willie Hutch, and you've got yourself 94 minutes of B movie gold guaranteed to satisfy the most jaded genre nut.If only every dame could rock a polyester straitjacket-tittin' action pants suit with complimentary bra gat and be just as quick to judo chop jive turkeys as she was to NY Hustle in silhouette, the world'd be a much better place for cats to get down in, believe me, baby.Let's make it...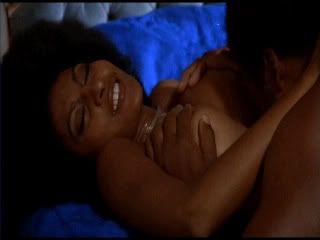 Foxy(Pam Grier)and Michael(Terry Carter) enjoy some quality ethno-motorboatin'.Blblblblblblblb, y'all.
Link(Antonio Fargas) likes beddin' hos, slangin' dope, and comin' up short for twenty large to loan sharks.When he's cornered like a 'hood rat at a hot dog stand by two mob-tied bonebreakers, he naturally uses the miraculous appearance of two esuriant honkey pig cops to rotary dial his bad-ass sister, Foxy Brown(Pam Grier), for some math-fast assistance with his burgeoning problems.Though Foxy doesn't dig her bro's unrighteous lifestyle, she doesn't think twice about rolling out of bed, stuffing a pearl-handled gat into her Brobdingnagian bra cup and saving his miserable hide in the nick of time.She lets homeboy crash at her pad until the coast is clear, so long as he doesn't interfere with the return of her fed boyfriend, Michael(Terry Carter), whose undercover work to pinch the mob(coincidentally the same cats Link owes bread to) failed epically enough for him to require a faked death, new identity, and plastic surgified grillpiece.Faster than Usain Bolt in a quicksilver jumpsuit, Link recognizes Foxy's 'new' man and feeds his criminal creditors the valuable skinny to eliminate his debt and effectively number Michael's days at the same time.When Michael eats hot lead-punctured death just outside his girlfriend's pad, Foxy stumbles across the pencil-modified photo clipping of her late lover, as doodled by that no good motherfucker, Link, and puts two and two together.Awww shit.She bursts into his crib as he's horizontal boogieing with his finest white bitch and fucks the place up in a whirlwind of womanhood, squeezing the names of involved mobsters out of his sorry ass before breaking the fuck out like poison sumac.Ain't nothing like some well-calculated revenge on the horizon, y'all.
Even Foxy's tongue is baaaad.
Oblivious to any moral high ground that may have existed prior to said vengeance, Foxy decides that the ultimate infiltrative guise she could don is: hooker.Eh, at least it makes for some near-nude fashion combos with extra emphasis on busty to squeeze into, as she shows up on the doorstep of the crime syndicate's modeling agency front, as overseen by the tyrannical Miss Katherine(Kathryn Loder) and her partner-in-crime, Steve(Peter Brown), who's instantly mesmerized by Pammy's massive mammies.The ever-jealous Katherine sends her out with another abused drug addict ho(Juanita Brown) to hotel room-hustle with a judge who's about to bang the gavel on one of their associates.The hos doublecross the jurisconsult and leave him in the hallway with his pants around his ankles as a small crowd of bewildered boarders approaches.Foxy vainly tries to lie low, but her new partner-in-revenge's wanderlust puts both chicks in a lesbo bar surrounded by aroused dykes who wanna fuck n' fight 'til the broad daylight.The syndicate reaches out to Link for his sister's whereabouts, disposing of him with bullets once the cat's outta the bag.Katherine ties up the meddling negress, fixes her up with a shot of junk, and leaves her to the devices of a pair of rapist thugs, but with the help of one helluva talented tongue, she manages to free herself, claw up some face with a bent-up wire hanger, and set the boys and their love shack on fire, before splitting.After some local would-be Panthers help her to perform a makeshift penectomy with a Bowie knife on a screaming Steve, and she snakes the controls of an amorous pilot(Sid Haig)'s biplane, using it to dice more of Katherine's men into minced mafiosi, she decends on the female crime lord with a jar full o' pickled junk, and just when it looks bad-meaning-bad for our hardcore heroine, she pulls a pistol from her afro and all Hell breaks loose.See for yourselves...
There's one mannekin that'll never see Macy's front window again...
Though you might think Grier's career got a nick o' time jumpstart due to Tarantino's 1997 fanboy tribute Jackie Brown(Great title.Yeah.), the fact is, despite the eventual decline of blaxploitation pictures, Pam never went anywhere, finding a steady flow of television roles on shows like The Love Boat, Night Court, and even MadTV, as well as movies like Ghosts of Mars, Escape From LA, Mars Attacks!, and Fort Apache the Bronx.She's an icon of the decade and a positive role model for women everywhere.You go, girl.Antonio Fargas has remained busy in the industry the whole time, himself, acting in television shows like Kojak and MacGyver(!) and even genre films like The Borrower(1991) and direct-to-video Howling VI:The Freaks(1991), while his son Justin lines up in the Oakland Raiders backfield.Go 'head, son.The legendary Hill has helmed cult classics like The Terror(1963) and Spider Baby(1968), as well as writing the screenplays behind The Bees(1978) and 1980's Death Ship.He's awfully nice on Facebook, too.On the scale, Foxy scores three big ones, packed with exploitative thrills n' chills, a definite treat for fans of such fare.Hell, it might even make a new fan out of you if you give it half the chance.Check it out.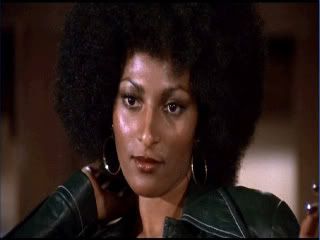 One chick's afro is another's gun holster, diiig?