I can't remember the last time there was as much positive net buzz about a movie's release in recent times, not that I read or buy into such propaganda very often(as it's usually totally
wrong
), but I felt like anything from the man behind the Saw franchise, especially such an ambitious project, as penned by Leigh Whannel, was worthy of a look from everybody's favorite narcissistic review blogger...well,
definitely
your mother's.The first half of tonight's review is a nearly flawless slice of haunted hijinks, chock full of apex jump scares and creepy atmosphere.It's in the second half of the movie where the plot gets bogged down in reality and logic with paranormal investigators and a demon that looks more than a little like Darth Maul's menacingly harmless half-brother.After seeing something like sixty-five hundred sweaty, grossly overweight Star Wars dorks garbed up like him, shambling to the nearest unoccupied corner of several Halloween parties with chubby hands full of candy corn and Snickers mini's at the start of the new millenium, not even Qui-Gon Jinn'd be frightened by that.Overall, it's still a better-than-average horror movie that manages to serve the viewer up some solid old school tension-packed scares despite running out of gas long before the closing credits roll.Wan
does
prove adept at freaking out an audience without intricate gore effects here, which isn't a simple task by any means, though, so let's give him credit for that.There just might be an excellent horror movie in the guy
yet
.He doesn't deserve the comparisons with M.Night Shyamalan's entirely scareless, largely worthless crap(If Rod Serling's Twilight Zone sucked, it'd be a lot like Shyamalan's movies)that he drew with this movie, I know that much.Let's get on with it, huh.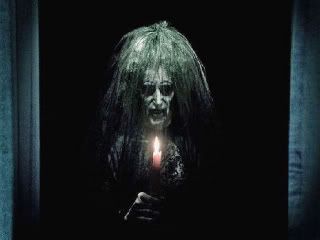 Blow that thing out, Grandma.You look better in the dark...
Renai and Josh Lambert(Rose Byrne, Patrick Wilson) have just finished moving into some hype new digs with their three kids, one of which, Dalton(Ty Simpkins), is afraid of his new bedroom.Dalton hears noises in the attic, and upon investigation, viddies something particularly nasty up there, and abruptly plummets off of a wooden attic ladder-step as it breaks.The next day when his father tries to wake him, he finds him comatose in bed.There's easier ways to skip off school, really.Specialists can't explain why the boy is unresponsive, and three months later, with their son occupying a hospital bed at home, Renai is frequently schitzed out by extrasensory occurences in their abode and her other consternated children claiming to see their slumberous brother flitting around the place at night.This naturally leads the family to pick up and move to another residence.Things don't get any better.Josh's mother(Barbara Hershey...that explains it all, doesn't it?) seeks help from a paranormal investigator named Elise(Lin Shaye), who, while self-hypnotized,
describes a demonic presence in the home to one of her two ghost-hunting colleagues, who sketches the netherworld-dwelling beastie for the concerned parents, who are naturally skeptical of the woman's clairvoyant skills and tales of their boy's ability to astrally project himself out of his own body into a spirit world that she likes to call "The Further"(coincidentally, the original title of the movie), only he's projected himself too far this time and can't return to his body, trapped in a shadow world of unkind entities.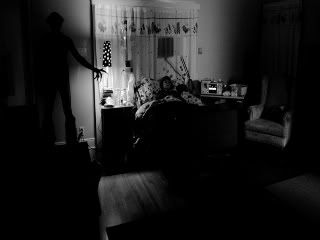 So long as that demon is standing in front of my deck, I'm gonna give practicing kickflips and ollies a rest for awhile.
Josh buys exactly zero of this, until he stumbles upon some drawings Dalton had drawn up pre-coma that resemble Elise's "Man with fire in his face"("Man who's just different enough from Darth Maul to avoid a hearty copyright infringement lawsuit from George Lucas" describes him better, I think).At this point, Josh's mom and her squirrelly buddy relate his
own
ability to astrally project as a child to them, and tell of the horrible candle-bearing old bag that had every intention of possessing him back then, as evidenced by her appearance in his childhood pictures; a bit nearer to him in each successive one, and the reason his mother stopped taking pictures of him altogether.Elise explains that Josh must use his special power to travel over into the Further and locate his son, who is being held prisoner there by the red-faced Sith L...uhh, demon, who also intends to possess the boy's physical body.He reluctantly agrees, and with Elise as a guide, is able to find his boy's soul, chained to a wall, amidst many unpleasant spirits and the aforementioned claret-hued bastard that's kept him there.There's a race to reach their physical bodies before they're captured by the otherworldly beings, but they seem to make it back alright, after Josh bravely confronts the evil old lady from his past and shouts her down.Later, while Dalton is eating in the kitchen with his mother and granny, Elise picks up a strange vibe from Josh while she and her associates are packing up.She picks up a camera and snaps a photo of him, which sends him into a murderous frenzy as he strangles her to death.Renai hears the commotion and runs in, calling to her husband with no response.She finds Elise's lifeless body and the camera on the floor, the last picture taken still present on the screen, only it isn't Josh in the photo, but the horrible old lady.She gasps as a hand grabs her by the shoulder.Fade to black...
"Suddenly, it feels like the red-bladed saberstaff of a Dathomiri Zabrak Sith Lord is poking me in my shorts.", thought Nite Owl.
Patrick Wilson, who's usually turning up in overblown duds like Schumacher's Phantom of the Opera(2004) and Watchmen(2009), has scored a genre credit in 2005's Hard Candy.Australian Rose Byrne has fared slightly better, genre-wise, earning credits in Danny Boyle's Sunshine(I liked it a lot, I just won't review it.There's enough Sci-Fi on the interwebz, don'tcha think?) and 28 Weeks Later in 2007.Lin Shaye, on the other hand, has a veritable cornucopia of genre credits to her name, appearing in everything from the original Nightmare on Elm Street, Andrew Dice Clay's underrated Brain Smasher...A Love Story(1993), and
Jeckyll and Hyde Together Again
, to 2003's Dead End and Snoop Dogg's Hood of Horror(2006).Sorry about that last one, Lin.Let's not forget the always sexy bungalow-born Barbara Hershey who's appeared in everything from Last Temptation of Christ and Boxcar Bertha to Falling Down(1993) and Black Swan(2010), when she wasn't getting felt up by ghosts in
The Entity(1981).
Besides Saw(2004), Wan has also helmed Dead Silence and Death Sentence, both in 2007.I'm slapping three big ones on Insidious, but for a movie with such high hopes and truly excellent beginnings, the solid rating has got to be looked at with a certain degree of disappointment.Still, you're gonna wanna see it for yourselves, as it's mostly very good.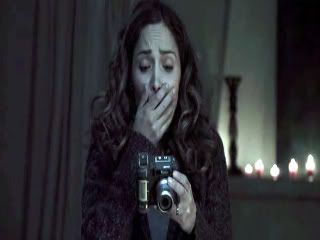 "ZOMGses! He totally videoed me singing into his pink microphone!!!"