Face it, there are a lot worse ways to pitch a dvd to a guy than plastering the cover with delectable Tromette/Scream Queen/self-proclaimed Queen of independent Cinema, Debbie Rochon, all raccoon-eyed with a length of duct tape slapped across her pretty yap.Sure, it appeals to baser urges usually trapped in the criminal corner of the subconscious, but when has that(or
anything
, for that matter) ever stopped Troma pioneer and lead pitchman Lloyd Kaufman from using it(and/or any means possible) to milk a few measly bucks out of your wallet?Hey, you could part with the same sawbuck while buying posh wrapping paper n' ribbons for yer Grandpa's special holiday gift this season, when you know damned well the senile old coot probably won't make it through the winter and would
much
rather a good ol' Troma Team Video, with enough blood, boobs, and toilet humor to keep his Depends Cruisers extra snug around the berries during his last, blustery cold, lonely nights on earth at the convalescent prison you unflinchingly locked him in a few years back, so you could get your life back on track without worrying about diapers, cat food, or nipple-high polyester slacks for awhile.Or something like that, you know.Tonight's review is a veritable eyeball banquet for fanboys(and girls, I'm sure) of Ms. Rochon, whose keen sense of humor and ample physical charms have been on display in Troma films since Tromeo defied the stars.Be sure to look for a special cameo appearance from Lloyd Kaufman.And Lloyd Kaufman.
When she's seducing the Jiffy Pop, it just makes me wanna Redenbacher.
We open with Debbie in a platinum wig, stepping into a shower(with her heels on, for some odd reason), only to be disobliged, Psycho(1960)-style by a cameraman, who she batters repetetively with an impressive flow of profanity.After a brief title sequence, we find our foul-mouthed Tromette toplessly tonguing some Jiffy Pop popcorn, before rubbing the tin foil container suggestively upon her pubic mound and moaning,"Ohhhhh, popcorn!".If that doesn't get the kernels a-poppin', what will? I ask you.She's interrupted by an inquisitive Scream-esque phone call that calls her a "tough nut to crack" due to her aversion to new ultra-hip, ironic slasher movies with four ninety-nine masks.She replies:"Fuckin' A, pal!"She urges the voice to try to scare her.It tells her she's broke.Some repo men arrive to jack her shit.She curses them six ways from Sunday.They tell her she can keep her Troma videos.Whatta gal.We see some quicky video promos with Kaufman's superlative teleprompter reading skills, several scantily sclad Tromettes(Debbie included), and his iconic Toxie for cult hits like Tromeo and Juliet and Class of Nuke 'Em High 3:The Good, The Bad, and the Subhumanoid.Okay, 'cult hits' might be stretching it a little.But everybody's having fun hardselling it for the cameras, so, who am I to judge?The skits continue.There's a bikini-clad board of Troma directors, Lloyd picks his nose on-camera and fumbles through multiple takes in zombie makeup.Debbie interviews Oliver Stone via clips from "Sugar Cookies".More lovingly restored, digitally remastered director's cut dvds are humorously introed by Lloyd and Debbie.Several.
I've seen this particular pair o'bobblers somewhere before.Hmmmmm...
After inspecting a wall of much autographed Debbie-bilia with a pair of hefty fanboys, we come to a video tribute to Rochon that finds her rubbing elbows at a convention with a couple of guys who might want to haunt the circuit less often until they've seen some extensive cosmetic dental procedures.Seriously, bro.The Godzilla vinyl collection'll be there waiting for you when you get out of oral surgery.Debbie's webmaster gets some screen time.Then it's time for footage from her film appearances, like 2007's Poultrygeist where she gets hit in the head with a soft drink while Az-based ginger scream queen Elske McCain repeatedly screams "Fuck you!" while jumping up and down with her tits out.Then, in 1999's Terror Firmer, we find Debbie in a familiar blonde wig getting ploughed in a public toilet from behind as a blind Lloyd Kaufman serves up some urine-based coitus interruptus while offering African bowel-evacuation tips.Nice.Next is 1995's Tromeo and Juliet, where Debbie with faux tats n' piercings goes Chaz Bono on her blonde co-star.Nipples rub together and everything.If you think
that
was gay, next we find her in a lesbian comedy short by Jamie Greco, where, as Virginia Scum, she's hanky-headed in flannel, surrounded by framed posters of Rosie O'Donnell, and given a vagina-themed bush cake before discovering her goth daughter blows dildos in the stairwell("I'm not a Scum, I'm a
slut
!").They tie her latest eye patch-sporting piece of meat to a kitchen chair and stuff tampons in his mouth before stabbing each other to death, exclaiming, "We're women!We're women!".Roll credits.
Stay classy, Lloyd.
Don't let that single wop scare you away, friends, as Troma and the much coveted one wop score have enjoyed a symbiotic relationship together over the years.For the throngs of Troma fans out there, there's cheap thrills a' plenty; everything you've come to expect from Lloyd and Co. and more here.Though my generation's scream queens had names like Steele, Pitt, Curtis, and Carlson, I've gotta admit, some of this current wave of models are pretty tasty in their own right, Rochon included.If I were a Ouija Board, and you asked me if I thought she would enjoy even greater success in genre films and media, I'd spell out q-u-i-t-e, instead of sliding over "Yes", just because that's the kinda guy I am.But yes.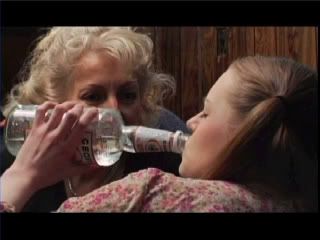 Granny's home remedy looks an awful lot like the hair o'the dog that bit me.