R.I.P.
Arbogast on Film
.
Two years after giving the world nightmares with his brilliant cinematic portrait of a deranged family of unemployed cannibalistic cattle slaughterers, director Tobe Hooper served up tonight's entry as a sophomore effort, though not without some merit, it ultimately falls well short of its predecessor's dizzying levels of excellence.Hooper assembled an able cast of B-movie vets comprised of glorious villain Neville Brand, fresh off the success of the critically acclaimed 1974 telepic, Killdozer(okay, I'm kidding), Robert Englund(pre-cornball Freddy Krueger antics), Carolyn Jones(The Addams Family's Morticia in a late appearance), Kyle Richards, Mel Ferrer, Marilyn Burns, Roberta Collins, and Stuart Whitman to an atmospheric (and blatantly obvious)soundstage dressed to resemble an ominous backwoods fleabag motel on swamps that house an enormous African crocodile(also blatantly fake as nuts).Though tonight's feature, also known as 'Starlight Slaughter' and 'Death Trap' among other alternate titles, holds its own in the scare department, it also holds the dubious honor of being Hooper's follow up to TCM, perhaps accounting for audiences' tepid reception over the years.Despite a bigger budget than his previous effort, Eaten still has a phony 'television special' look about it that, for me, adds a certain stylish ambience to the formulaic blood n' boobs production that might turn other viewers off when they experience it.Don't let the fact that there are no screencaps of a shithouse rat-crazy Neville Brand waving a farmer's scythe around in the entry give you the wrong idea, his performance is incoherent mumbling lunacy that you oughta experience at least once in your life.Let's get to it...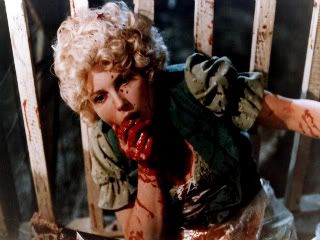 Clara(Roberta Collins) leaks some claret.
Clara(Roberta Collins) is too prim and proper of a prostitute to let Buck(Robert Englund) access her back door, resulting in her madam, Miss Hattie(Carolyn Jones), showing her the front door, instead.Clara trudges through the woods to a dilapidated shack on the edge of the swamp that passes for the Starlight Hotel, as run by Judd(Neville Brand), a mumbling mental deficient with a wooden leg who's petting zoo is starving to death around him out of neglect(we watch a monkey give up the ghost inside its dirty cage).Once Judd identifies Clara as one of 'Miss Hattie's girls', he flips the fuck out and labonza-shanks her repeatedly with a pitchfork before chucking her remains over the porch railing to the waiting jaws of a huge African crocodile he keeps as a pet in the swamp behind the fence.Soon afterwards, a bickering, dysfunctional family and their pet dog pull up outside, in desperate need of lodging for the night, but Judd's croc swallows the pooch alive in front of the little girl's disbelieving eyes.After some heated arguing upstairs, the girl's father, Roy(William Finley), pledges to go out and shoot the croc(after mocking his daughter with pantomime dog barks and croc jaw snaps!), but Judd lays a righteous scythe upon him outside, and the croc, anxious for its next meal, smashes through the porch railing to snare the dying gent.Judd then interrupts the girl's mother, Faye(Marilyn Chambers), who's about to enjoy a relaxing bath in the unkempt washroom, with a hearty ass-beating before tying her to a bed.Little Angie(Kyle Richards) manages to escape the clutches of the hotel's psycho gimp and hide quietly among the rats and creepy crawlies under the darkened porch.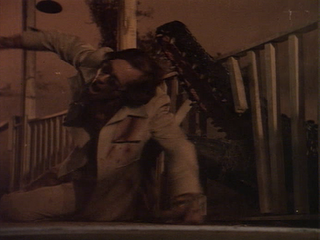 There is no joy for annoying Roy(William Finley), now resigned to be a croc's chew toy.
Meanwhile, Harvey(Mel Ferrer) arrives on the scene with Libby in tow, seeking the whereabouts of his other daughter, Clara, when Judd points the inquisitive family members towards Miss Hattie's brothel, which they pay a fruitless visit to with the local sheriff(Stuart Whitman).Libby accompanies the sheriff to the local drinking establishment for a bite to eat before backtracking to the hotel, but their meal is interrupted by an aniebriated Buck and his curvy arm decoration, Lynette(Janus Blythe), when a fight breaks out.Libby's father returns to the hotel and gets face-scythed after hearing the little girl under the porch crying for help.After the sheriff kicks the couple out, they pay the Starlight a visit, but when Buck hears Angie's whimpers and cries from under the porch, he goes out to investigate and gets pushed into the murky drink by Judd, who watches as his croc feeds once again.Lynette eludes the proprietor's scythe of judgment, and escapes into the woods, managing to flag down a passing car in the nick of time.Libby returns to discover Faye gagged and bound to the bed and frees her while Judd is busy opening the gate downstairs to allow his crocodile access to its next prepubescent meal under the place.Faye and Libby make a break for it but get chased back upstairs by a howling, scythe-wielding Judd, who wounds Faye with the farming tool and throws her off the balcony.Meanwhile, Libby has helped Angie to get out of the swamp, and when Judd tries to push her back in, he gets flipped in himself by Faye, who watches as the hillbilly's homicidal pet clamps down on the final victim of the evening, and a prosthetic leg floats to the surface.Roll credits.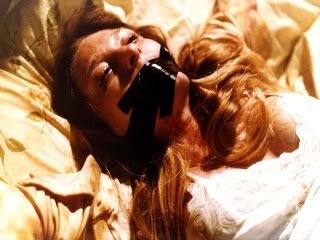 So glad you decided to stay, Faye(Marilyn Burns).
Brand would later turn up in Without Warning(1980), and Evils of the Night(1985).Janus Blythe, who looks especially backwoods-delectable here, would next appear in Wes Craven's cult classic, The Hills Have Eyes(1977), as the memorable Ruby character.Englund, another favorite, is entertaining to watch, long before being typecast as a supernatural burn-scarred serial killer who spouts corny one-liners as he pops out of your dreams.Jones would only act in one more movie, doing some television work before succumbing to cancer in 1983.Exploitation staple, Roberta Collins went on to appear in things like Whiskey Mountain(1977), Saturday the 14th(1981), and Death Wish II(1982).Marilyn Burns, always luscious lens candy in every role, doesn't purvey fear as intensely here, as opposed to TCM.There I go, making that inevitable, unfair comparison again.I really don't think this one's as bad as some folks would have you believe; what it
is
, is standard stalk 'em n' kill 'em fare, an average follow up to a masterpiece, which only further pales it in comparison and detracts from its overall popularity.As such, two Wops sounds about right when laying down the verdict from the glorious scale.Worth a look.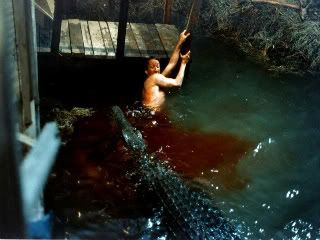 Plucked from a righteous jailbait date, Buck(Robert Englund), out of luck, gets (proper)fucked.