Burned into my childhood memories forever, thanks to WWOR channel nine's annual monkey day in the seventies and early eighties, and my mom's insistance in parroting every one of Linda Miller's lines as obnoxiously overdubbed by what sounds like Glinda the Good Witch on a sherm-blowing PCP bender(and my old man yelling at the screen from his couch,"Look at that!Goddamned fake shit!"), tonight's Japanese/American co-production is faketastic rubbery kaiju goodness from Eiji Tsuburaya, the gent behind the mint miniatures mauled medium-style by Gojira and countless other suitmated beasts, and the folks who gave us stop-motion classics like Rudolph the Red-Nosed Reindeer and Santa Claus is Coming to Town.Sure, the shoddy Kong suit makes Willis O'Brien's 1933 stop-motion simian look like state of the art cgi, but as a little boy, this was
must-see tv
whenever it aired, no apologies to NBC'S Thursday night lineup in the nineties.Besides American model Miller's butterscotch locks and miniskirted gams on display, there's also Japanese dish Mie Hama, who appeared in King Kong vs. Godzilla five years earlier, as well as a turn as "Kissy" in the Bond film, You Only Live Twice(1967).Add to the mix long time television staple, Rhodes Reason, and Hideyo Amamoto(who goes by Eisei here) as Dr. Hu, the bad guy with even worse teeth, and you've got yourself a pretty good time in front of you.Coincidentally, Amamoto was dubbed by American voice actor, Paul Frees, who voiced Boo-Berry in the monster cereal commercials(second to Frankenberry, says I), among thousands of other credits.Onwards!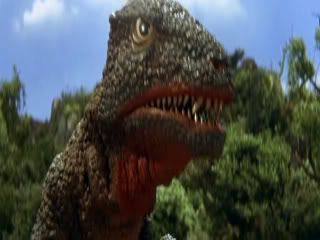 "A broken jaw-piece and a yap fulla soap suds?!!I'd like to see you try, motherfucker."
Carl Nelson(Rhodes Reason), commander of the UN submarine Explorer, is forced to stop off at Mondo Island when an underwater rock slide kiboshes the sub's engines while it searches for oil.Accompanying Commander Nelson are his XO, Jiro(Akira Takarada), and ship's nurse/gams, Susan Watson(Linda Miller).Nelson, a long standing "Kong" legend buff, doesn't have to wait too long to glimpse the massive simian, as he witnesses Kong square off against Gorosaurus with Lt. Watson daintily placed in a high tree as the grand prize.The apex ape makes short work of the dinosaur, snapping its jawbone and leaving it to lifelessly billow soap suds on the jungle floor.Kong instantly digs the blonde and understands her perfectly, so long as she speaks verrrry sloooooooowwwwly as she shouts condescendingly at him.Enter Dr. Hu(Eisei Amamoto), who's set up an arctic base around a huge deposit of lucratively destructive 'Element X', in between brushing his rotten teeth with candy, apparently.He's aided by Madame Piranha(Mie Hama), his liason with an unnamed nation that finds the concept of owning all the Element X a very sexy one, indeed.Hu has built a giant mechanical ape off of Nelson's stolen diagram to dig through the ice and snow and retrieve the mystery element, that somewhat resembles flashing lucite, but exposure to X short circuits the metal monster, and leaves Hu's designs dead in the water.Piranha is perturbed that the doctor has wasted resources from her anonymous country on metal monkeys(a crane might have done the trick instead), that is, until the dastardly duo hears news of Nelson's brush with the real deal on Mondo via press conference.
"Happiness I cannot feel and love to me is so unreal!" exclaims Dr. Hu(Eisei Amamoto).
As part of Hu's despicable
plan b
, he goes ashore on Mondo, puts hot lead in the labonza of an elderly native(read:Japanese painted orange), slips Kong a roofie, and kidnaps the ape to mine the ore out of the ice for him, through the power of hypno-lights.As insurance, he also kidnaps Nelson, Jiro, and Susan and throws them in a sub-zero dungeon until the blonde agrees to force the ape to dig with annoyingly slow shouting.Kong escapes the doctor's evil clutches and swims to Japan, while Piranha uses her groovy wardrobe to put the moves on Nelson, later helping he and his friends to escape, and catching a hot lead beatdown from Dr. Hu as a result.Hu sends his repaired Mechani-Kong to Japan to square off against the real deal in Tokyo, with Lt. Watson in tow as the two behemoths climb the side of the massive Tokyo Tower, where Kong sends his metal twin groundward with a well-placed kick in the chops, smashing the robot to pieces on the street below.Hu, realizing he's failed
again
, tries making a break for it, but Watson shoutingly convinces Kong to chase after Hu's ship, and, with percious little effort from the oversized gorilla, sink it in the harbor where it floats.Having had enough of what we humans foolhardily call "civilization", Kong swims back to Mondo Island as the protagonists watch from the distance, giving Watson the opportunity to annoyingly shout the ape's name several more times before the end credits roll.
"Just put your hand on it before you go below, is all I'm asking here."
The late yuck-mouthed Amamoto appeared in several kaiju films, from Matango and Atragon in 1963, Dagora the Space Monster(1964), Ghidorah the Three-Headed Monster(1964), Godzilla vs. the Sea Monster(1966), and Godzilla's Revenge(1969), to his final appearance in Godzilla, Mothra and King Ghidorah: Giant Monsters All-Out Attack(2001), before passing away in 2003.Director Honda sat in the chair for most of the genre's entries during the fifties and sixties, most notably Godzilla(1954), Rodan(1956), Mothra(1961), King Kong vs. Godzilla(1962), War of the Gargantuas(1968), Destroy All Monsters(1968), and Terror of Mechagodzilla(1975), though he arguably helmed 'em
all
, or at least, any worth seeing.Linda Miller would turn up the following year in The Green Slime(1968), and work with exploitation king Ron Ormond in the curiously named If Footmen Tire You, What Will Horses Do?(1971), an anti-communist, pro-fundamentalist rarity that I'm gonna have to snag a copy of, one of these days, dammit.Hama, the first Asian Bond girl, known as "the Japanese Brigitte Bardot", also bared it all in a Bond pictorial for Playboy in 1967.Toho studios would revisit their terrible Kong suit in 1974 tv show, Go!Greenman, as they did with many movie costumes that had become dilapidated with age, but fearing lawsuits due to expired licensing rights, called him "Gorilla" in the three episodes he appeared in.On the scale, Escapes earns a modest two Wop score, but is a lot more fun to watch than that, really, especially if you're in an altered state.Worth a look.
"Mechani-keezy up in da heezy fo' reezy.Whut uuuuup, bitches!"