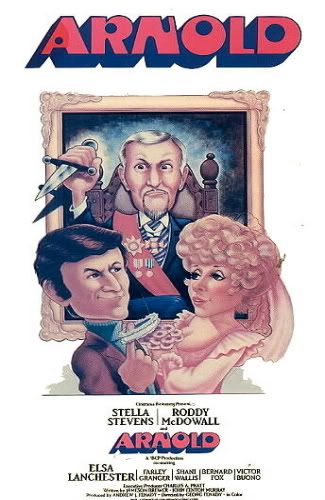 One thing people aren't likely to reminisce about when pondering the late Bing Crosby's storied life and career, is much of his Bing Crosby Productions company's output in the seventies, of which tonight's review is a lesser specimen, no doubt.I vaguely remember the movie's original release, thanks to some tv spots that featured eyes behind paintings that creeped out my three or four year old ass at the time, but negative reviews and word of mouth sent the release into relative obscurity immediately afterwards.It wasn't until a video store clearance sale years later that it'd reappear on my radar in the form of a Lightning Video vhs copy, ironically the last official release of the film in any format; the same videotape I'd wisely back up to dvd with all the packaging bells and whistles, stickler for detail I, no doubt, am.Probably more effort than the film, a weird and mostly unfunny ham-off between familiar genre faces like Roddy McDowall, Victor Buono, and Stella Stevens, upon a gothic studio set, was really worth the more I think about it.Still, it's not altogether without merit, so long as by 'merit' you don't mean 'M.A.S.H.'s Jamie Farr masquerading as a badly made up Hindu with an eye patch', which, by the way, this movie just happens to have covered, thankyouverymuch.That being said, I can't see anybody going out of their way to get a new release for the film, a la certain moustacchioed gents I know with an affinity for 3D spaghetti westerns, but it may appease certain cinephiles enough to give it an hour and a half while Wednesday night-surfing Google Video, where it currently rests, undisturbed, to this very day.
Arnold(Norman Stuart) seems to have gone all stiff at the thought of Robert(Roddy McDowall) gaffling his inheritance.
The film begins with an English caretaker and constable looking on as the funeral procession of local tycoon Lord Arnold Dwellyn(Norman Stuart) as the proceedings abruptly change to a wedding ceremony between the recently deceased and a buxom young thang named Karen(Stella Stevens)(!), much to the dismay of the congregated wedding party, comprised of Arnold's younger brother Robert(Roddy McDowall), his widow, Lady Jocelyn(Shani Wallis), his cousin Douglas Whitehead(Patric Knowles), his doting sister Hester(Elsa Lanchester), Whitehead's law partner, Evans(Farley Granger), and his mysterious Hindu(not really) manservant, Dybbi(Jamie Farr).Constable Hooke(Bernard Fox) decides to sneak a peak at the affair, only to watch the soused vicar(Victor Buono) ask a man's coffin if he takes Karen to be his lawfully wedded wife.A pre-recorded tape of the cadaver's voice piped through a tape deck in the coffin responds appropriately without cue.Hmmm, that's strange.The policeman and caretaker are invited to the reading of Arnold's will, where most of his fortune goes to his lovely new wife provided she stand near to her husband's cadaver for the rest of her life, while miserable pittance bequeathals are doled out to his other family members, and goose eggs for his brother.When the guests are taken aback by their late relative's future money plans, the cassette answers their queries as if he were alive in the room with them.The cryptic tapes continue to turn up at the manor, warning against feelings of anger and greed from his family, though, you just
know
the circling vultures are about to get their just desserts somehow...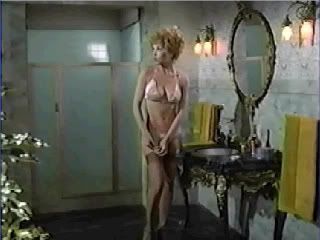 Less material, more flesh from Stella Stevens here, and I'd consider upping it a Wop, to be sure.
Arnold's widow inherits the Rolls Royce and a cosmetic company, but when she samples a facial cream, it reacts violently, disfiguring her face and doing the old girl in before she can scheme any further with Evans.Meanwhile, Karen and Robert have been discreetly planning a getaway for two, but when Arnold seemingly follows the adulterers to Robert's pad, he hurries back to the manor, where a custom crushed red velvet suit for Arnold's body has arrived, and when he tries it on, it constricts around his body until he upchucks his own innards.Karen desperately turns to Whitehead for a way out of her agreement, to which Douglas offers to help for half of the inheritance money plus fringe benefits, the old dog.Whitehead samples some of Arnold's expensive cognac to celebrate his recent good fortune, only to end up being compacted in the back of a garbage truck when the drink turns out to be drugged.Karen turns to Evans with the same deal she offered Douglas, innadvertently getting Dybbi beheaded when he searches the basement lab for Arnold's hidden fortune.After Evans and Karen get themselves crushed to death in a shower with shrinking walls, Hester reveals that she and her dead brother dreamt up the whole scheme to rid themselves of greedy inheritors, and that all of his inheritance will ultimately go to her.When Arnold's final tape begins to sound too cocky for Hester's tastes, she has his body cremated immediately.After snuffing the caretaker with a spade, she stumbles upon Arnold's secret hiding place for his riches while interring his remains in the crypt.She crawls into the secret room to gloat over the money, but a moving wall seals her in permanently as another cassette of Arnold wisecracks that expected such betrayal from Hester, and they'd be together forever now.Outside, Hester's cat traps a raven behind a tombstone as the constable obliviously rides off on his bicycle, while the bird tears the feline to pieces off-camera...
Arnold's painting can see me sawing logs on the couch.
The late Fenady also helmed 1973's Terror in the Wax Museum for Bing, with Ray Milland, John Carradine, and much of the cast from tonight's feature, as well, and countless episodes of television shows over the years, which he was much better suited for, imho.Stevens would appear in genre fare like blaxploitation classics Slaughter(1972) and Cleopatra Jones and the Casino of Gold(1975), horror like 1979's The Manitou, and even Chained Heat(1983).If you're into genre film and you don't know Roddy McDowall by
now
, you're a lost cause, for sure.Grand dame Lanchester
only
played Frankenstein's monster's titular bride back in '35, while we're at it.If you're unfamiliar with
her
...alright, I'll stop.Shani Wallis sang the cheesy title song that'll make your life miserable for days after watching, as well as appearing in tonight's movie.Like I may have mentioned earlier, Arnold is a strange little flick, with a hardcore made-for-tv vibe about it, that showcases some inventive deaths while failing epically at making the viewer snicker.If you're into McDowall or any of the others, it may be worth tracking down for a screening.As it stands, it merits a wholly average two Wops on the scale.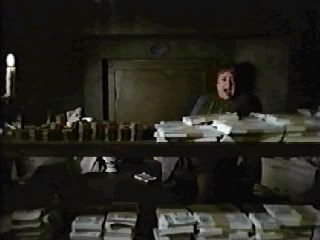 Elsa Lanchester looks older than the piles of cash she's surrounded by here.