Tonight we wrap our glassies around a documentary about sideshow freaks, errr, human oddities, ummm, y'know, I'm not exactly sure what the 'politically correct' term is these days for a dude, who, when asked where his brother is, replies "He's growing out of the side of my face, you can't miss him.", but judgmentless distinction doesn't come easy when looking at these folks focused upon in the Rasky-written and directed production, most of whom are Gibsonton, Florida denizens when not travelling the countryside with carnival sideshows.Ironically, listening to the pretentious narration as delivered by Christopher Plummer, who'd come a long way from his Sound of Music(1965) salad days in trying to make a nearly eight foot tall giantess seem ordinary
without
directly pointing up at her, screaming, and running for his life like an evacuated Tokyoan as Rodan's leathery wings menacingly flap over the metropolis.Yeah guys, next time you're trying to document the triumph of people over life-altering deformities and handicaps in a condescending p.c. light, you might wanna leave out sex life questions in your interview with three foot tall midgets, it just makes you sound like a glorified barker selling tickets outside the big tent.Kind of like the one you hired to introduce each human oddity here?I'll go out on a limb here and surmise that these folks are probably pretty used to "
Holy FUCK
!" expressions and comments from people in this stage of their lives, especially if they're making a living in a sideshow or in a Guinness Museum display.But that's the good thing about this one, kids, you can leave the pretense to the filmmakers and be properly astounded, guilt-free.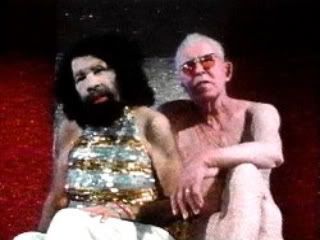 I wish you and Cactus Jack all the luck in the world, brother.
First stop on the "C'mere! You GOTTA see this!" Express is Gibsonton, Florida, the winter home away from home for carnival folk, where we're introduced to the Galyons, adult twins who are conjoined at the large intestine, have no outward genitals(!), and are situated face to face.Watching them tread the basepath during a softball game reminds me of two guys in a horse costume.Ronnie profoundly says of brother, Donnie: "That's because we are like brothers.Wherever I go, he goes, and wherever I go, he goes."Nah, dude, you
are
brothers, but besides whiffing on the Bette Midler lyrics, you're
like
some creepy Harryhausen animation once you start moving all those legs.Then there's a dwarven fire eater who looks like my dad circa the nineties, the grumpy 729 lb Paul Fishe who lays to waste the 'jolly fatso' myth, a hefty female bookend, Icelandic giant and former B-movie actor, Johann Petursson, who, at eight foot two, needs dual walking canes just to get around, and his opposite, Dolly Reagan, who's an ordinary head on an underdeveloped infant-sized body.After asking her considerate questions like "Do you feel like a freak?", they get down to the nitty-gritty and beat around the bush about her sex life.From 'human dolls' we switch to the 'strangest married couple', or simply Alligator-skinned Boys and the Monkey Girls who love them.He just looks like he could use some lotion(about a fifty-five gallon drum's worth), while she can't go shopping in public(
even
in Gibsonton) without rocking an Arab-style veil over her non-ironic beard, while their average son appears on-camera to subtly answer the interviewer's sex question before he can even ask it.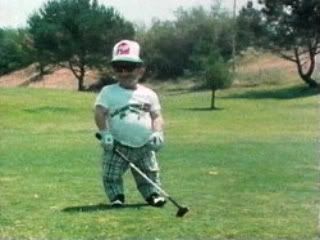 "Fore!" might be a bit too much for you.Try "One and a half!" instead.
After some irksome filler footage involving amusement park rides and hot air balloons over a forgettable music soundtrack, we're whisked outta the carny world and into the "normal" one, where being different is once again measured in opposites:First Sandy Allen, at 7'7", the world's tallest woman, then cult movie personality Billy Barty and clips of the annual Little People convention, where we see dwarves rollerskate.Then, we're off to Montreal where we meet a six foot man who's married to a three foot woman and living in a midget-sized house.We see him flush the cute little toilet.Then he's finally asked about his sex life, to which he wisecracks that it's better than his previous marriage to a normal-sized woman.Bob Melvin's box art-gracing, elephantiasis-ravaged grill is next, and we watch him ride a bike, and be memorialized at his local Missouri church for some reason...while he's still breathing.A lengthy disco segment doesn't quite prepare us for the crab-pincered marathon runner/motivational speaker who was also born without feet, the karateka with one leg who blows through pine boards with his arm stub, two legless rascals, and finally, a Texas lass born without arms who shimmies into her jeans with a wire hanger, drives a car, writes, knits, and even gives her son haircuts with her feet.We hear a sacchariferous ballad to Louise herself, who's been married twice already(once at
twelve
years old, insert your own "Yeeeeeee-haaaaaaaaawww!" here) as she skateboards, daydreaming about posing for Playboy.Plummer returns to coerce good feelings out of a shell-shocked audience while prattling on about the human spirit and other insincere verbal knick-knackery...
We'll return to "When 75% of Your Face Wages War with The Other 25%" right after these words from our sponsor...
The late Rasky, a leading Canadian documentary director, covered subject matter like Leonard Cohen, Arthur Miller, and Chagall when he wasn't penning the awful lyrics to the personalized songs in tonight's review(which were composed by Paul Zaza, who provided scores to genre films like Prom Night(1980), My Bloody Valentine(1981), and Porky's(1983) by the way) or ignoring substance and structure in revealing these extraordinary individuals in the same damned exploitative geekshow light we've peeked at human oddities in all along, only from behind an artificial moral shield.Billy Barty(nee Bertanzetti!) was a native Pennsylvanian who acted in 177 films from 1927 until the time of his death in 2000.The Galyon brothers now boast of being the world's oldest conjoined twins, long retired from the sideshow circuit to a tranquil life somewhere in Ohio.On the scale, Different rates two solid Wops, and makes for one of the more memorable mondo documentaries of the eighties.
Yeah, but can she handle a standard tranny?