When my roommate and I are sitting around zooted with lungs full of convivial vapors, oftimes we'll throw our favorite ADR-dialogue from kung fu movies back and forth at each other.It wouldn't be the least bit strange to wander in and hear lines like, "Say, Tiger! Since you're here we're on top!" or "I'll even go to Shaolin!If I have to GOOOOOOO!" affected in those familiar Brit accents around here on a good day.It just so happens that tonight's review, a godawful slice of seventies Bruceploitation also known as 'Golden Sun' and 'The Dragon Dies Hard', contains a deluge of quotable lines familiar to both of us dating all the way back to Channel 11 WPIX's propensity to serve up z-grade chopsocky affairs every Saturday afternoon back in the early eighties.Apart from a few brilliantly inept sequences, some loud silk shirts, and some of the hokiest Bruce Lee mythology ever committed to celluloid, that's really about all this one has going for it.Forget your old prerecorded VHS of the Golden Sun print, Master Arts Video has trotted out a luxurious new remastered(translation:dubbed from video cassette) print with no less than four lengthy-n-clunky black pauses in the action, and a nifty scene chapter index.No, seriously, it's a bare bones disc, and not even an average one at that.Forwards!
Stone(Bruce Li) meets Bruce Lee's ghost(also Bruce Li).Uhhh, yeah.
After a sluggish entry-level form display and sparring match, Stone(Bruce Li)'s brother(Au-Yeung Chung) tells him that he reckons his sibling has surpassed his lifelong idol, Bruce Lee, in martial skills.Before anyone with half a brain can chime in to the contrary, some students rush in with a newspaper whose headlines declare the legendary kung fu superstar dead.Shattered by the news, Stone takes to the local bar and gets pie-eyed on booze, then gets dragged home and tucked into bed by his martial chums.During the night, Stone is visited by the ghost of Bruce Lee(also Bruce Li), who tells him through some vague charade-esque hand gestures, that he died violently while hating.This, alone, is enough for Stone to cast aside any and all prior engagements and do some amateur investigation(translation:saying "I want the
truth
" repeatedly) into the movie star's premature death, once he's visited Shaolin, related his wild story to the head abbot there, and fight all the monks while wearing polyester slacks and platform shoes.While Stone meditates, Lee materializes over some candles and takes a golf club to the labonza.Stone returns to his brother, who ponders aloud where his inquiries will start, to which he replies, "Betty Ting.But first I must find her." "You're right there," says Stone's gaudily-garbed sibling, "That's the most important thing." Sure enough, one of the other students who knows Betty and her nightly haunts happens to stroll up and divulge the info.After saving the starlet from some drunken chiselers who want Ting to pay their tab, Stone takes her back to her apartment, where he frightens her into thinking he's Bruce Lee with the lights off, then splits, satisfied with the evening's sleuthing.Meanwhile, Betty calls her mob-tied bosses...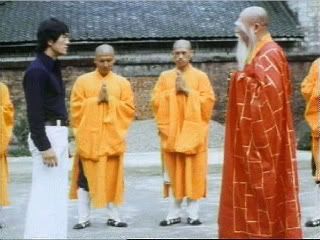 We now return you to "Shaolin vs. JC Penny's Leisurewear for 1975".
First, Betty is told to cozy up to Stone, while various novice thugs-in-silk-shirts pounce out at the couple as they walk, forcing her new champion to climb atop a Fillipino bus with low tires, and fight several of them on the roof while it speeds along at ten miles an hour.Look out, Chan-man.Ho Tsung Tao has your number...or not.The mobsters kidnap Stone's brother and warn him to keep his brother's nose out of their business.Too late, fellas, he's looking for the
truth
.After laying low for a while, Stone visits the crime bosses during a thunderstorm, while wearing a kung fu uniform, and is naturally mistaken for Bruce Lee's ghost.Frightened, they point him back in Betty Ting's direction, remarking that Lee died in her apartment.He catches up to her and roughhouses her into a flashback sequence from that fateful night, just as she's splitting town with her bags packed.We see Bruce(again, Bruce Li) arrive at her place, pour himself a drink, strip his silk shirt off, and writhe in agony at a bruise on his hip.Oh, he doesn't stop there, friends.He bounces in slo-mo on the bed with his sunglasses on like a dying teenaged chick at a tragic sleepover, to Betty's horror, for five solid minutes before shuffling off the martial coil.Before Stone can brood over still not knowing
who
killed Bruce Lee, the mob bosses send some dusky-looking Asians with bad teeth and afros to his school to bully everybody.The last of his vanquished foes directs him to the local stadium(translation:golf course)for the end of his investigation.There, he faces the man responsible for his idol's wrongful death, in the form of permed n' moustacchioed Lung Fei, who mistakes him for the real thing several times.I don't see the resemblance, but anyway...Fei tries to shank Stone's labonza(I wonder why golf clubs with hideaway daggers never caught on), but thanks to the tutelage of Bruce's ghost, he happened to wear a sheet of metal under his clothes in
exactly the right spot
.After a sloppy n' lethargic fight(they're
all
like this here, believe me) that ends when Stone kicks him down a gravel bank and into the waiting arms of the police, who arrive just in the nick of time.
I don't know which is slower and clumsier...the bus or the fight choreography.
Director Cheung would only take the chair for one more feature after this, 1979's Immortal Warriors, marking his eleventh credit as such, dating back to 1968.I'm in no hurry to catch the other ten, really.For Ho Tsung Tao, 1978 would bring some of his better films to date, in Edge of Fury, Dynamo, and Deadly Strike.Unfortunately, the year would also mean titles like Bruce Li's Magnum Fist, Bruce Li in New Guinea, and Bruce Lee-The Invincible, for him.It's hard enough convincing movie audiences that you're the second coming of Bruce Lee, let alone taking on twin kung fu gorillas that fight on their hind legs.Another movie, another day perhaps.Lung Fei appeared in no less than 139(!) kung fu movies dating back to 1969, but I'm gonna wager a guess right here and now that the vast majority of them are complete piles of arm-waving shit a la Furious Slaughter(1972) with Jimmy Wang Yu.I'm not holding my breath waiting for someone to prove me wrong, either.On the scale, one embarrassing Wop, and I'm being pretty generous.For hardcore Brucesploitation completists only.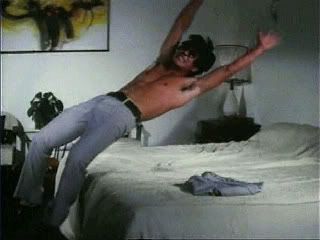 Flopping around in slo-mo on the bed for five minutes.Or an aneurism.Whichever sounds better to you.