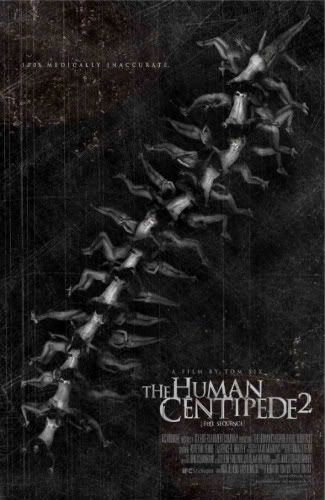 Miss me, ya bastards?Nevermind, I'm
sure
you did.It's just that when you've lived as charmed a life as I have, being hurled fifty yards from a spectacular car wreck(not breaking a single bone, mind you), getting walloped with baseball bats by overzealous pinkos(bones intact on that front, too, thanks), outlasting terminal illnesses, and outrunning the constabulary of nearly every major city on the east coast in my heyday, and the weather suddenly changes drastically in a day's time or so, my forty-two year old body sometimes reminds me that I'm not twenty-two anymore, and I'm hobbled for weeks at a time with osteoarthritic flare-ups that leave me totally immobilized, and unable to update your very favorite site for genre reviews, as was the case the past few weeks here at the Wop.Being an invincible Italian superman isn't all wine and roses, y'know.Fret not, wee droogies, I've got plenty of movies to scrutinize for your enjoyment anyway, and since there's no better time than now to kick it all off, we'll do just that, by the Gods.
Tom Six is back at it again, leaving behind the tact with which he handled the first wildly popular multi-segmented shocker, in favor of the level of balls-out gross most people expected from his first effort.Really, a brilliantly crafted, near Jodorowsky-scale thumbing of the director's nose towards any detractors of his previous movie as actualized from the viewpoint of a naughty six year old and emphasized with blood and bodily waste.It's definitely hard to watch in certain spots, where Six turns up the on-camera sadism and cruelty to appease the film freaks who happen to be geared towards such viscera, but I found myself laughing through much of the worst of it's excesses as they played out like a black and white Salo' torture porn update minus the politics.Though I appreciated II for what it was and had a pretty good zooted time of the whole affair, I much prefer the original's dark sense of humor to it's sequel's somewhat infantile one.Eh, we're all different.Aboard once again is game-to-endure-the-tortures-of-the-damned-a-second-time actress Ashlynn Yennie, though gone is lanky scenery-chewing Deutsch-weirdo, Dieter Laser, and in his stead, the portly pint-sized pinhead, Laurence R. Harvey, as the mentally deficient parking garage attendant obsessed with Six's first movie.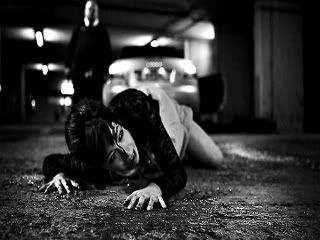 "Excuse me, ma'am, you seem to have deposited some cerebrospinal fluid on the end of my prybar..."
You never know what you'll find lurking in an underground parking garage in London these days.In this instance, it's Martin Lomax(Laurence R. Harvey), the resident attendant whose obsession with 'The Human Centipede' has expanded well beyond feeding insects to the ravenous specimen he keeps in an aquarium or the elaborate scrapbook on the movie he keeps, complete with recreated illustrations of the...ahem, medical procedures from the film, which he watches repeatedly on a laptop in his toll booth; he's already begun clobbering unsuspecting patrons with his crowbar, hog-tying them with duct tape, and throwing them into the back of his van with designs on ultimately fabricating himself a nifty 12-segmented full sequence human centipede.As fucked up as you'd have to be to dream up such a D.I.Y. project, Martin's got his sociopathic bases covered, having been molested by his father as a child, and raised by a suicidal psycho wretch of a mother who blames him for sending her husband to prison(!).She also sends him to Dr. Sebring(Bill Hutchens), who sedates him to the gills in between inappropriately fiddling with his no-no spots, which doesn't exactly draw the brakes on his sick mania, as he clobbers all types in trying to achieve it: a young couple, a man complaining about the ATM, two clubbing dames who stumble upon him jacking his sandpaper-wrapped meat to the original movie in his tollbooth, the tattoooed baldie who lives upstairs from he and his mother who's perpetually threatening them with a kicking when they complain about his loud music, a cabbie and a cheap hooker who just happens to be servicing Sebring in the back seat(the doctor remarks that he'd rather be fucking Martin!), a rich puke and his pregnant wife, and even Ashlynn Yennie(herself), one of the actresses from the original movie, lured into Martin's web of perversion on the promise of a phony film role, and destined to be the obsessed retard's front segment this time around.Marty's got a crush, no rear segment for
you
, baby!
Mother(Vivien Bridson) interrupts Martin's(Laurence R. Harvey) sexy time.
After shooting Sebring in the junk and head, smashing his own mother's skull into a pulpy mess when she callously tears up his scrapbook, and killing a guy who's leasing some particularly dark n' dingy warehouse space, Martin begins preparing his kidnapped segments for the big operation, which he, no professional surgeon by any stretch of the imagination, performs with the help of a bag of common household tools.He sloppily severs knee tendons before punching teeth out with a hammer, fishing the loose teeth out of his victim's mouths with his fingers before they can gag to death on them.Using a tile cutter, he clumsily carves open ass cheeks then attaches the next respective segment with a staple gun and duct tape, while two of his guinea pigs presumably die off during the brutal process, driving the mental midget into a frenzy of anger which sees him strip down to his undies.Yeah, thanks for
that
visual, Six.He uses a funnel to force-feed Ashlyn, cutting out her tongue when she sassily smacks a food bowl away and makes too much noise.He then injects each struggling segment with a syringe full of laxative, forcing them to evacuate their bowels into the waiting yap of the sorry sumbitch behind them, causing Martin to joyfully make raspberries with his tongue before he violently hurls from the growing fecal stench.After wrapping his dick with barbed wire(!!), Martin forcibly pumps the rear segment's dumper, as the pregnant woman, presumed dead, springs to screaming, bleeding life, trying to escape in the leasing agent's car as she goes into labor, spitting the fetus into the car's foot well, and crushing it's skull with the gas pedal(!!!) as she reverses out of the nightmare with the mentally challenged attendant giving chase.Meanwhile, his upstairs neighbor has bloodily torn his face free from the ass in front of him, separating the centipede into two halves, which Martin sets upon angrily, shooting one half's segments in the head, and after Ashlyn smashes his pet centipede's aquarium, setting it loose in the warehouse, he cuts the throats of the other half's segments, stopping at his obsession, who abruptly knees him in the goodie bag and shoves his own funnel up his ass(!), dropping the centipede into it(!!), before he shanks her in the grill and staggers out in agony, screaming bloody murder(!!!).We then see Martin back in the toll booth, watching his favorite movie, as if nothing had ever happened, although the screams of a baby he had left in a locked car earlier tell us different.
Eh, look on the bright side, you still have four more than Shane MacGowan.
Six, who provides the voice of Martin's abusive dad here, is currently working on The Human Centipede 3, which he claims will make II look like a Disney production, ironically the same analogy he provided between the first and second installments.Whether or not you appreciate the repetetive nature of his pre-production hype, you've gotta give it to the guy.He delivered exactly what he promised in the first sequel, so there's no reason to think for a second he won't do the same with the third film.Personally, I'm well over the whole 'centipede' thing by now, and would rather see him move in an original and new direction.To be honest, the entire recent 'torture porn' phenomenon's incisors have lengthened in a hurry, and sitting through most of it has become more torturous than pornographic, really.On the scale, Full Sequence earns a solid three Wops, and comes recommended for hardcore gorehounds everywhere.See it.
"If I show you a moment of compassion, you promise you won't knee me in the balls and shove my pet centipede up my ass?"