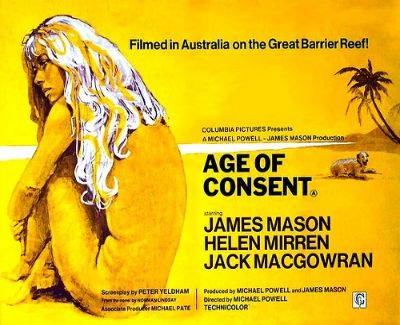 One surefire cure for Monday that might have you dreaming of faraway posh locales and sun-soaked goddesses is tonight's entry, from British director Michael Powell who gave us the excellent Peeping Tom nine years earlier, and starring two of my favorites, James Mason and Helen Mirren, a statuesque blonde in her first major role, who really strikes a fatal blow against my 'brunettes are better' argument here in a significant way. Not usually the type of thing we'd normally look at, but as someone who confessedly has been into Helen's work for a long time I can say without reservation: If you're a
big
fan, this film will make you a
bigger
fan. Nudge, nudge. Snap, snap. Grin grin, wink wink, say no more?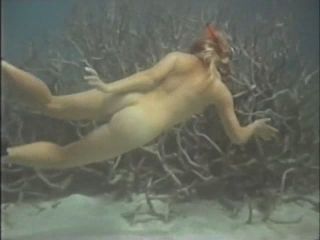 There's a Moray Eel joke I'd make here if I were a lesser man...
Celebrated artist, Brad Morahan (Mason), jaded by his success in the Big Apple, returns to his native Australia to re-ignite the passion he once had for his craft on the suggestion of his agent, but after a week long roll in the hay with a lady friend (Clarissa Kaye, who would later become his wife), his old buddy Nat (Jack McGowran) who's well behind in alimony payments makes the scene, borrows money, and tries to siphon Brad's cool to pull a few birds, to boot. Deciding that isolation is key, Brad sets up in a dilapidated shack on the far end of a sandbar of a small, mostly uninhabited island on the Great Barrier Reef with....
Godfrey
, his...
dog
.....of course. (You're gonna have to insert your own breathy dramatic Mason pauses from here on out, folks, the novelty has already worn thin for me). It isn't long before his beach combing, barefootin', n' boatin' is interrupted by Cora Ryan (Mirren), a wild, young blonde (who fishes the reef with her big tits and sticky fingers) who's pilfered his groceries and more recently, a neighboring spinster's chicken, and when Bradley's suspected as the culprit, he pays for the poultry on the promise that Cora not steal anymore. As an added incentive to help the girl realize her dreams of being a hairdresser in Brisbane someday, he pays her to model for him, as well. Half a dollar an hour, too.Imagine, renting Helen Mirren for eight hours for four bucks. You know, I'm not
Edgar Cayce
, but I'll bet this passionate young creature is exactly what ol' Brad needed in the first place...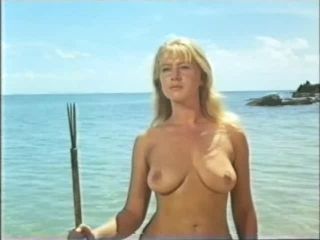 The Great Barrier Reef is home to great big tits, errr, triggerfish. Triggerfish.
At this point, Nat shows up on Brad's shackstep looking for a loan to keep the cops off his back and ends up staying. When he tries to seduce the spinster next door for money, she goes for it, after which he expeditiously breaks camp, jacking Brad's money, and even some of his ...
drawrings
, as well(There I go again). Things get worse when Cora's gin-sucking hick grandma catches her posing in the buff for the older man, accusing him of getting
Nugent
with her until he parts with the last of his cash to make the accusations disappear like her granddaughter's clothes. When Cora finds out that 'Ma' (Neva Carr-Glynn) has found her tucked away hairdresser bucks, a chase ensues and then a struggle, and finally, drunken old sot tumbling down the hill and eating broken neck death. After the notorious lush's death is ruled accidental, that night Cora goes to Brad's shack but when he shows only professional interest in her, she disappointedly dashes out into the water. He follows her, and in the end, sees her for what she really is...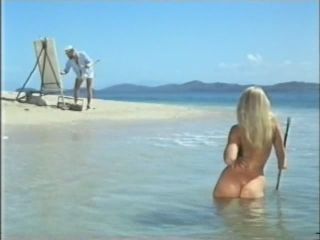 "I wish I could see how Brad's painting is turning out," said nobody ever.
Dame Helen Mirren, as magnificent a physical specimen (you may need a lobster bib while watching this one) as she is a gifted actress, surely steals the show; director Powell's take on Shakespeare's The Tempest with Mason opposite Mia Farrow was to follow, but lack of funding marked it's premature end. Though Mason's Aussie accent here sounds mostly artificial, overall, he's good as always. Even if this mid-life crisis-turned-unlikely romance stuff sounds like a lotta hooey to ya, at the forty-five minute mark, there's a scene that makes it all worth while, even to callous-hearted sons a' bitches like ol' Woppo. "Coragio, bully-monster, coragio!" Three biggies.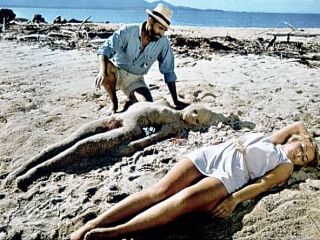 Frankly, even the Sand-Helen has my pulse racing, folks.