One of my favorite modern vampire movies, hands down. For anyone interested in seeing George A. at his most powerful and effective as a filmmaker, they should probably cue tonight's review up first. Boasting of an outstanding script full of tumult and irony strengthened by top shelf performances by a cast led by Romero regular, John Amplas, who really shows his formidable dramatic reach here, and solid support from Christine Forrest (who would later become Mrs. Romero) as his symapathetic cousin and Lincoln Maazel as his hardline uncle, Martin would also mark the very first collaboration between George and sovereign Splatter King Tom Savini, whose gore has never looked more wicked, adding to the already gritty authenticity of the low budgeted film's western Pennsylvania locations. Every shot is meticulously framed throughout the brisk ninety-five minute running time , edited down from the original lost two hour and forty-five minute print, entirely in black and white. And just when I think the film can't get any better, there's the final reel...
If the real thing don't do the trick, Martin (John Amplas) better make up something quick, gonna burn into the wick, awwww, Tateh Cuda (Lincoln Maazel)!
On an overnight train, we meet Martin (Amplas) as he subdues a young woman with a syringe full of sedatives,before opening her wrists with a razor blade, and feasting upon her lifeblood until she's dead. Martin is convinced he's a vampire that is dependent on the red stuff for sustenance, and his old school Lithuanian uncle, Barracud- uhh, err... Tateh Cuda (Maazel), who's awaiting his arrival at the train platform in Pittsburgh, is convinced he is, too. So much so, in fact, that he sets bell traps and hangs garlic all over the homestead where Martin will be residing, forbidding him any discourse with his cousin Christina (Forrest) and warning him that if he preys upon any Braddock residents, he'll go Peter Cushing on his ass and drive a stake through his heart. He teases the superstitious old man's safeguards against him with a cape and phony plastic fangs, telling him: "There's no
real
magic...ever." A man of his convictions, Cuda still isn't buying it.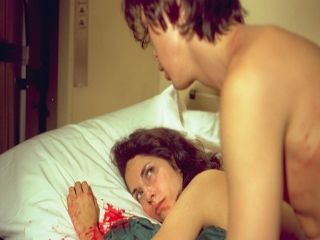 "Don't kill yourself, baby, I got you the Leif Garrett tickets afterall..."
Martin gets a job delivering groceries from Cuda's butcher shop and develops a friendship with a frustrated customer named Mrs. Santini (Elayne Nadeau) after she unsuccessfully tries to seduce him. His bloodlust eventually bests him in the end, and he travels to the city in search of new victims. After stalking a woman at the supermarket that he believes to be alone, he breaks in to discover she's entertaining a lover in bed, and is forced to drug the adulterous couple; feeding on the man, and raping the woman while she's unconscious before slipping away undetected. This leads to Martin phoning in to a local talk radio DJ as 'The Count' and confessing his crimes to the glee of the show's listeners. Trying to resist his psychological blood urge, he enters into a physical relationship with Santini, but another Pittsburgh hunt turns sour when he targets a couple of stumblebums, narrowly escaping the law, by ducking into a drug shack. Back home, Christina moves in with her boyfriend (Savini!) when Cuda's persistent harassment of Martin with crucifixes and prayers become too much for her to bear. Meanwhile, Martin visits his lover only to discover she has committed suicide by slashing her wrists with a razor in the bathtub. Cuda assumes that his nephew is responsible, and pounds a wooden stake into the sleeping man's heart, burying him in the backyard afterwards, where we finally see him, tending the garden as the credits roll to the sounds of radio listeners calling into the station, curious as to whatever happened to 'The Count'...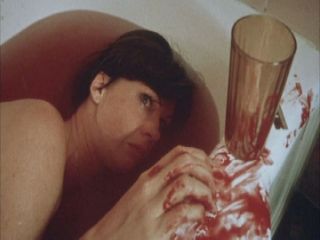 "I missed an episode of 'Baggy Pants and The Nitwits' and there's no point in going on now."
Fans of 80's synth pop duo, Soft Cell, will remember the group's tribute to this one on their 1983 Art of Falling Apart release. Next up for Romero would be 1978's legendary Dawn of the Dead, where Amplas, the film's casting director, would get shot off a rooftop as a Puerto Rican ("Jesus Christ! There's a thousand pigs!") in the memorable opening sequence, also playing a biker and zombie along the way. He'd later work in Romero's Knightriders (1979), Creepshow(1982), and Day of the Dead (1985), as well as Bloodeaters (1980) and John Russo's Midnight (1981). On the scale, four beedubs oughta cover the undeniable magnificence of tonight's review, one that comes with my highest recommendation. A true genre classic.
Eating Stake-Him's for breakfast can really exact a toll on one's heart.