From Sisters (1973) to Carrie (1976), Blow Out (1981) to Scarface (1983), Brian De Palma has done an admirable job providing genre entertainment to audiences, and his violent, sexy 1980 homage to Hitchcock, Dressed to Kill, is another good film to check out for those interested in his work, or fans of gialli-styled psychological thrillers. This one was all over premium cable at the outset of the eighties, a decade where I was much less appreciative of Michael Caine, despite the memorably musical pop plea from U.K. two-tone outfit, Madness, that came in 1984, and fell on dead ears at the time. Despite my strong dislike, I usually tuned in long enough for the straight razor action, and Nancy Allen in garters, stockings, and a bra, in all honesty, and with no apologies.
When Angie's randy in the shower, better get yer Dickinson.
When frustrated Kate (Angie Dickinson) unsuccessfully tries to seduce her therapist, Dr. Elliott (Michael Caine), it leads to a wild, random one night stand with a stranger in a cab after some wordless flirtation at the museum. The extra-marital hijinks continue for hours at his pad, until she writes her lover a note while he sleeps, accidentally discovering a note proclaiming that he's contracted an std on his desk while she's at it. Ooofah. In the mad scramble to split, she leaves her wedding ring on the night table, and returns to recover it, only to meet sudden straight razor-death at the hateful hand of a big ugly blonde woman in the elevator. A call girl named Liz (Nancy Allen) is the first to stumble upon the body, unwittingly catching a glimpse of Kate's killer in the process, drawing the suspicions of lumpy police detective Marino (Dennis Franz) and ultimately, the attention of the ugly homicidal blonde in sunglasses.
Once she was "Feathers" in Rio Bravo (1959). Now, she's "Cadaver" in Rio Blood-o.
Luckily for Liz, Kate's son Peter (Keith Gordon) is a tech spaz-in-training with vengeance on his mind, and he's soon rigging audio surveillance equipment and time lapse cameras all about the place for his wronged hooker pal, as they try to get to the bottom of it all. Meanwhile, Dr. Elliott receives creepy, threatening messages on his answering machine from "Bobbi", one of his former patients that happens to be furious at his lack of support for a desired upcoming sex change operation (in the days before a vocal alphabet coalition could march for zir rights...hir rights? Eir rights? We never had problems like this when there were only two genders...), having warned his/her current doctor of potential danger within his new patient, instead. It's not long before Liz and Peter manage to capture the killer on camera and both amateur sleuths are subsequently stalked by the homicidal he-she who may or may not be Michael Caine-in-drag, as horrible a conviction as that is, to hold, and even more so, to behold, as you'll find out when you screen this one for yourselves...
Shinga, momma, shinga! Fairie Tale Theater was never like this!
Liv Ullman and Sean Connery both were forced to pass on roles in tonight's film, leaving Angie Dickinson and Michael Caine to famously replace them. Speaking of replacement, Angie's sexy shower bod was generously provided by Victoria Lynn Johnson, 1977 Penthouse Pet of the Year, a doubly good double. You'll also see Brandon Maggart in there, who's not only a Sesame Street vet and Harry the psycho Santa from Christmas Evil (1980), but the father of singer Fiona Apple, as well. The voice of Bobbi was provided by William Finley, a DePalma favorite who you'll probably remember from his work in things like Phantom of the Paradise (1974), Eaten Alive (1976), The Funhouse (1981), and Silent Rage (1982). On the scale, Dressed earns itself three impressive Wops, an entertaining ride through the psycho-sexual mind. Check it out.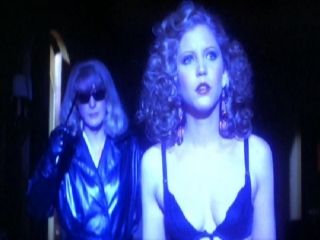 Fact: Michael Caine makes a bloody awful bird.