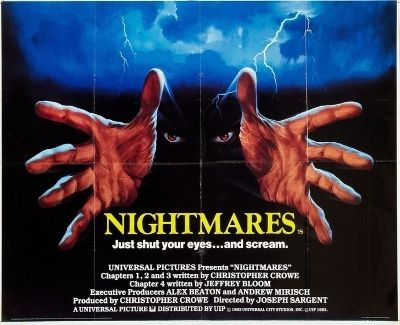 Originally developed as episodes of brisk ABC network horror anthology, Darkroom, the segments of tonight's review ended up in production purgatory when the series turned its toes up in 1982, until its cinematic release a year later perked up with some added violence for theatergoers would cement its place in history as the best horror anthology of 1983 not named Twilight Zone: The Movie. Recent years would see it fetch some lofty prices as an o.o.p. full-frame dvd release from Anchor Bay, so much so, in fact, you'd think it came with... a bloody Pieces (1982) jigsaw puzzle or somefink.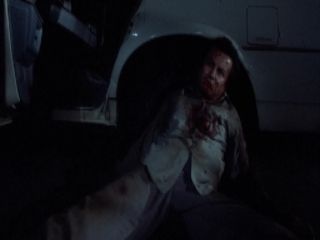 There's nothing to fear but FEAR itself, or in this case, their homicidal lead singer.
The first segment, "Terror in Topanga" is a cautionary slice of urban legend involving a beautiful, young brunette smoker (Cristina Raines) who ignores her husband's warnings and takes to the dark, open road for another carton (!) of smokes, despite news of an escaped lunatic lurking in the darkness. I'd weather a fucking zombie apocalypse for smokes' sake, so I feel this chick. The second, is entitled "The Bishop of Battle", and centers around a teenage gamer named J.J. (Emilio Estevez) who obliterates top scores while tuned into a Walkman full of punk tunes, with the mythological thirteenth level of one particular game set in his sights. Maybe he takes his mania a bit too far in the end when he breaks into the arcade at night for one-on-one battle with the titular bishop, but anyone who's tackled the Criminal Mastermind Challenge on GTAOnline (nailed it, for the record.) can sympathize, surely.
Totally rad graphics: I'll hold out until "Bishop of Battle" comes out for the Philips CD-I console, man.
The third, entitled "The Benediction", focuses on a priest (Lance Henriksen) who's lost his faith after the death of one of his young parishioners sends him packing his bags and driving off into the desert searching for answers. Too bad, the Devil himself has picked the same day to play Road Hog with any former clergymen he encounters, in his bad ass customized black pick up. Finally, in the silliest segment of the evening, we meet a family dealing with an extraordinary pest problem in "Night of the Rat", where an invincible, oversized German rat god stakes claim to the nice, chewy walls behind Steve and Claire's (Richard Masur, Veronica Cartwright) cupboards.
"I'm the king of shadow animals...", barks Lance Henriksen. "Here's a vulture..."
Despite a recent BD release from the fine folks over at Scream Factory, this one still fetches between twenty and forty bucks in all its legendary Anchor Bay full-frame dvd glory for some unknown reason; less than the hundred plus it once commanded from kooky completists out there, but still pretty steep, considering. If you hadn't noticed that "Lee James Jude", the backseat killer in the Terror in Topanga segment, is none other than Lee Ving, frontman of punk outfit FEAR, then you just weren't paying close enough attention. You'll also see Billy Jacoby and Frank Zappa's daughter, Moon Unit, in the second segment, and child actress Bridgette Andersen, who tragically overdosed at twenty-one, in the final story. Director Sargent spent decades in the chair on episodes of everything from Longstreet to Star Trek to Kojak and Lassie. He also directed The Taking of Pelham One Two Three (1974) and, uh... Jaws: The Revenge (1987). Two Wops oughta cover the tab for tonight's entertainment, and uh, keep the change.
"Buy our daughter a bed with peanut butter-flavored bedposts...what could go wrong, you said!"