Let me start by saying that,in a vampire sub-genre engorged with performances by accomplished stage and screen actors like Bela Lugosi,Christopher Lee,Peter Cushing,Gary Oldman and a plethora of others over the years,THIS is my favorite vampire movie of all time.Basically an updated re-telling of Sheridan Le Fanu's short story "Carmilla",Kumel mixes together a surreal arthouse feel,solid performances by all actors involved(the late Delphine Seyrig is nothing short of breathtaking as the Countess),and a screenplay that serves up liberal amounts of top notch dialogue and plot twists,to make a superior genre entry that has aged nearly as well as the Countess herself.If you're looking for bloody fangs,wooden stakes,crucifixes,or other generic nosferatic staples,you're in the wrong place here,friends.Instead sit down to this movie and drink it all in,as one would do looking at art in the Louvre,because what you've stumbled upon is just that.A true stylish masterpiece.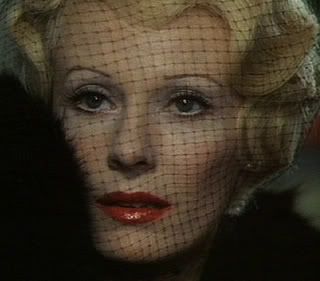 "You must be nice to me. Soon you will love me as I love you now,"says the Countess Bathory(Delphine Seyrig).
Valerie(Daniele Ouimet,a former Miss Canada) and Stefan(John Karlen of "Dark Shadows" fame)lie in bed together,eloped newlyweds aboard a train in Europe.She asks if he loves her and he smirks "No...and you?".Valerie is adamant about meeting Stefan's mother and telling her of their marriage,but he is just as adamant in deftly skirting the issue."She already hates you without even knowing you exist,"he tells her matter-of-factly.The couple takes a room in a huge,ornately decorated hotel in Belgium,empty but for the concierge in the off-season.A limo pulls up outside,containing the beautiful and extravagant Countess Bathory(Delphine Seyrig) and her female understudy(Andrea Rau)with huge eyes and a permanent pout.The concierge cannot believe his eyes when he looks upon the Countess,certain she is the same woman he saw as a small boy some forty years earlier,seemingly ageless over all this time."My mother perhaps?" she parries,with a hypnotic smile.She instantly takes to the married couple,engaging them in drinks(she pours hers into a potted plant) and conversation.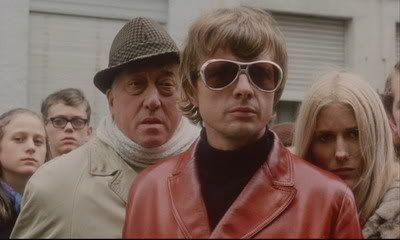 "Don't lie to yourself. You were pleased. It gave you pleasure. You actually enjoyed seeing that dead girl's body."
While sightseeing in Bruges,the couple stumbles upon a crime scene,as a young girl's body is carried out,drained of blood.Stefan goes berserk,pushing through the crowd to get a better glimpse of the corpse,hitting his young bride to do so.Back at the hotel,Valerie is frightened by his sadism,his lust for brutality,to which he shrugs off as "getting to know each other" which she accepts,trying to unbuckle his pants and spur him on to make love to her,which he coldly declines.She then pushes for her husband to at least call his mother and inform her of their nuptials,which he reluctantly does.Unknown to his bride,his "mother" is really a flaming homosexual,who baulks at the thought of his young lover unrealistically marrying a woman.Stefan,humbled by his "mother's" words,thrashes his wife with a belt in anger.That night the Countess joins them for drinks when Stefan relates the tale of the scarlet countess,Elizabeth Bathory,who bathed in maiden's blood to remain forever young.The gruesome story arouses him,and the Countess begins to finish his sentences,caressing his shoulders,equally aroused.But she is not interested in the young man,instead she wants his bride.She sets up a liason between her protege and Stefan,who willingly obliges the mysterious girl.They make love,but when Stefan tries to pull her into the shower with him,the sight of running water panics her,and in the struggle she falls,impaling herself on his shaving razor.At first,the Countess demands that Valerie help Stefan dispose of the body in the sand of the beach,but the events have driven Valerie into the Countess' arms,and she spends the night in her room.They share a kiss,and when Bathory pulls back,there is a single drop of blood on her lips.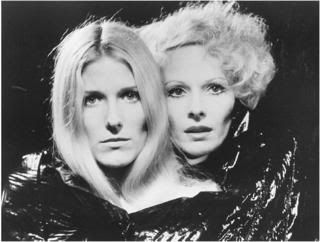 The next night Stefan joins them in the Countess' room,but when he demands his wife back a struggle ensues where both women smother him with a glass bowl that breaks and manages to slice both his wrists.The two sup on his blood.Though the night is waning,they drive to the same secluded spot on the beach to dispose of Stefan's body,then race against the rising sun to return to the safety of the hotel.What happens in the film's conclusion is both hauntingly mesmerizing and memorable.
"Love is stronger than death...even than life."
Both Anchor Bay and Blue Underground have released restored versions of this film on dvd,which is an absolute must for your collection.Once it has taken its rightful place upon your shelves,I can guarantee you'll revisit Delphine over and over again,and marvel at her abundant talents as an actress; surrounded by beautiful scenery,she dominates every frame she appears in, making you forget her surroundings,drawing you in much like the couple in the film.When she flashes one of her many genuine smiles,you'll mourn the great loss(she died of lung disease in 1990)of a true star.