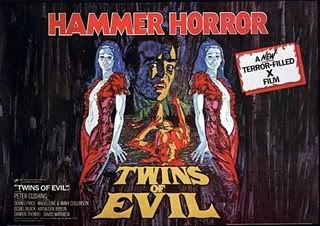 The third installment in Hammer's Karnstein trilogy,with the least resemblance to Le Fanu's "Carmilla",adds a witchfinder element and contrasting good and evil personalities in Playmate twins Mary and Madeleine Collinson to the familiar vampire tale.It merited an X rating in dear old Blighty for the onscreen display of loverly bristols and some of the usual vamp-violence we'd come to expect from the lads at Hammer.Though not as polished as the first Karnstein picture,"The Vampire Lovers"(1970),it's still pretty enjoyable all around.
Frieda and Maria...or is it Maria and Frieda? Does it matter?
Maria and Frieda(the Collinson twins)are identical twin sisters sent from Venice to live in Karnstein with their puritanical witch-hunting uncle,Gustav(Hammer heavy hitter,Peter Cushing)and his wife.While striking a blow against Satanism with his boys,"The Brotherhood",Gustav abducts young female villagers and burns them alive in the name of God.On the flipside of the coin,we have Count Karnstein(Damien Thomas),who,while in the favour of the Emperor,has immunity from the Brotherhood while he dabbles in the black arts in his sinister castle.After a particularly naughty bit of witchcraft one night,invoking the name of his wicked ancestors and sacrificing a local strumpet,Karnstein is visited by Countess Mircalla(Carmilla?) who fancies a bit of awright with him,abruptly chomping on his neck and turning him into a vampire.The twins are both put off by Uncle Gustav's starchy god-fearing ways,but it is Frieda who actually concocts a plan to escape the long arm of the bible.In a nutshell,Maria is basically good while Frieda is actually fun.
Count Karnstein does his best to try to listen to what Frieda has to say without being all pervy.It don't work,do it?
The Count takes notice of Gustav's nieces and Frieda,excited by tales of the randy Count and his exploits,steals away to the castle while Maria covers for her.At the castle,Karnstein invites the buxom twin to punish his maid Gerta with him.She obliges,and becomes a vampire after the Count bites her.He then offers poor Gerta up to Frieda as her first vampiric meal,which she also obliges,having a bite of one of the maid's golden bozos.When Frieda returns home,she forces her twin sister to continue covering for her every night as she now needs to sneak off in the dark,ruled by blood hunger,and fearful she may attack her own sister(which would have been hot,eh?).Maria's taken a shine to Anton,the handsome young teacher,who has his eye on Frieda,because,frankly,she's mysterious...and actually fun.Anton's got this hokey belief in something called "superstition"(rubbish!),denouncing Gustav's nightly raid parties,yet advising him on proper disposal of vampires(after his sister gets sucked dry by one) with the obligatory wooden stake through the heart,rather than burning them at the stake which could be quite messy,indeed.
"Nobody throws the first torch on the woodpile until I signal...even if they have said Jehovah!"
One night Frieda bites one of Gustav's witchburning buddies,he captures her and throws her reflectionless ass in jail.As the Brotherhood debates the young slapper's fate,Karnstein and his servants abduct Maria and exchange her for Frieda in the jail cell,hoping the men burn the good one while the fun one goes undisturbed,a-biting all over the countryside.Anton goes to see Maria(who's really Frieda now)who breaks out her sweater mates and tries to coerce Anton into joining her for a proper shag,but when he sees no reflection in the mirror,he gives her the cross instead of his cobblers.The teacher rushes off to save Frieda(who's now Maria) from burning at the stake,insisting they're about to burn the wrong girl.They give her a cross,which she kisses,proving her innocence and making Gustav drop a pile in his knickers at the thought of condemning an innocent girl to a fiery death.The witchfinder,the teacher,and their mob of do-goodniks storm Karnstein castle,where the Count and Frieda learn the villagers are armed with crosses,axes,and wooden stakes,and try to sneak out through a secret exit.Gustav is waiting,axe in hand,lopping off his own niece's vampiric domepiece,which Maria feels telepathically through twin mental hoodoo and pops off to find her sister.The Count grabs Maria,forcing Gustav to challenge him to a battle,which he loses,dying,but giving Anton the opportunity to stake the bastard in the pumper,securing a happy future for he and Maria(the good one).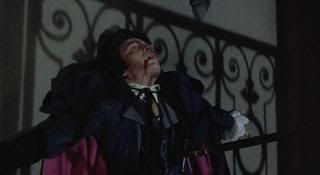 "Arrrrggggh!It's a fair cop."
So yeah,check this one out,it's not half bad.And for those who thought I was gonna shrink at the opportunity to give the readers a bit of awright here,I give you this: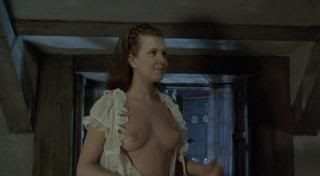 "Cor,dahlin',you've a loverly pair of bristols,'aven't yer!"