Those were the days,Edith Bunker.
Showing my age is something a vain bastard like myself tries to avoid at all costs.But I can still remember my first VCR,back in 1981,a top loading behemoth Panasonic with two bulky televison knobs,and a partial wood grain finish,to match up with every floor model television made up to that point in time.When I hit the eject button,a horrible sound bellowed from the infernal thing,and the video cassette tray rose like Dr. Frankenstein's operating table through the roof into the thunder and lightning in the heavens above.Being a film buff even at age twelve,I hurried out and bought VHS copies of my favorites,Halloween(1978) set me back forty-nine bucks,as did Night of the Living Dead(1968).My clamshell Thorn-EMI Dawn of the Dead(1978) cost me sixty-four,and my Magnetic Video copy of The Fog(1980)drained ninety-two greenbacks from my allowance.Bootlegged VHS were obtainable from a guy in a black van for twenty bucks a pop,I grabbed up Texas Chainsaw Massacre(1974),and my old man began his legendary porn collection with Swedish Erotica Vol.6.I can still remember Seka's screentest,when she memorably masturbated with one of her stiletto pumps,neckerchief in place.But then,down on Main Street,a video rental store opened in 1983.And a glorious time began for me.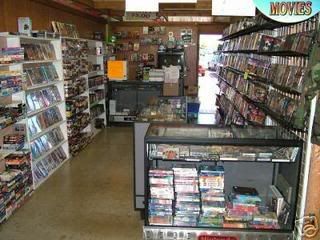 I could spend hours picking flicks out in stores like this way back when.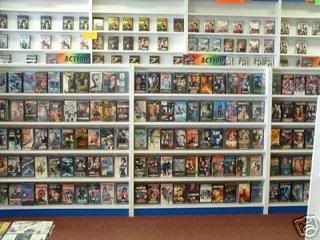 You never knew what kind of lost gems you'd find on shelves like this.
I remember three of us mowing my parents' huge lawn and raking the yard to pay for a year membership at that store.The first day we rented out eight horror movies,and once we had gotten through four,we returned them and rented four more the same night.The mom and pop video era was officially underway,and I became a glutton for video membership cards.Video World on Wyoming Avenue in Kingston was ten miles away,bursting with big boxed rarities(one VHS copy,one Beta of everything in the store),a fifty dollar yearly membership(one hundred for a lifetime membership!),and a walk I'd recruited friends to take with me many times before I got my license.For me and my buddies,a ten mile walk was no big deal knowing Video World had copies of Faces of Death and Faces of Death 2 ready to rent(and there were two other video stores along the avenue to stop into...).Before too long,I drove my trusty '70 Cougar hundreds of miles in any and every direction on the lookout for small family-owned rental stores,because you KNEW,no two stores stocked all the same movies,and you could feasibly find a big boxed or clamshell copy of a movie you hadn't seen in ten years on those primitive shelves.By this time I had two VHS vcrs,one Betamax,and a Betamax "camcorder"(of course,it was nothing like what passes for a camcorder today,bulky,grainy picture,with gaudy shoulderstrap...but that's a legend in itself.),so whatever I rented,I always made copies of for myself,still buying the must-haves when they popped up.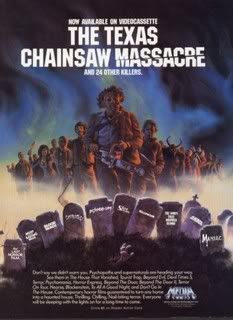 By the time my wallet was filled with twenty plus video membership cards,I had already developed notoriety for late charges in most places I rented from.Once I had depleted a store of every worthwhile movie I wanted in my collection,I simply let the late charges pile up and bought memberships elsewhere.Of course I lost track of who I owed what after a while,and which memberships ran out,but really,who cares?I could always talk circles around the little old lady behind the counter(or chat up the teenaged dame working towards paying off her Valley Girl wardrobe) and my late charge slip would get crumbled up and bunged into the bin.Once my bedroom was enveloped in bookcases of obscure cult,horror,and exploitation titles in the thousands,something no one could foresee happened.
In the vicinity of nearly every mom and pop owned video rental store,a Blockbuster Video would pop up.Blockbuster never had the selection that most of the m & p stores had,but they banked on something else.Convenience.They did away with membership fees,stocked fifty copies of all the latest releases,and were open later than most of the privately owned places.Before too long you could walk into a mom and pop store and buy original copies for mere dollars,as they could no longer compete with the corporate video chain.I thought nothing of it at the time,simply buying up big boxed cinematic holy grails everywhere I went,and one by one the private stores disappeared.Most average renters didn't care whether Blockbuster had Don't Be Afraid of the Dark,H.G. Lewis' The Psychic,or The Ghastly Ones,and this reflected what could be found on the corporate shelves.Finally the biggest of the privately owned video stores went under,and an era was over for good.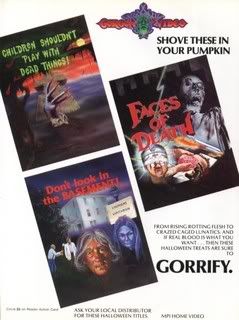 Nowadays I've all but rid myself of any remnants from that glorious time,my bookcases full of videos have disappeared,and in their place they've been dwarved by endless shelves of dvds.When I get the hankering for rentals,I give in and hit the local Blockbuster,though I never see anything like "Dead of Night" or "A Bell from Hell"(it WAS pretty funny,getting a vacant look from one of their clerks when asking about dvds before Blockbuster caught on to the new medium, and had none at the time)on their shelves.Besides big budget blockbusters,they tend to stock only the most banal crap that would barely entertain the most mentally retarded individual,but these days,we have no other options.They do very well serving the regular guy,who's probably responsible for the death of mom and pop video stores all those years ago,and who I've never been and could never be.On a positive note though,I don't have any late charges...