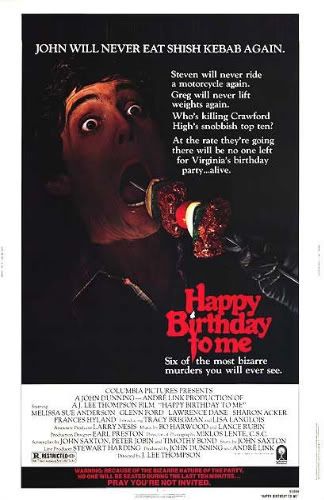 With Hallowe'en breathing down the backs of our necks like a psychotic Andrew Stevens over Morgan Fairchild's twizzler-sized nipples in a hot tub,Wopsploitation works overtime to churn out genre reviews during this,the most glorious time of year for woprophiles and horror fanatics alike.Show your support by clicking the LAMB in the upper right hand corner of the site,vote up and/or repost your favorite entries,encourage all yer buddies to follow the site on Networked Blogs through intimidation and fear,lascivious ladies who are so inclined can stuff my gmail inbox with sexy snapshots in hopes of being named featured Wop-ette of the Month(an upcoming pro-feminist feature to look forward to,boys),up and coming filmakers can send along their work for review(e-mail me for the mailing addy,punks),and of course,torrential praise showers and cold,hard cash are also always welcome.Se non è zuppa, è pan bagnato.
Boasting of one of the most memorable one sheets of the golden slasher era,tonight's review brings me back to the ol' American Theater packed full of splatter-crazed rascals hootin' n' hollerin' for more gore and boobs(since our parents never went with us to the movies by then).The movie boasts of a cast that includes Melissa Sue "Little House on the Prairie" Anderson who once enjoyed a creepy tryst with Frank Sinatra,Jr.,Glenn Ford,who once blasted Marilyn Monroe with throat yogurt on a couch,some inventive and mean-spirited gore set-pieces,and one of the most ridonkulous and highly unlikely twist endings in cinema history.How could you not love this fuckin' thing?When the dvd was originally released with different cover art,sticklers for detail in the horror community balked until Anchor Bay silenced the hordes with a proper treatment that had the original advertising on the box,and the original soundtrack(minus the end theme),which was intact in theaters and on VHS,but not in the first disc release.Film critics like Leonard Maltin,who was probably
over
screening slashers in the first place, at the time weren't as rabid about the movie,panning it,and taking some potshots at Glenn Ford for participating,in the process.In defense of the subgenre,the movie,and the late Mr.Ford,I say:Maltin gave friggin' Laserblast(1978) two and a half stars
and
he's from Teaneck.What the hell does
he
know?
You undergo that brain operation,Mary Ingalls.I'll be behind the barn smoking a whole pack of cigarettes.
Crawford Academy is an elite high school,secretly run by an inner circle of snobbish,rich teens(all well into their twenties,thanks,casting)that call themselves the "Top Ten".When Bernadette goes to meet the rest of the silver spooners at "The Silent Woman",a pub more ironically named than "The Well-behaved Blacks Who Don't Shout and Scream at the Screen in Theaters" drinking establishment in East Orange,New Jersey(alright,I made that one up),she's attacked from the back seat of her car by a black gloved killer.After momentarily playing dead buys her time enough for a hasty retreat,she's the recipient of a makeshift mouth carved into her neck meat by someone she's familiar with.At the pub,the snots raucous behavior gets them an early boot,which they celebrate by playing chicken in their cars over a lifting drawbridge.Ginny(Anderson)opts out of the childish bravado display,walking home and stopping to visit her mother's grave on the way.At home she discovers Etienne has been Peep Tom-ming her through a window(Yeaaaash!),before her screams scare him off.The next day at school,she has a flashback to that brain cell regeneration operation she underwent shortly after her mother's accidental death(Hmmm,I deduct that this may prove to be important info towards a denouement later on)and tells Dr. Faraday(Ford)all about it.After showing Ginny a pair of her own drawers that he deftly snaked from her room(Hopeless romantic,this guy),Etienne works intently on his motorcycle until that same black gloved rascal makes the scene,catching the boy's scarf in the motorcycle chain,an outbreak of epic,blood spurting strangulatory suck for the resident pervie.Back at the pub,a conversation about eccentric Alfred(Jack Blum),who carries a live mouse around with him,causes Ginny and Ann(Bregman)to break into the boy's house,where they stumble upon a replica of Bernadette's head he's made,for whatever reason.Anybody normal in this crowd?Anybody??Meanwhile,Greg is being spotted while lifting weights by someone who carelessly drops an enormous plate on his crotch,causing the young meathead to drop the barbell onto his own windpipe.That's right,death by weights...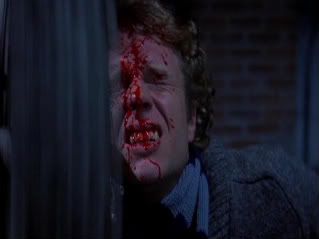 Scarf plus motorcycle spokes equals inventively rad Burman-crafted murder set piece.
Rudi pulls a fake knife on Ginny in the belltower of the academic chapel,then follows it up by diasappearing and burying a faux skull outside,proving that he's not to be outcreeped by his peers.Alfred follows Ginny,which gets him stabbed up...by Ginny(?),whose flashbacks are revealing more of the earlier operation on her domepiece.At the school dance,she invites Steve back to her place for a midnight snack,shish kebabs by the fireplace.I'll just bet one of those skewers is gonna end up rammed through somebody's skull before this rendezvous is over.It does.When Ann shows up the next morning for the (literally)gory details about the previous night with Steve,Ginny has another accident flashback where she and her mother crash the car into the river.When she snaps out of it,she finds Ann's cadaver sunk in the bathtub with an extra mouth sliced into its throatflesh.Dr. Faraday shows up on the scene and forces the disturbed girl to remember the details surrounding her mother's fatal accident.Ah yes,it's all coming back to her now.It was Ginny's birthday(ah-ha!)and when nobody showed up for her party,Mom had packed the girl into the car and angrily drove over to the other party where the kids had all gone instead,was denied entry,got drunk and drove into the drink.Ginny then bludgeons the doctor's dome for his effort.When dad arrives on the scene in time for Ginny's birthday,he's shocked after seeing all of the murder victims and his exhumed wife's corpse propped into chairs around the dining room table,while Ginny sinngs "Happy Birthday to Me"...and
another
Ginny in attendance!The more conscious Ginny turns out to be Ann in a latex Ginny mask!You see,Ginny's mom had a problem with pussy generosity,and got knocked up during an affair with Ann's father,and in a climax reminiscent of a James Bond villain speech,Ann reveals that she committed all the murders to frame her unwanted half-sister out of jealousy,then kills her own father!!In the ensuing struggle,the drugged Ginny ends up stabbing Ann to death in defense.A policeman arrives to find the abandoned house,filled with corpses,and Ginny standing over her brithday cake,clutching a bloody knife.Open and shut case,huh.
"I taught piano to young flibbertigibbets in a former life,how in the name of Great Caesar's nuts did I end up in this predicament?",wonders Glenn Ford.
Tracey Bregman,apart from her role in Birthday,has enjoyed a recurring role on soap opera Young and the Restless from 1983 to present,as Lauren Fenmore.What?I used to watch Y & R...occasionally.Coughcough.Two years prior to tonight's review,Anderson starred in tele-horror Midnight Offerings.You might remember Alfred(Jack Blum) in his egg-balancing,open zippered turn as Spaz in Ivan Reitman's Meatballs(1979)as well as stints in Alfred Hitchcock Presents and Twilight Zone.The late director Thompson was responsible for such memorable genre fodder as Bronson stuffs:St. Ives(1976),The White Buffalo(1977),10 to Midnight(1983),and The Evil That Men Do(1984),as well as a couple of the Planet of the Apes movies and the 1962 Cape Fear original.Not a shabby resume,I'd say.Overall,Birthday isn't a bad slasher,and it delivers up the goods on a few levels,for sure,satisfying that small minority in the horror community who longed to see deaths involving weight benches,motorcycles,and shish kebabs(gloriously served up by FX wiz Tom Burman),myself included.At the very least,it gave me the opportunity to use the word "flibbertigibbets" in a review,and I've been wanting to do just that for a long,long time.On the scale it merits a solid rating of two wops.F-l-i-b-b-e-r-t-i-g-i-b-b-e-t-s.Google it.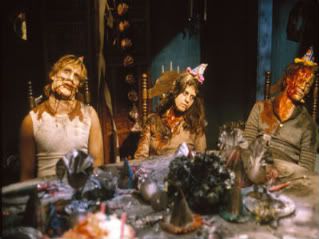 "Shish kebab me again before she tells another Michael Landon story!",pleads one of Ginny's partygoers.