Tonight's entry,a creepy little number from C to the anada,bitches,that touches upon a couple of my favorite things,schizophrenia,and anatomical teaching dummies.Seeing popular tele-dish Cynthia Preston briefly getting cocked down in the backseat of a car isn't the least choice,either.Dysfunctional families always make for a good time at the cinema,and as a rule,the more twisted the clan turns out to be,the better the viewing experience,for
me
,anyway.With that in mind,the family in Stern's Pin falls somewhere between Mommy Dearest and Texas Chainsaw Massacre.What the movie lacks in genre crutches,i.e. the red stuff and barenaked bobblers,it makes up for with a relentlessly mean torrent of psychological abuse,and once in awhile,I dig the variety,man.I'd expect a goodly portion of the mainstream horror "fans" will have already tuned out the review,with no franchisable wisecracking Ronald McDonald serial killer stalking some live nude mannekin with the emoting skills of Keanu Reeves on a hookah full of Lebanese blonde finger-hash in sight,but to those,I say:Go ahead and fuck off,I'll text you when we're covering something more palatable for mainstream consumption,donkeys.
I first caught this "plastic nightmare",no relation to the current string of
plastic surgery fuckups
we've had to laugh at recently,during the video rental heyday,and it instantly grew on me,with its original angle and unusual methods at scaring its audience.Let it be said,this is
not
a particularly scary film in the traditional sense of the word,it's more of a cerebral exercise in uncomfort,the kind that makes you embarrassed to bear witness to someone when they're doing something ridiculous that they oughta know better about.As such,tonight's entry works.If this sounds like the kind of hundred plus minute vacation into mental illness you'd like to take,then you too,will enjoy Pin.
Terry "Stepfather" O'Quinn,slightly less folically challenged than he is today.
Long before sawed-off neighborhood punks were daring each other to touch the weird mannekin in the attic window of the Linden place,the atmosphere was less than conducive to good mental health for little Leon and Ursula.Burdened with an OCD-stricken neat freak for a mother,and a sociopathic,schizo-ventriloquist doctor for a dad(O'Quinn),these two unfortunate urchins never stood a chance.The psychological devastation quickly takes its toll on the boy,who never sways in his belief that his father's life-sized see-through anatomical teaching model,appropriately nicknamed "Pin"(short for Pinocchio),that he fields medical queries through creepy voice throwing to the children he treats,as well as his own,is undeniably real and alive.An existence of having to eat dinner standing up on footstools,then sweeping and vacuuming underneath directly afterwards,and nightly rigged word problems for fatherly affection has both children retreating to each other for stability and sanity,but when they start looking at each other through West Virginny eyes,Dr. Linden delivers the birds and bees speech to them through his plastic office pal.Cuz that's pretty normal.When Leon secretly visits his father's office after hours on his own to share life discussions with the dummy,he's traumatized to discover ol' Pin piercing the panty purse of his father's nurse on the examination table.Yeah,Leon?It's me,your wig.I've officially flipped,boy.Ursula,slightly more grounded in reality than her brother,becomes the resident teenaged cockacidal maniac instead.Leon coitally interrupts her one evening,while she's taking pantsmeat in the back of a classic muscle car(ah,the eighties!),feeding fraternal fist to her fuckpal in the process,but it's too late.She's already got a nine month bun rising in her Easy-Bake Oven.Leon takes sis,amidst her protests(as she's known the translucent aid wasn't real for years now),to Pin for advice,and when the stiff doesn't answer back,Leon provides the ventriloquism in his father's absence.When they take Ursula's carnal oopsie to their father,he does what any dad skilled in the medical arts would do,and
gives his own daughter an abortion right there in his office
.Yeah,when I told you this family was twisted,my asshole wasn't whistlin' the theme to Jackie Chan's Battlecreek Brawl,droogies.
This anatomically correct chunk of painted plastic is scoring some pussy,while you read movie reviews online.Life's a cruel bitch,indeed.
So,when both parents eat flaming automobile death(caused by Pin perhaps?),Leon takes over as the pater familiaris,and moves Pin into the Linden household,putting his plastic ass in a smart suit,latex mask,gloves,and nifty wheelchair for easy mobility.Ursula,probably a bit unnerved by her brother's ever-increasing state of bananas,takes a job at a library,where she reads up on diagnosis and treatment for Leon's Santa-list of mental illnesses.You can imagine the poor girl's embarrassment when she finally introduces her newly acquired jocko homo boyfriendo to the "family"(translation:shithouse rat-crazy brother and his lifesized talking doll)over dinner.Pin pow-wows with Leon on the matter,suggesting now that Urs' has gotten herself a man,the couple will surely leave him to decay in some mental facility while they traipse off and enjoy their lives(and her inheritance) together.Clearly,Leon's going to have to snuff the jock with Pin's assistance,if he wants everything to remain the same.He invites Stan over under the ruse of a surprise birthday party for Ursula,slipping him a mickey,then braining him with a wooden sculpture before accordingly bagging him on Pin's orders.Alas,before he can effectively dump the cadaver in the drink,Urs returns home early,forcing him to ditch the bloody sporto in the woodpile out back.When Leon's bold-faced lies combine with hard bloody evidence that maybe,Stan
hadn't
gone to visit a sick friend afterall,she comes to the realization that her brother was in the process of whacking her beau.Upon confrontation,Leon points the finger at the dummy,who during the course of the argument refuses to shoulder any of the blame.A hysterical Ursula returns with axe-in-mitts,and Leon screams like the psycho-bitch that he undoubtedly is.When the police discover Stan in the woodpile,amazingly,the guy's still breathing.Later,Urs and Stan return to the house to visit Pin who asks the girl if she's heard from Leon,and admits to missing him greatly.Only,Pin is now Leon.
I sported Leon's haircut in the eighties,too.The yellow sweater?Not a fucking chance,pals.
As always,O'Quinn,who's enjoyed a resurgence in popularity of late due to television's "Lost series,turns in a memorable performance.Preston,perma-sexy,also delivers as Ursula.I'm not sure if Hewlitt's cringe-worthy asexual turn as nutbag Leon is a paen to his acting skills,or a knock against said abilities.Either way,the film is a welcome retreat from the obvious cookie-cutter stuff out there,and I've always enjoyed it.Apparently,a novelization by Andrew Neiderman exists,for any "Pin" completists,if there is indeed such a thing.The dvd,which serves up a choice widescreen anamorphic transfer and interesting director's commentary track,has been floating around for nearly a decade,but shouldn't be too hard to come by if you're looking for it.Good stuff.Three wops.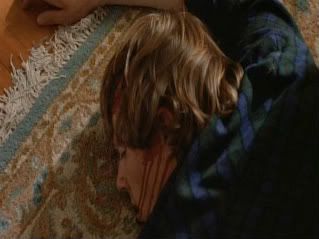 I spent most of my twenties unconscious and/or covered with blood,I can totally relate.