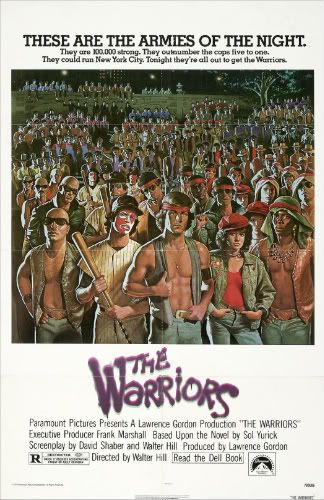 Tonight's movie goes out to John in Chi-town,an epic partier with 1787 Chateau Lafite taste in diversions.Holdin' down the (Monte)forte on this end,brother!1979 was a motherlode for gang-related movies,apparently,seeing the release of The Wanderers,Quadrophenia,and The Warriors all in the same year.All three enjoy significant cult status,the Who vehicle helping to ressurect mod culture in England,and The Wanderers and Warriors supplying an infinite number of bands of varying genres of music with their names based on gangs from either of the films.It was probably around this time when I first started dreaming of one day being in a gang myself.The tattoos,they date back to 1st or 2nd grade,when we would draw them on each other with pens at school,little tough guys.Though,looking back, I'm probably the only one who took all this crazy stuff to heart.Interesting when you're refused admittance to a club for "flying your colors".Whattayagonnado?
For those up on their Greek accounts,Yurick's novel and Hill's subesequent feature film closely echo Xenophon marching his troops through enemy territory,battling their way to the safety of the sea.Though Walter Hill has had a hand in such films as Hard Times,48 Hours,and the Alien series,tonight's review remains his most popular work to date.The film opened in February of '79 to brisk box office business and mixed reviews,followed by reports of vandalism and a handful of killings involving theater patrons during its second weekend.Maybe there's a little bit of warchief in all of us,no?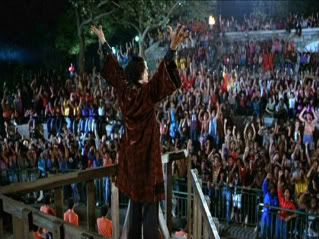 What am I diggin',Cyrus(Roger Hill)?The silk robe isn't my style,brah.
Nine delegates from over two hundred gangs gather in Van Cortlandt Park to hear the leader of the Gramercy Riffs,Cyrus(Hill),break it down on unity,claiming that since the gangs outnumber the police,the streets can belong to them like they once did.
Can you dig it?
Luther(David Patrick Kelly)of the Rogues didn't,and shoots the flamboyant Riff from the top of a jungle gym.As chaos engulfs the scene,he pins the blame on The Warriors,a solid Coney Island unit,and Riffs quickly overtake Cleon,their leader,and speedily bop him up to that big turf in the sky.The remaining eight Warriors(Swan,Ajax,Cochise,Rembrandt,Vermin,Fox,Snow,and Cowboy)regroup in a nearby cemetery,unaware that the Riffs have put a bounty on the Warriors out to all other gangs in the city.They narrowly escape the Turnbull A.C.s spraypainted schoolbus of chain and bat-wielding bald boppers on the way to the subway platform,but their train ride is cut short by a fire on the tracks ahead(probably set by another gang),leaving them in the Tremont section of the Bronx.There they encounter a small-time gang,the Orphans,who they easily scare off with a molotov deterrent when a trouble-making prostitute named Mercy(Van Valkenbergh)goads the lazy-eyed Orphan leader into action.With Mercy now tagging along,their next stop is 96th Street in Manhattan,where a waiting reception of cops leaves Fox to eat crushing subway train-inflicted death when he falls on the tracks after a struggle.Out on the street,Swan,Ajax,Snow,and Cowboy kick the asses off of the ambushing Baseball Furies,but Ajax(James Remar) is arrested afterwards by an undercover cop posing as an easy rape victim on a parkbench.
The sillier looking the gang,the heavier their rep,apparently.
At Union Square,Vermin,Cochise,and Rembrandt are greeted by the amorous advances of some foxy mamas,who turn out to be members of the lezzy outfit,the Lizzies,laying for Warriors on orders from the Riffs.They barely escape the sapphic trap with only Rembrandt getting a stiletto cut he can brag about in the melee.After Mercy relates Fox's tragic demise to Swan,he returns to the 96th Street Station,where he's tailed by rollerskating members of The Punks to Union Square.Reunited with the remaining delegates,the Warriors dispatch the Punks in the lavatory,then board the last train for Coney.On the train some partying prom-goers are shocked by Mercy's filthiness(and moustache,probably),but when one of the girls drops her corsage,Swan picks it up and gives it to his embarrassed hooker galpal.They arrive with the sunrise at Coney Island,where the Rogues lie in wait.Luther slips empty beer bottles on his fingers and clinks them together repeatedly,calling out the returning gang in what has to be the most annoying voice ever committed to celluloid.The Rogues and Warriors gather on the beach for a scrap,and Luther admits icing Cyrus for no good reason at all,but before the fight can commence,both gangs are swooped down upon by the Gramercy Riffs,who have discovered through an eyewitness source that the Rogues killed Cyrus,not the Warriors.The Riffs congratulate the Warriors on being a top outfit with a deserved rep,then descend upon the cowering Rogues for violent revenge.A dj who had spent the night giving play-by-play of the gang activity,apologizes for the Warriors misfortunes and dedicates a Joe Walsh song to them.Wait a second,I thought she was
sorry
...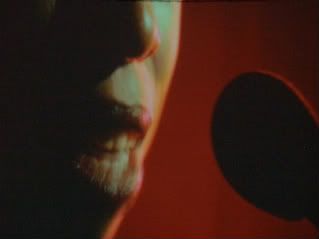 Hey DJ,why don't you play some FEAR already,ferchrissakes?
The movie reviewer with the heaviest rep,
and
my long-time favorite,
Joe Bob Briggs
,did a fantastic job charting out the Warriors route from the Bronx back to Coney Island via subway maps on his superior TNT Monstervision series which ran from 1995 to 2000,so we'll avoid that here,although... if you're looking to
bop
over it,J.B.,come and get one in the yarbles,if ya have any yarbles,you eunuch jelly thou!A nozh scrap any time you say.Director Hill,a comic book fiend from way back(I can relate,brother),looked to turn Sol Yurick's novel into a flashy screen adaption with a comic feel,but the limited budget put the blocks to that idea fast.Deborah Van Valkenburgh,who will always be Henry Rush's daughter on Too Close For Comfort(Wha-wha-wha-what are you talking,Monroe?)to me,has had a varied and interesting film career,with roles in genre films ranging from Firestarter 2 to The Devil's Rejects.The late Lynne Thigpen who plays the witty DJ dialed into the gang activity,will most likely be remembered by anyone with kids for her work in Where in the World is Carmen San Diego?Remar has acted in everything from 48 Hours and Cruising to Sex in the City,where he played Kim "Lassie" Cattrall's millionaire fuckbuddy,Richard.Can you tell I was married for six years?I also did my share of time in gangs,and I'm here to tell you,if I ever get surrounded in the pisser by a gaggle of Marys on rollerskates,or outnumbered by dipshits in greasepaint with baseball bats...oh yeah,that'll never happen since no fucking gang anywhere rolls like that!Aussie Park Boyz(2004)replaces the Warriors with some Australian martial arts guidos,and is an embarrassing recent rip-off.Speaking of rip offs,Tony "American History X" Scott plans to remake Warriors itself,with a scheduled 2011 release date,and I'm fully available to read for the role of the head of the Turnbull A.C.s,Hollywood.Cough,cough.As for tonight's entry,your favorite lousy skinheaded fuck gives it an impressive three wops,for its escapist cheez-o-licious fun.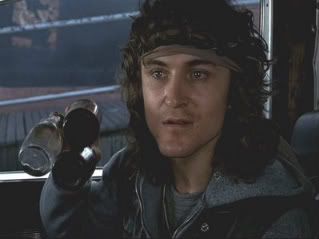 Insert the most annoying sound you could possibly think of,right here.