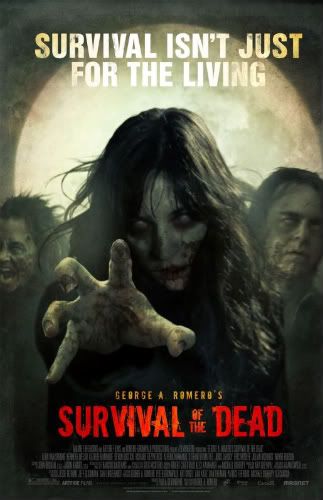 Spreading faster over the land these days than any meat-gobbling zombie epidemic,is the notion that the great horror directors of the golden age of splatter have all taken up residence over on Suck Blvd,where the rent is cheap,and Rob Zombie's your next-door neighbor.George A's no exception either.In fact,after squeezing out this latest cinematic turtle head to again cash in on his once mighty Living Dead saga,he may have secured himself a whole city block of rowhouses on said sorry street.I tried to avoid all outside influence before finally sitting down to this,the sixth installment in the series,to keep the empty fanboy praise and the snobbish skeptical dismissal out of any review I would do on the film,and afterwards,there's very little chance of me praising Romero for this shit-brick,believe me.The one positive I can pull out of this production,is that nearly every single aspect of the film blows.That's not an easy achievement for someone who once drew praise from critics and moviegoers alike for his masterful grasp of genre filmmaking.I'd categorize the main characters as cartoonish,except that's insulting to the average graphic novel.In 1968 having a black male protagonist was a brilliant move.In 2009,a hispanic lesbian soldier(named...wait for it....yeah,that's right."Tomboy".) just seems,I dunno,obvious and forced.What's next,George,a one-legged Serbian transsexual with a cleft palate(named Транссексуалац обогаљен perhaps?)?The special makeup effects,surprisingly produced in part by maestro Greg Nicotero,have taken a healthy stumble backwards,with more than one occasion where the end of a zombie makeup and the fleshy beginning of an actor is clearly visible,and the cgi headshots are not only plentiful,but downright embarrassing.WTF as interwebs-savvy peeps might type here,indeed.Poetically,the estimated
four million dollar budget
hasn't been CLOSE to paid for at the box office as the time of writing,grossing an anemic
hundred grand
in limited release.And then there's the half-assed story itself...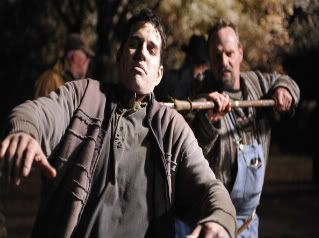 Back to The Drew Carey Show,from whence ye came!
It would seem,the band of rogue soldiers led by "Nicotine"(Alan Van Sprang) that jacked the makeshift Winnebago film crew from
Diary of the Dead
is still surviving the ongoing zombie plague that grips the world,with some new stereoty...uhh,characters along for the ride,like "Tomboy"(Athena Karkanis),Francisco(Stefano Colacitti),and Kenny(Eric Woolfe),deserting their posts and fending for themselves amidst the shuffling flesh-eating chaos.Meanwhile,off the coast of Delaware,on Plum Island,there's an Irish version of the Hatfield/McCoy feud going on between the two families that call the island home.See,there's the Muldoons,led by patriarch Seamus(Richard Fitzpatrick),who live by the word of the Good Book,and they think that loved ones,whether reanimated and hungry for guts or not,should be preserved at all costs.Then there's the O'Flynns,captained by Patrick(Kenneth Welsh),who puts down zombies on sight,and with a posse,patrols the island for walking stiffs with a posse,until a showdown between the two men and an intervention by Patrick's daughter Janet(Kathleen Munroe),who has open contempt for his stubbornness,gets he and his followers exiled off the island.The soldiers team up with "Boy",who finds an advertisement for Plum Island made by Patrick O'Flynn through an internet connection on a laptop,and after deciding to check it out,find themselves hemmed in by zombies and in an ambush firefight at the dock with O'Flynn and his followers.Francisco swims out to a ferry,being attacked by sunken ghouls along the way,biting one of their fingers off(swallowing infected zombie blood in the process)and securing the vessel for his group.Patrick's followers are all dispatched by zombies,leaving him no choice but to stow away on the ferry with the soldiers.Sound ridiculous?There's more.
"Sure and begorrah,ye'd best not be giving me one of yer hickeys,Molly!",protests Feargal.
On the isle,the group discovers that Muldoon has set up an ambush for arriving strangers,only allowing the undead visitors to remain in existence,and shooting the live ones.The bastards kill Kenny(sorry.)and wing Nicotine,before Patty sets off to round up remaining members of his family and have it out with the rival Celt,who's chained zombies up all over the place,forcing the corpses to lifelessly repeat actions they'd remembered from life,i.e. mailman zombie delivering the mail over and over again,woodchopping zombie flaccidly flailing at the same hunk of wood with an axe over and over again...you get the point,kiddies.We then see Patrick's daughter,a zombie,riding a horse freely all over the island,only it's not Janet,it's her dead twin sister,Jane.Uhhhh,yeah.This nonsense all leads to a final showdown between the soldiers and O'Flynn and Muldoon,with corralled zombies,who the good christian was trying to teach to eat meat
other
than human,escaping and chowing down on random unlucky bastards in both sides.Jane recognizes her live sister,who extends her hand in friendship,which the zombie matter-of-factly bites.Ah,sibling rivalry.Janet then sees her sister take down her horse and bite a chunk out of it,but before she can tell her father that Muldoon's experiment was a success,he shoots her,mistaking her for Janet.O'Flynn and Muldoon shoot each other and die.The remaining soldiers decide to leave the island,not exactly the paradise they had originally hoped for.Meanwhile,zombies have followed the dead O'Flynn girl's lead,and eat the horse she attacked.Then the O'Flynn and Muldoon zombies shuffle up to each other on a hill,drawing empty guns upon one another and pulling the triggers.Really.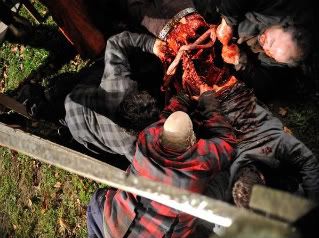 Precious few moments of this kinda thing going on here,sad to report.
I'm not happy about having to post this review at all,droogies,believe me.It's never easy for the emperor to thumbs down one of his long-time comfort directors,but these days,more and more of those guys seem to be in cruise control lately,with little or no regard for the hardcore fans who put them there.I know,personally,rather than endure ninety more minutes of horseshit,I'll sooner turn to one of the newer genre talents(Vogel,Palumbo,Aja) for entertainment.Maybe if these guys realize their core audience isn't nearly as brainless as the quivering piles of flesh shambling in front of their lens,they'll actually put forth an effort which may result in an honest-to-goodness good movie again.Or maybe they're satisfied being the punchline for the latest round of movie jokes.I'd hope that's not the case,'cuz I'm a creative and very vocal motherfucker with a witty streak longer than "Death in Venice".In closing,I wouldn't wish this fuckin' mutt of a movie on the simplest of horror fans,who,despite having balls-taste in movies,would
still
hate everything about this.With zombies being this year's horror dead horse,maybe it's finally time to put one in the head of this whole franchise,then chuck it on the woodpile and let it burn before the putrefying stench gets too strong to enjoy the classics that came before it.One wop.
The zombie wrote the prompter cards AND the screenplay too,didn't she,George.