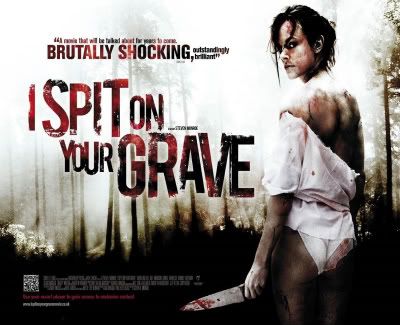 With the seemingly constant barrage of remakes thrust upon the movie going public in the past decade, it was only a matter of time before
Meir Zarchi's Day of the Woman(1978)
got the update treatment itself.For fans of the extremely nasty subgenre of "torture porn" and the brutal effects realism that goes hand-in-hand with said movies, you may have the grim motherlode in your hands here.Where the original showcased some pretty horrendous acting, unintentional laughs, and meager effects to tell its twisted revenge tale towards ultimate grindhouse success, this update, written and produced by the original's director, raises the realism stakes across the board with solid acting, cinematography, and some serious stomach-churning effects work that's sure to have your insides begging for mercy before the end titles finally roll.Whether you enjoy this film or not may depend entirely on your capability to buy into the "two wrongs may not make it right, but it damn
sure
makes it even" mentality within.Committing a crime to undo another crime reeks of Old Testament justice to me, and thus, seems a bit pointless in this day and age.You've stooped to the level of your assailants in evening the score, and despite your revenge, you were
still
raped.Torture-killing the rapists didn't unrape you.And now you've got to live with rape
and
murder on your conscience.Just seems like you've only added to your psychological baggage in the long run, doesn't it? I dunno.
Regardless of your feelings on the subject, we've got one helluva grindhouse opus of seething hatred, misogyny, and extreme violence under the woproscope tonight, and as such, it succeeds in
one-upping
the 1978 original on most levels, and if it at the very least inspires us to have extensive dialogues on the despicable subject matter within, well, that's not such a bad thing, is it?
In Hollywood, nothing good ever comes from ignorant rednecks pow-wowing in the woods.
Jennifer Hills(Sarah Butler), an aspiring young novelist, has rented an out-of-the-way cabin down south for a few months to focus on writing her second book.Getting herself lost on the drive, she pulls into a backwoods gas station for directions and embarrasses Johnny(Jeff Branson), the alpha hayseed in a small gaggle of local rednecks, shooting down his novice level come ons in the process.After Matthew(Chad Lindberg) receives a peck on the cheek for fixing Jennifer's broken toilet, the seemingly gentle retard impishly shuffles back to his pals, certain that she digs him.When late night noises turn out to be the gas station gang spy camming some inappropriate half-dressed footage, Jennifer discovers to her own horror that the good ole boys are out to get their lil' chromosome-challenged buddy his first piece of trim, willing or otherwise.She is forced to demonstrate her fellatial skills on bottles and a pistol before she manages to escape their clutches, running into Earl(Tracey Walter), the man she's renting from, and Sheriff Storch(Andrew Howard), who accompanies her back to the cabin for...ahem,
investigative purposes
, of course.At the cabin, the lawman finds some of that there alky-hawl and a marijuana cigarette(root of all evil,I tell you), patting her down like a suspect(you mean,the sheriff is
in cahoots
with these bastards?!!Yeah.Didn't see
that
coming from a mile down the road.), when the boys show up and continue their carnal onslaught on the terrified girl.The sex-crazed bufords hold her down while Matthew gets his handicapped fuck on, then Storch goes backdoor knockin', then the remaining rednecks take turns raping her in front of Stanley's hand-held video camera.The ravaged, bloodied, dirty girl gets up and stumbles out of the woods onto a bridge, in shock from what she's just endured, but before Storch can get rid of the evidence of their heinous crimes with a well-placed bullet, she jumps into the river and disappears.
Sheriff Storch(Andrew Howard)makes all his deliveries through the back door.
Despite their best efforts to locate their victim, a month passes with no results.Then Jennifer, who has been subsisting in a rundown shack in the woods, reappears with bloody vengeance in mind.Matthew, the first to feel her wrath, gets dragged off with his neck in a noose.Stanley steps into a metal bear trap while Andy gets K.T.F.O. with a baseball bat.She binds Stanley to a tree and skewers fish hooks through his eyelids before spreading fish guts over his face and chest, leaving him in front of his own video camera to be pecked to death by hungry crows.She suspends Andy over a bathtub full of lye, forcing him to use his own strength to keep himself out of the burning water.He fails miserably, repeatedly dunking himself in the base-mixed liquid, dissolving his tongue and burning most of his face off.Johnny gets strung up naked with a bridle in his yap; Jennifer pulls his teeth with pliers before forcing him to suck the barrel of a gun the way he had done to her earlier in the movie.She then hedge-clips his dick off and stuffs it into his toothless mouth, leaving him to bleed to death.Pretending to be Storch's daughter's school teacher, she lures the family man to the local playground, where she brains him with a baton from the back seat of his cruiser.He awakens to find himself bound and bent over, with a shotgun forced up his ass(!), the trigger strung to Matthew's wrist, the retarded boy unconscious in front of him.She walks out as the sheriff pleads for his life and curses her at the same time.As Matthew comes to, his movement fires the shotgun, killing he and Storch at the same time(I'll spare you the gruesome particulars here).Jennifer sits in a tree afterwards with a smirk upon her face.That'll learn ya.
Keep an eye out for Heckle and Jeckle, would you, Stanley(Daniel Franzese)?
Despite anemic box office returns and brutal rending at the hands of most professional critics,
this
is what exploitation is all about, really.Sarah Butler is pretty easy on the eyes, displaying emotional prowess and acting chops, as well.Her previous work includes CSI:NY, CSI:Miami, and a recurring role on I <3 Vampires.Director Monroe has languished in Sy-Fy Network Hell prior to this production, helming craptastic flicks like Ogre, Wyvern, Sasquatch Mountain, and Mongolian Death Worm.Hopefully he'll break outta that pattern someday.Jeff Branson had long runs on soap operas Young and the Restless and Guiding Light before scoring his role here.The Welsh-born Andrew Howard has worked in movies and television, with recent credits in Revolver, The Devil's Chair, and Transformers:Revenge of the Fallen.On the rating scale,this Spit update scores a solid three B.W.'s, see it for yourselves and judge.
After a buckshot suppository, constipation was never an issue again.