The weather outside might have gone more schizo than Syd Barrett in a basement fulla psilocybin caps, but the Wop stays constant like Seka's neckerchief over here, with a full palate of genre reviews for you avid woprophiles.Tonight's feature is a memorably gritty and grimy little cultish chunk of low budget seventies horror, packed to the gills with outrageous dialogue, hook-handed hatchet men with homicidal level Oedipal complexes, an early cameo from Angus Scrimm, the Tall Man of the Phantasm series(credited here as Rory Guy), and ample amounts of that glorious red stuff, a-spurtin' and a-squirtin', just the way you like it.My first exposure to Scream years ago was a trailer at the tail end of a VHS tape I had just bought, that had just drawn me in with its incessant screams of terror and foreboding voice over taglines when it abruptly
cut off
in mid-sentence and rewound automatically, as the tape had run out.I don't miss that aspect of the dated format, I can assure you that.A few weeks later I had scored myself a copy of the movie itself, and though it wasn't particularly gory, frightening, or even suspenseful for that matter, I came away from it pleasantly surprised and thoroughly satisfied.I'm not sure if the movie has earned its own dvd release as of yet, but the print on the double feature disc with "Sisters of Death" is watchable though expectedly washed out in some chapters and grainy in others(the way a movie like this oughta look IMHO, not
everything
needs to be restored, remastered and hooked up on blu ray,y'know).
Look before you leap(off of your paw's tractor) for as you sow, yer bloody mitt you won't keep, or something to that effect.
On a farm, we meet Matthew, a mischievous lad who hops onto his father's tractor as it idles and is so inclined to throw it into forward as Paw stands helplessly in its path.Though a Galápagos tortoise could probably lap this laggard piece of farm equipment on a bad day, Matt's dad doesn't stand a chance and is effectively mushed.Matthew leaps off the still-moving tractor and inexplicably lands directly in its path.The murderous machine pulverizes his hand, which he holds up for all to see as the opening credits roll.We next see Matthew(Fred Holbert)as a teenaged amputee in the care of nuns as he reads the latest correspondence from Maw, who's taken refuge in the arms of one of the local man-folk during these trying years.He furiously crumbles the letter with his shiny new hook.Upon his return home, he's shocked to discover that Maw selfishly went off and married this guy she'd been talking about.He throws a psychotic tantrum culminated by his stepfather's axed up carcass and his momma's head smashed on a rock.That'll learn the two of you.Matt breaks camp, haunted by foggy visages of his dead parents taunting him repeatedly, and hitches a ride with a newlywed couple who he snuffs in the midst of one of his hallucinations; the groom eats rock-smashed head death while his bride gets dunked in the drink.Next he meets a cheap-but-friendly whore who dabbles in art in between tricks(don't they all?)and quickly grows all sweet on her.Jealous of a sailor who'd just solicited her for fleshy favors, he follows the squiddly diddly afterwards and cuts his throat with her palette knife.That'll learn ya.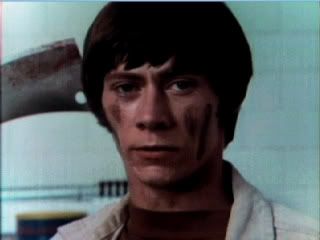 The Hook(Fred Holbert) hews n' hacks the hired help to keep his hooker hostage harmonious.
At this point, he decides that only a spacious mansion and vintage limousine will impress this professional leg spreader, so he procures himself one by hacking a black maid to pieces with a meat cleaver, then pillow-smothering the face of the geryatric broad who owns the place after she attacks him with double walking canes(!).Then he turns to the dog."Come on,boy.You're next."Oh man, even the dog??Matthew picks up the hooker in his stolen car, bringing her back to the mansion where he's envisioned a rich, fruitful life for her: bound, gagged, forced to paint for him, and when she's less than enthusiastic about it all, he delivers
this
gem:"See what I do for you? I get groceries and clothes and art stuff and kill people. And do you appreciate it? No."When Dr. Epstein(Angus Scrimm)shows up to check on his elderly patient, Matthew adds him to the body count; during the commotion, his hog-tied captive frantically tries to dial the police...on a rotary phone...with
her tongue
(!!).If she managed to
succeed
, I know where my next twenty dollar bill'd be goin'.During her next escape attempt, she uses her feminine charms to bewilder the virginal amputee,conking him on the back of the head as they're both sitting on a bed together.She desperately rushes out of the bedroom,through a hallway and down a long flight of steps, across a sizeable foyer to the door, but when she opens it, he's somehow already on the other side.She eats hook-driven throat slashing death for her troubles, having not figured that the young man could be in two places at once.He scrambles to a church, his nightmarish hallucinations of black-clad taunting victims surrounding him, and erases himself from the equation with a well-placed hook to the breadbasket.Roll credits.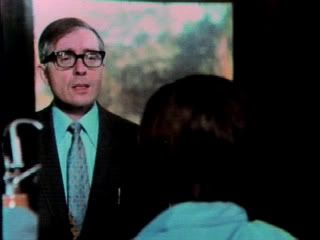 "You've got (silver)balls, trying to lie to me, boy." growls Dr. Epstein(Angus Scrimm).
Interestingly, Marc B. Ray never directed again, instead writing for kid-based television shows like Lidsville, New Zoo Revue, and Kids Incorporated(!!!).Who'da thunk
that
, huh.Holbert doesn't seem to have done any other movie work after nailing a satisfyingly twisted maniacal performance here.That's really too bad.Scrimm, on the other hand, has appeared in genre fare like I Sell the Dead, Subspecies, Mindwarp, all four Phantasm films, and a memorable turn in Don Coscarelli's "Incident On and Off a Mountain Road" episode of Masters of Horror.Though it probably won't merit multiple viewings for you, Scream is definitely worth one good look, at least.On the scale it earns two big ones.
Matthew misdiagnoses a diabetic emergency,and performs an impromptu pancreatectomy on himself, with dismal results.