Tonight we examine the screen adaption of a book once called "the most abominable book ever engendered by the most depraved imagination"(that's a
tall
order,shorty) by no less than Napoleon Bonaparte, resulting in the thirteen year imprisonment of its author;a man known the world over as the father of Sadism, the Marquis DeSade.An ambitious undertaking for
any
director, granted, and somewhat ironic that none other than Jesus Franco would helm the project during one of his more prolific and respectable periods of work.Perhaps the true irony here is that Franco doesn't bung the whole production down the lavvy, despite his signature eternity-long zooming hand held shots that often end up blurred and out-of-focus, or more often, on some broad's hairy gravy boat, on display for all to see.In this film, the bush just happens to belong to the daughter of silver screen swashbuckler,Tyrone Power,whose fatal heart attack came ten years earlier in 1958, and
not
directly after screening Romina in her birthday suit here as one might deduce.Also lending credibility to the Italian production are performances by Franco regular Maria Rohm, the one and only Klaus Kinski(who's kind of wasted here, only bagging silent screen time as DeSade himself), the actress behind the husky screen voice of Pazuzu in The Exorcist, Mercedes McCambridge, and even local great Jack Palance, who's not only appropriately off-the-chain as a sexually deviant libertine here, he also
levitates
for anybody interested in seeing that sort of thing.Nothing would surprise me at this point after checking out some of the search topics that bring readers to the Wop every day.Y'never know.So does Franco do the literary pornography of DeSade any justice?Read on for my verdict.
DeSade(Klaus Kinski)lets his quill do all the talking.
As we begin,the Marquis DeSade(Kinski)relates the sad tale to the viewer from the confines of prison, tortured by hallucinogenic images of, well...bare-assed women being tortured(I'm pretty sure he grooved on this sort of thing IRL).Juliette and Justine(Maria Rohm, Romina Power)get thrown out of a nunnery when their father unexpectedly dies.When Juliette's friend, Madame de Buission, turns out to be a brothel madam, the more virtuous and pure sister, Justine, bows out gracefully, while her nasty whorish sister Juliette willingly sets up camp in the whorehouse, learning all the carnal skills to make herself the apex prostitute.Meanwhile, things for Justine go from bad to progressively worse.A passing priest jacks her up for her gold doubloons and passes her on to a fat old scumbag named Du Harpin, who frames her with a gold amulet stolen from his master, Monsieur Derroches, ultimately landing her in prison.There she is befriended by Dusbois(Mercedes McCambridge),a gravelly-voiced she-assassin who takes pity on her for her innocent looks, and incorporates the young girl in a daring escape plan involving a set fire.Her sister, meanwhile, has honed her treachery to a fine point, adding murder to her growing list of unscrupulous talents; killing her madam and a rich client to boost her own pile of duckats.When Dusbois' henchman vie for dibs on deflowering their new young accomplice in the forest, she makes her escape, finding shelter and love for a short time in the home of a painter named Raymond.
Dusbois(Mercedes McCambridge),a condemned virago, still manages to set aside some quality gypo dancing time.
Her happiness with Raymond is short-lived though, as the police inquire as to her whereabouts, forcing her to flee into the woods, coming upon the shrewd and loafer-light Marquis de Bressac, who hires her as an attendant to his wife, the Marquise(genre fave Sylvia Koscina), that he's been planning to eighty-six all along.When she refuses to kill the woman for him, he kills her himself with poison and frames Justine anyway, branding a huge M(for murderer) between her smallish(but appetizing just the same!) busom.At the same time, her sister Juliette has amassed a small fortune from her wicked ways that she no longer fancies sharing with fellow prostitute Claudine, so she sinks her in the drink while bathing in a river.Just when things seem to be looking up for Justine as she finds herself in a chateau occupied by a monastic brotherhood led by Father Antonin(Jack Palance), she discovers in horror that the men are perverted hedonists in search of the highest forms of physical pleasure, torturing women that they keep as sex slaves.During a ceremony where Antonin plans to reward Justine for rapidly learning their philosophy by releasing her through torture-killing her(Englebert Humperdinck would
not
be amused), things go wrong and she escapes once again.Her brief lover Raymond rescues her
again
only to have Dusbois abduct her
again
, forcing her to appear nude in a stage show where the crowd notices her murderess brand, causing her to be dragged off by the police
again
(Phew!).Before the King's men can enforce their justice though, she is noticed by a minister's mistress who saves her life.The woman of position turns out to be Juliette herself, confessing that her life of big black evil badness turned out be less fulfilling than she thought, and her sister Justine would finally be rewarded despite her long-standing misery.Justine takes up at the palace with her sibling, and is reunited with her lover, Raymond.Awwww, that's nice.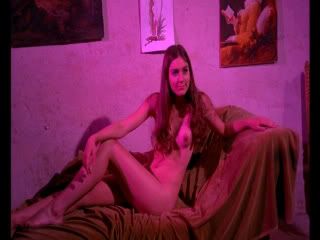 The sweet and virtuous Justine(Romina Power), willing to break it all out for love and art.
Surprisingly, the movie is as reasonably close to the book as one could expect here, sparing audiences Justine's death at an untimely lightning bolt after confessing her sins to her sister(!).I dunno, I woulda dug seeing that, to be truthful.Franco sandwiched this release between 99 Women and Eugenie, The Story of Her Journey into Perversion, before moving on to Venus in Furs, and two Christopher Lee vehicles, The Bloody Judge and Count Dracula, the following year.The oft-nude Power would continue on in Italian film for decades, adding singing, writing, and painting to her already impressive repertoir.She does an adequate job here(though she's at least five years older than the literary model fyi), always looking the right mixture of innocence and untapped sex appeal.McCambridge, who also landed a part in 99 Women as Franco-philes will already know, bagged herself a Best Supporting Actress Oscar in 1949 and was once called the greatest living radio actress by none other than Orson Welles himself.Tonight's review will finally break the string of three wop movies we've had here recently, though it should be noted that a two wop Franco movie is like a three wopper for other directors, in most cases.Worth a look!
Jack Palance's portrayal of Father Antonin is based entirely on a chunk of Prosciutto di Praga...believe it....or not.