A vengeful hex upon the rascals at Verizon for making it near to impossible to log in here at the Wop for the past week or so, it's a minor miracle I was able to do so tonight and get back to where we started from like Maxine Nightingale used to croon back in the mid-seventies.First up,we've got some kung fu for you to wrap your sashes around,so put your seven sectional steel whip down momentarily and read on,little brothers and sisters...
Tonight's review was another popular entry on Channel Five in the eighties, displaying the martial dominance of Billy Chong, a successful kung fu actor who rode the sash-edge of Jacky Chan to stardom during that exciting period in chopsocky flicks.When last we examined Chong's work, I expressed feelings that some of his films suffered from lack of competent villains to pair the gifted Indonesian-born expert against, and nowhere is that more evident than in tonight's movie, a kitchen sink of flowery named fighting styles juxtaposed against Chong's signature leg fighting and muscle tone.Hau Chiu-Sing tries his luck here,and his unimpressive lack of fluidity is simply no match for Chong, painfully evident from the first time we see him practicing his awkwardly named(and executed)Horse Face Fist.Director Lam tries to level the playing ground by inserting several phony trampoline-enhanced stunts, played both forward and in reverse, only succeeding in making the inequality between his star and his antagonists that much more evident.The soundtrack borrows tracks directly from familiar Hollywood fare like The Ten Commandments.Despite these shortcomings, Power does showcase its leading man quite well, with several solid form sequences and fights, and I'm confident that fans of Billy Chong will enjoy the movie anyway.Forward!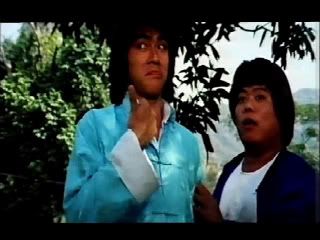 Chun Ming(Billy Chong) lives to: a)kung fu fight and b)tease Fatty.
Kang Si Man(Hau Chiu-Sing)is called to his dying father's bedside, where he's told of his father's shameful loss to five different masters years earlier.He's given a special training manual for the Horse Face Fist, a devastating technique that few have mastered and vows to defeat the modern proponents of those five teachers to return glory to his family name, with the help of his two brothers(Chiang Tao and Ho Kei-Cheong), two Eagle Claw stylists.Meanwhile, Mr. Wan(Lau Dan)is struggling to keep a tight rein on his impudent son, Chun Ming(Billy Chong), who shows little interest in the book studies he's being tutored in, or even Sau Yee(Annie Liu On-Lai), the young girl his family has arranged for him to marry.Kang challenges and defeats Wan's friend, Lin, then arranges for a dinner between all the masters, where he instigates duels between them, only stepping in afterwards to pick up the pieces.When Chun defeats Mr. Liu's son in a forest battle, Kang later blinds the young man in an attempt to frame Wan's son, but drops his snuff bottle at the crime scene, where the fight is witnessed by Sau, dressed as a man in public to glimpse her future husband.
"Before I marry a man, I'm going to see him." How picky of you, Sau Yee(Annie Liu On-Lai)!
Wan receives a challenge letter from Kang, which he sends back without a response, enfuriating young Chun, who prefers to settle all disputes with his fists and feet.Chun and Sau connect, despite the best efforts of each to remain unattached, and he playfully shows her the basis for his powerful Natural Fist style in the nearby forest through some impressive form work.Wan calls upon an old master, Chao Ming(Wong Chi-Ming, the film's fight choreographer) to instruct his son in countering the mysterious Horse Face Fist of Kang, but the stubborn Chun refuses to learn until the wily sifu bests him in a contest in a room full of antique valuables.Chao teaches him the basics of Northern and Southern Eagle Claw then prepares him for the circular attack patterns of Kang's technique using bricks and flour-dipped fists(!).Chun beats Kang's brothers one at a time, then cockily accepts his challenge letter, guaranteeing a victorious outcome.Ming mocks Kang throughout their final battle then dispatches him once and for all, returning glory to Wan's school and the Natural Fist style.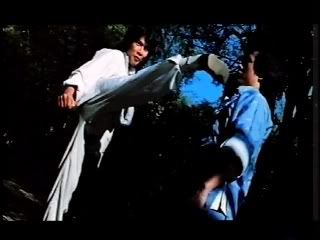 Don't mess with the Dohzan:Smell it...smell it...smell it...now take it.
Chong's always been one of my personal favorites, and tonight's review received regular screenings at my place through the years, despite the otherwise mediocre martial arts on display within, due to the enthusiastic superbly powered performance of its headliner.In days to come we'll be looking at more solid efforts from Eternal Films and Chong himself, so stay tuned for those, as always.On the scale Power rates two big ones, worth a look for those martial practicioners and enthusiasts who gaze upon Billy Chong with any sort of favour.Check it out.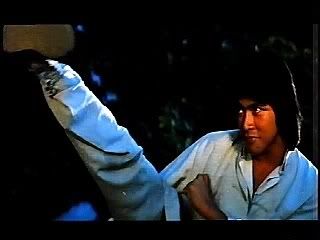 As always, Chong's leg skills are second to none.