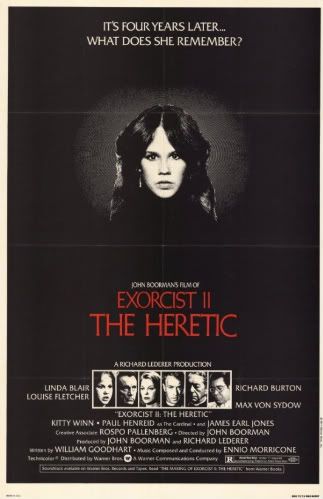 ca·tas·tro·phe/kəˈtastrəfē/Noun
1. An event causing great and often sudden damage or suffering.
Usually, when a sequel fails, it's because it serves up a whole lot more of the same things the first movie provided to an audience who believed they wanted
more
of those things after enjoying them the first time round, then discovering that the familiarity that has replaced the excitement they originally felt has left them, more often than not, kinda flat.Duplicating all the wonderful, horrible things that make The Exorcist a genuinely terrifying box-office smash and one of the greatest horror movies of all-time apparently wasn't an option in John Boorman's sequel four years later, as Heretic not only avoids them completely, it seeks an identity all its own:a deliriously overblown, badly acted, perplexingly scareless, heavy-handed, putrid disaster full of unintentional laughs.The producers seemingly ignored the fact that William Peter Blatty and Billy Friedkin walked away from a creative pow-wow convinced that an effective sequel wasn't in the cards, and went ahead and evacuated their cinematic bowels anyway, with dollar signs in their eyes, resulting in shame and embarrassment for anyone foolish enough to put their name on this picture.Every aspect of this movie is effectively ineffective:Linda Blair balked at appearing in possession makeup of any kind, opting instead to reveal her teen chunkiness and inability to act worth a lick to the world, forever damning herself to roles in driftwood like Roller Boogie(1979) and Zapped Again!(1990).Never to be out-hammed, the oft-sozzled Richard Burton shouts every line and sweats like John Wayne Gacy if he guest starred on Xusa.James Earl Jones looks rightfully humiliated in his giant locust suit.Director Boorman(who
hated the original
!!!), normally on point, has nothing to work with here.Even maestro Ennio Morricone's soundtrack is a mishmosh of suspenseless bromidic disco rock that the Solid Gold Dancers wouldn't boogie to.The punchless story is farther from coherence than a Turkish Star Wars(Haven't reviewed
that
gem yet, have I? Hmmmmm)script as written by Ted Geisel.The MPAA must have imposed their R rating on the film out of pity since there's no nudity, sex, profanity,
or
violence either.In fact, I'm of the belief that the phrase "epic fail" was coined at a Heretic screening.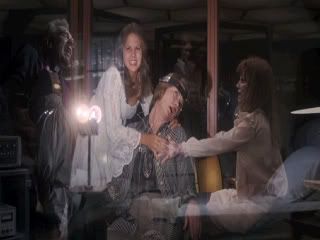 Wait.What.
A sweaty, loud priest named Lamont(Burton) is assigned by the Cardinal(Paul Henried) to the Church's investigation into Father Merrin(Max Von Sydow)'s mysterious death while performing an exorcism four years earlier at the MacNeil's residence.His inquiries first lead him to Regan(Blair), who only seems to be possessed these days by a slow metabolism and a burning desire to spend the whole running time wearing little else but unflattering sequined tap costumes and low cut nighties and says airheadedly, "I was possessed by a demon.Oh, but it's okay, he's gone now!".
Seriously.
While her actress mother is somewhere "on location"(translation:Ellen Burstyn wisely passed on this one), Regan has been roughing it in a lush Manhattan penthouse, still cared for by Sharon(Kitty Winn, who wasn't as wise as Burstyn it would seem) and treated by a psychiatrist named Tuskin(Louise "Cuckoo's Nest" Fletcher, who should have known better), who straps the girl's ample forehead and her own into what looks like an old wood grain eight track player with a lightbulb to travel into each other's subconscious via hypno-telepathy where the original exorcism plays out between Merrin and an obvious Regan stand-in (who
didn't
refuse to wear possession makeup) that causes Tuskin's heart to "fibrillate"(translation:heave suggestively and make inappropriate lusty noises) in the same manner that Merrin's did.Lamont, who's never seen or used this contraption before, mind you, exclaims "I know where she is! Help me to find her!" and goes under himself, prepared to hypnotize her heart back into beating normally. Later, Regan dreams of Pazuzu, who has taken the guise of a swarm of locusts(huh?) when he isn't possessing people with healing powers, preventing man's inevitable cerebral evolution where he will have achieved oneness with God, after Lamont later hypno-raps with the demon about it.He approaches the Cardinal with the idea of a Church-funded(!) trip to Africa(!!) to seek a man named Kokumo(James Earl Jones) who had survived Pazuzu's onslaught of hungry grasshoppers as a boy, and thus, might be able to teach him how to show Regan to oust the dormant do-badder.
I suppose this'd be terrifying if you were an unsprayed cabbage leaf.
In Africa, Lamont admits to tribesmen that he knows the circumstances behind their holy man's untimely plummet-to-death years earlier by flying there with Pazuzu during a trance(!!!), getting shelled with rocks by the nubians while a sequined Regan feels his pain at an embarrassing interpretation of "Lullaby of Broadway" thousands of miles away, taking a flopper off the stage.The combo priest/human sweat sprinkler system flies to the village of Jepti with the aid of Ned Beatty(what I said about Winn and Fletcher earlier?The same goes for
you
, Ned) and through telekinesis uses Regan(who's
not
hooked up to the contraption btw) to
get the demon to help him track down the one man who'd defeated him in the past
.Yeah, makes sense.Kokumo first appears to Lamont as a disgruntled tribesman-in-a-giant-locust-suit(think A Christmas Story's Ralphie-in-the-bunny-jammies uttering gems like,"If Pazuzu comes for you I will spit a leopard", and by "leopard", he means a sloppy cherry tomato) then as a scientist researching..drumroll... the damaging effects of locust swarms in Africa(what else).Lamont sweatily queries,"When the wings have brushed you … is there no hope once the wings have brushed you?"(verbatim btw, no exagerration) and Kokumo shows him a new breed of female "good locust" that has a calming effect on the evil swarm.A stroke of symbolism as artistically painted by a
roller
, methinks.After a cheap mixture of phony and real harrowing airplane sequence obviously thrown in to cash in on the disaster craze so popular at the time, Lamont and Regan end up at the Georgetown residence only to be pelted by packing-peanuts-painted-brown-to-resemble-locusts as thrown in front of a wind machine by production assistants, and confronted once again by Regan's possession double who morphs into what-shoulda-been-a-horny-slut-temptress-but-only-comes-off-as-a-gussied-up-busty-chipmonk and tries to seduce Lamont, who sweatily mauls the scantily-dressed teenager(!).Finally coming to his senses, he rips the impostor's heart out of her chest, signalling another locust/packing peanut swarm, which the real Regan dispatches by swinging an imaginary bullroarer over her head like a lasso while spinning in place.Wait.What.Then Tuskin, who's been outside chaotically battling a possessed Sharon the whole time while the building literally cracked open for some reason, turns Regan's guardianship over to the priest.Huh?If you're confused reading this, just wait 'til you actually
watch
it.
"You are gonna march yourself down off of that altar, and you are gonna call Aunt Mbvotu and thank her for your adorable new locust jammies, young man!"
Also deserving of embarrassment here is an uncredited pre-Diff'rent Strokes Dana Plato as a young autistic stutterer(really!).Well, let's let the poor girl rest in peace, instead.Then there are the names(Walken, Fonda, Carradine, Ann-Margret, Sarandon, Segal, Voight, Nicholson, Kubrick) who either turned down the movie outright, or wisely disappeared pre-stench.During the notorious premiere, the audience laughed and even threw things at the screen at a Hollywood Blvd. theater.Don't listen to the sparse few advocates kicking around the notion that Heretic "isn't as bad as all that", woprophiles, it's that laughably bad and
worse
.One wop.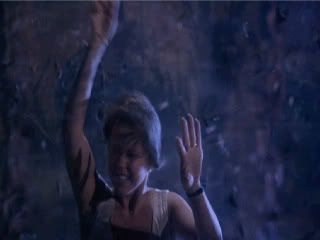 You should be swinging that imaginary bullroarer at your agent's head, Linda.