By 1987, the 'stalk and slash' era of horror was in serious need of cardiopulmonary resuscitation, most of its pulpy gore having been extorted to barrenness by opportunistic studios throughout the first half of the decade.The splattery sub-genre that had proved wildly popular to horror fans the world over was now mostly subjected to criminal disregard in favor of thewless fare like The Lost Boys and Ghoulies 2 with an indecorous, premature burial seemingly just around the bend.It certainly might have gone that way were it not for synthetic opioids of Mediterranean cinematic origin as delivered by familiar genre medicos like Dario Argento, Ruggero Deodato, and the directorial debut of Michele Soavi, as evidenced in tonight's review.Up until now, Soavi had been receiving credits as assistant director on films by Argento, Aristide Massaccesi(Joe D'Amato), and Lamberto Bava, as well as helming the excellent 1985 docupic, Dario Argento's World of Horror, but it was clearly time for this Milanese to begin to reveal the enormous talents he brought to the director's chair for himself.Deliria, which was released under a host of alternate titles such as "Aquarius", "The Bloody Bird", and "Stage Fright", would be produced by Massaccesi, and scripted by Luigi Montefiori under his 'Lew Cooper' pseudonym, not to mention showcasing the screen presence of genre vets like Barbara Cupisti, who honed her skills in movies by Fulci and Argento and would go on to appear in Soavi's
La Chiesa(1989)
and
Dellamorte, Dellamore(1994
), David Brandon, who debuted in Derek Jarman's art-punk Jubilee(1978), and went on to appear in cult favorites by Massaccesi(Emperor Caligula:The Untold Story) and Bava(Le foto di Gioia), and the always tragic Johnny Morghen, who might have momentarily put aside his increasingly vocal disdain for
orrore e gialli
here, in playing an actor in a theatrical troupe just as he actually was, prior to his cinema debut for Deodato in 1979.Despite being somewhat anchored in mediocre waters by familiar subject matter, a passe' eighties soundtrack full of annoying synth-jazz(you
all
know how much I despise jazz) by the normally outstanding Simon Boswell, and mired by a sloggish midsection, Deliria is a beautifully shot(what
else
would you expect from Soavi?) slasher/giallo hybrid that boasts of several inventive and explicit kills that help it to rise above most of its more lemon peers.Onward!
"Don't look to me for protection, I get paid to traipse around in tights!" minces Brett(Johnny Morghen).
A troupe of struggling young actors rehearses a small new production about a mass murderer known as the "Night Owl" late one evening, when the leading lady Alicia(Barbara Cupisti) unwittingly twists her ankle and is forced to sneak off with Betty(Ulrike Schwerk), the wardrobe mistress, to seek medical attention away from the dictatorial eye and vitriolic tongue of Peter(David Brandon), the play's director.It just so happens that the nearest medical facility is the area's mental hospital, and not just
any
mental hospital, but the one that happens to house Irving Wallace, an actor who abruptly flipped his wig and snuffed twelve unlucky cats before gettin' boxed up in the squirrel farm.While the actress's peg is tended to by the resident psychiatrist, Wallace, now overbrimming with hatred for actors, takes out an orderly with a syringe and breaks out of the asylum, hiding out in the back of Betty's car.When the girls return to the rehearsal, Peter sassily serves up walking papers to Alicia for leaving the theater, but after packing her stuff and returning to Betty's car in the torrential rain outside, she stumbles upon the wardrobe mistress's dead body, her yap bifurcated by a pickaxe.The authorities station two officers(Mickey Knox, Michele Soavi) outside the theater to guard the premises when the director, acting on artistic urge, rewrites the script and gives the theater's door key to an actress to hide, so that nobody can leave the building.Let's recap, shall we?Actor-hating psychopath locked in a dark theater with troupe of catty actors working on a pretentious play about a murderer(now named "Irving Wallace" by the foppish Peter) who wears an ominous owl head mask(and a Marilyn Monroe clone blowing sax in the "Seven Year Itch" dress, for some unknown reason).I can only
imagine
what's gonna transpire next...
"Do you ever get tired of hearing how much you look like Michele Soavi?" asks 'Old Cop'(Mickey Knox).
First Wallace dispatches the actor who would be portraying him in Brett(Johnny Morghen), then, decked out in Strigiformes-head, takes his place on stage and, upon shouted cue from Peter, strangles and shanks up one of the actresses for serious in front of everyone's disbelieving eyes.After Peter is informed that the phone line's been cut, and tries to grill a dying Corinne about the whereabouts of the key, he starts to realize which odorous creek he's up without a paddle.Pretty soon, Irving is going through frantic, terrified dancers in the dark faster than me with an AMP four pack.One particularly sorry bastard gets power drilled through the labonza while clutched through a door.Peter remarks that the survivors might have better luck sticking together as they stumble upon Brett's corpse amidst synths that wouldn't be out of place in a Level 42 track, and one female dancer, pulled through the wooden walkway in the rafters, is sheared in two.When one of the boys vengefully jumps through the hole in the floor to face the maniac, he's dissected by a chainsaw for his troubles.Peter whimpers, "You leave me alone, and I'll leave you alone...alright?" and gets his arm sawed off, with his own fire axe ripped from his disembodied arm and used to decapitate him.With the oblivious cops outside in the rain comparing themselves to Brando and Dean(!), Alicia, awoken by a single feather landing on her face, finds a bloodied half-conscious Laura in the showers when Irving shows up to shiv her in the labonza and drag her off.Wallace morbidly dresses the stage with all the lifeless corpses of his victims and sits among them with the key to the outside precariously lodged in one of the floorboards at his feet.Will this be Alicia's final curtain call? Will Irving roost in a barn at sunrise? How this pot boiler wraps up, I'll leave to you to find out.Disappointment is unlikely.
Impressed by the size of Irving's drill bit, the ladies are soon on him about contracting some private handiwork...
Helping to keep the slasher subgenre alive was all in a day's work for Soavi, whose films only got better from here.As it stands, Deliria has got enough going on to merit a look for gore freaks, and a permanent spot on the shelves of genre collectors.It's a fairly standard affair with moments of flair provided by the unmistakable style of the director beginning to surface.Most of the pretentious tights-leapers are of the stereotypically acrimonious type, so you'll be cheering on the graphic murders here once they start dropping like dysfunctional genitalia.Of course, I'm
slightly
biased towards Soavi, my favorite genre director since Chile got turned on to free elections, but there you go.A little sidetracked with a harbinger of Sunday night partying permeating the air, so I'm just gonna go ahead and wrap this one up by slapping three wops on it as a seal of approval and recommending it to all of you out there.Now let's boogie...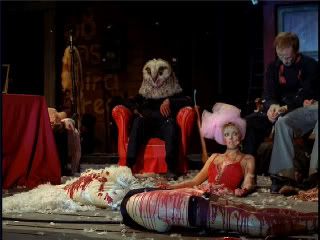 That's how many licks it takes to get to the center of a Tootsie Pop, bitches.