Although the thought of luscious Kate Beckinsale slinking around in a latex catsuit makes my underwear evolve into a tent, I avoided seeing any of her real life husband Len Wiseman's vampire v. werewolf franchise for quite a while, until one of my girlfriends pressed me into an impromptu screening (through pleading and sexual blackmail) that I found surprisingly entertaining despite the obvious fluffy silliness within.Even further into the realm of the implausible then, was my discovery that Underworld Evolution, the follow up installment, was an
improvement
upon the first effort.Wiseman astutely adds the immeasurable talents of Derek "I, Claudius" Jacobi to the cast, and trims away much of the jerry-built gothy vampire mincing and clumsy-looking blockheaded cgi "lycans" in favor of much choicer winged vampire dominant hybrids and Wile E. Coyote-esque first gen werewolves.What's more, the plot is assuredly more complex this time around, making for an enjoyable bloody gothic soap opera packed with wall-to-wall action and well-executed stunts(although I've been over the whole Matrix super slo-mo compu-assisted mamajahambo for quite some time now, thanks).I've dug Beckinsale's non-genre work for a few years, especially the titular "Emma" on ITV and Branagh's Much Ado About Nothing(1993).The fact that she's an adorable little brunette is just Thai peanut sauce slathered on a grilled hunk o'poultry.Forwards.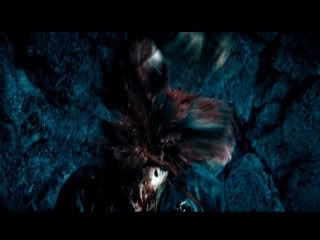 Kraven(Shane Brolly) learns too late of Markus'(Tony Curran) affinity for the comedy stylings of Gallagher.
We commence with a flashback vision of vampires in medieval armor on horseback(ya don't see
that
very often, huh) led by Markus(Tony Curran), Viktor(Bill Nighy), and Amelia(Zita Görög) through a village that's been decimated by lycans where they ride upon William, Markus' brother, the original, ominpotent werewolf, and capture him; Markus' pleas for leniency fall upon Viktor's deaf ears, and the vampire elder condemns his sibling to imprisonment for all eternity.We fast-forward to Selene(Kate Beckinsale) as she speeds Michael(Scott Speedman) to a safe locale so she can return to the estate to deal with current head
haunt
-cho of the fangfaces, Kraven(Shane Brolly).Remember that Michael is of the cursed Corvinus bloodline, and has already been transformed into a lycan-vampire hybrid(translation:black hairless werewolfishness) and Kraven plans to snuff Markus' candle before he can be ressurected from his tomb, not knowing that Singe's blood has seeped through the intricate gratework above the technocasket, transforming Markus into an uber-powerful vampire-dominant hybrid, complete with fully functional bat wings that sprout from his back.Kraven's men get brutalized and his head gets pulverized before Markus sets out in search of Selene and her one-of-a-kind companion, cueing a dazzling battle with Markus flapping around their flat bed truck on a winding mountain road like a moth to a streetlamp.After they give the wingman the slip, Michael hides Selene from the deadly sunlight in an abandoned warehouse, where she gives up the vampire trim.Lorenz Macaro(Derek Jacobi)-who's-really-Alexander-Corvinus-the-first-immortal sends in a crew of cleaners to do some blooddrinker csi work at the carnage and consequence of the lycan lair, finding a duplicate of Sonja's pendant in Viktor's chest(!) during a makeshift autopsy.Huh?
Would you need to know your motivation to hook this scene up?Me neither.
It turns out that both are keys to William's eternal prison, and very high on Markus' "Must Have" list, as he intends to find out the whereabouts of his brother's encarceration by drinking Selene's blood, and therefore tapping its 'memory'(yeah, even your blood holds memories, apparently) so he can finally free him so that as hybrids they can rule the earth.Simple enough.Selene and her boy toy travel to meet with Tanis, an exiled historian vampire, about the pendant's true meaning, and after some slo-mo hijinks he reveals that Markus, not Viktor, was the very first vampire, and that he had only planned to capture and tame his destructive, furry brother by propositioning an aging general(Viktor) with immortality if he and his army complied with his wishes.Of course, they didn't, and William ends up imprisoned forever due to the double-cross.Tanis also informs Selene that her father was commisioned to build the werewolf's prison, and her family's subsequent slaughter at the hands of Viktor's vamps was due to their knowledge of the location and tells them where to find Macaro.Markus flaps in and roughhouses the exilee', drinking his blood to get the bead on Selene and Michael.At Macaro/Corvinus' pad, Markus seemingly stakes Michael, mortally wounds his own father, collects both halves of William's prison key, and sups on Selene to locate his brother.Afterwards, a dying Corvinus orders her to partake in his blood and transform herself into a super-powered hybrid for the final showdown with his two sons, then blows himself to smithereens.Selene loads one of Corvinus' helicopters with cleaners (and Michael in a body bag) and they head for the prison, where Markus has already turned William loose.The action-packed conclusion, I'll let you discover and enjoy for yourselves.
Selene(Kate Beckinsale)'s handgun is no match for Markus' close quarters (bat)wing chun.
Normally, I'd never review a sequel before covering the original, but in this case, I really liked the sequel more, so there you are.I'm as surprised as you are that I'm sitting here telling you that Underworld is as rad as it is, not being much of a mainstream-minded gent as you might have guessed by now.The inclusion of Jacobi in the cast has much to do with it, I'd think, as his expressive features act out more effectively than a room stuffed full of would be thespians shoulder-to-shoulder.Also, I love the foreboding, overcast, stylized look of these movies.Simple as that.I've yet to screen the third Beckinsale-less installment, Rise of the Lycans(2009), but I'll get around to it, dammit.Don't rush me, effers.On the scale, two big ones isn't too bad a score for a movie with a fifty million dollar budget, when you think about it, all mediocrity aside.Check it out, for real, you'll probably have a good time, too.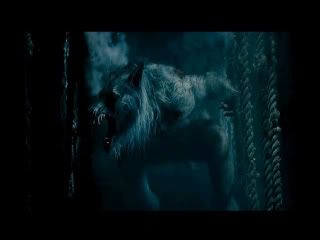 A tempestuous Wile arrives at the Acme warehouse, looking to exchange a faulty catapult.