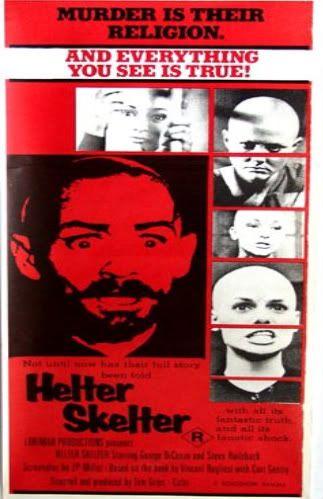 Tonight's entry, a made-for-television event spanning two nights back in April of 1976, is perhaps the most famous of the films concerning the Tate/LaBianca murders, based on the bestselling 1974 book by Curt Gentry and Vincent Bugliosi, who was prosecutor in the historic trial itself.Nominated for three Emmys, it had a theatrical release overseas with additional nudity and violence, as evidenced by the choice blood red Aussie daybill that creeped out my ex-wife until I finally tucked it away in a closet, pictured above.Despite the poster's place in my collection and my insistance to stay up late both nights when Skelter originally aired(I pulled it off, somehow, too), the Gries-helmed vehicle isn't my favorite take on Charlie and pals by a long shot, due to the talky, investigation/courtroom approach it favors, focusing on Bugliosi's victorious Beatles-driven race war motive from right field, instead of the barely touched upon far out lifestyle and psyche of the hippie kooks at the center of the bloody slayings.What
is
exceptional about the production to me, are the performances of George DiCenzo as Bugliosi, and more so, Steve Railsback as the pint-sized prophet himself.As I've stated before, Manson isn't an easily recreatable character for the screen, as proven by the failure of films like
The Manson Massacre(1972)
and
The Helter Skelter Murders(1970)
in conveying that twinkle of pure hallucinogenic lunacy the magnetic little guy is blanketed in, to audiences.Railsback completely fucking
nails it
right off the bat, but isn't given enough of the nearly two hundred minute running time to truly shine.Also notable here are performances by Nancy Wolfe as an extra sexy Sexy Sadie, and scream queen extraordinaire Marilyn
"TCM"
Burns as "Darling" Kasabian, who turned state's evidence.Hell, you can even find Eileen(Pazuzu's spectral grillpiece in "The Exorcist")Dietz, Robert(Sam from "Quincy M.E.")Ito, and even Bart(Binzer from "Vega$")Braverman among the cast if you look hard enough.Forwards.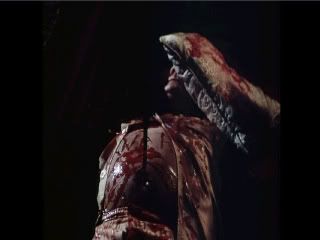 Somebody stick a fork in Leno(Al Checco), I think he's done.
Gunshots cut through the silence during the early morning hours, signalling the death of the Age of Aquarius and the beginnings of one of the most bizarre criminal trials in American history, as partially narrated by prosecutor Vincent Bugliosi(George DiCenzo).One of Tate's neighbors is called in by the police later that morning to i.d. the brutalized bodies that had been shot, stabbed, roped, and/or beaten(in some cases, all four).The gore is brief and understated, but he hurls his guts in the bushes anyway after seeing Sharon's lifeless, pregnant body on the floor.The LaBiancas, returning to town by car, read the shocking headlines in the newspaper then become the next morning's headlines themselves.Cops pursue the dope angle and remark at the similarity between the Beatles White Album song titles and messages written in blood at the crime scenes.A boy finds the pistol used in the killings and his father turns it in to the authorities, where it sits in evidence for months unnoticed.They raid the Spahn Movie Ranch, arresting a skein of dirty hippies for Grand Theft Auto(the charge, not the game, youngbloods.).In jail, Sadie(Nancy Wolfe) grooves on the sounds of a transistor radio and gleefully relates all the gruesome details of the murders to Ronnie Howard(the petty criminal, not the flameheaded kid who sings "Wells Fargo Wagon" in "The Music Man"(1962), mind you).Bugliosi is named the new prosecutor, and tries to work a deal in exchange for testimony with Straight Satans biker Danny DeCarlo(Rudy Ramos).Ronnie tries to spill her guts but no one seems too interested.Bugliosi grills Family gals for candy, and finds out that Charlie is love.Bugliosi watches Manson(Railsback) being led in by deputies on charges he set fire to an earth mover, and makes Christ jokes.DeCarlo tells of Manson's desire to kill pigs, blame it on the niggers, and start a race war.Leslie Van Houten has selective amnesia under questioning.Tex Watson's fingerprints from a prior drug bust match ones found at the crime scenes.Warrants are issued for Watson, Kasabian, and Krenwinkle.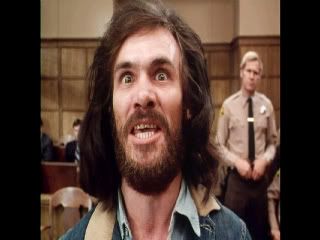 "...Do you feel like wolf kabob Roth vantage? Gefrannis booj pooch boo jujube; bear-ramage. Jigiji geeji geeja geeble Google. Begep flagaggle vaggle veditch-waggle bagga?"
Sadie tells all(sex with Charlie,"the infinite", murder details), then later denies it.Accomplice Linda Kasabian(Marilyn Burns)agrees to testify and Atkins' plea bargain is dropped.Bugliosi's watch stops in court as Manson stares at him.The discarded murder scene clothes are discovered in a canyon, and the pistol that's been in limbo is finally matched up as Bugliosi notices the Beatles tie-in.Ex-Mansonite Paul Watkins helps cross the t's and dot the i's for the young prosecutor, then almost dies in a suspicious fire for his troubles.Manson girls gather outside the Hall of Justice as the trial begins.Kasabian details her introduction to the family and later, the details of August 9th and 10th to the jury.The female defendants laugh, giggle, and respond in unison.Manson flips his lid in front of everyone then tells that his father is the jailhouse and he is simply a reflection of what everyone else has made him, and the girls tearfully cheer him on, shouting out loud until all defendants are removed from the courtroom.Bugliosi wraps his arguments and pushes his 'Helter Skelter' motive.The jury finds them guilty of all charges.Manson and the girls shave their heads("I'm the devil! The devil always shaves his head!" exclaims Charlie) and carve X's between their eyes as they're all given the death penalty.Charlie takes a moment to congratulate Bugliosi on a job well-done, and remarks that jail is just fine for him, supplying meals, sex, and time to play his guitar.The prosecutor chillingly ponders the possibility of more like Manson as Charlie sings "Garbage Dump" from his cell.That sums it up in one big lump, so to speak...
Linda(Marilyn Burns)arrives in court;Leatherface could not be reached for comment.
Director Gries worked primarily in television, even helming several episodes of Batman(1966) along the way.The amazingly intense Railsback would go on to portray another famous killer, Ed Gein in 2000; also appearing in Rob Zombie's The Devil's Rejects(2005).Native Pennsylvanian Marilyn Burns went on to score roles in Tobe Hooper's Eaten Alive(1976),Future Kill with Chainsaw co-star Ed Neal in 1985, and most recently Kim Henkel's 2012 project Boneboys, also with Neal.DiCenzo, who died in 2010, was once assistant to the producer on
House of Dark Shadows(1970).
The actual LaBianca residence was used in Skelter, but Polansky's home was not.The role of Manson was originally offered to Martin Scorsese(Wait.What.).Intense
eyes
, not
eyebrows
, ya knuckleheads.Tonight's entry scores three wops on the scale, an essential to any true crime buffs, Manson enthusiasts(!), or regular woprophiles out there.Always is still always forever, baby.
C'monnnn, that's some mint Charlie(Steve Railsback) right there.