Fifty-seven years after F.W. Murnau's silent classic, Nosferatu, eine Symphonie des Grauens(1922), German conductor of cinema, Warner Herzog, who felt the landmark expressionist film was the unequivocal Dracula film of all-time, set out to pay homage to it in his own nonpareil style, with the finished product being one of the most stylish, atmospheric vampire films ever made.He enlisted his favorite tantrum-throwing shot-dresser in the role of Count Dracula in five time collaborator, Klaus Kinski, who gives an entirely singular intrepretation of the blood drinker; free of the romance and nobility trademark to other actors' portrayals, instead delivering a miserably lonely predatory wretch who's ultimately undone by the desire to steal a longer embrace in the busom of a woman.His performance here is one of the best he ever gave, arguably the best work he'd done with Herzog.In the female lead as Lucy Harker is Isabelle Adjani(Joyeux Anniversaire, mon cherie!), who gives an alluring performance full of prurience and tenacity, as always.Bruno Ganz, who would later give one of the most amazing portrayals of Adolph Hitler(and most playfully re-subtitled on YouTube) ever seen in Hirschbiegel's "Downfall"(2004), is Jonathan.The atmospheric soundtrack was supplied by Krautrockers extraordinaire, Popul Vuh; a prominent aspect of the film, due to the sparse dialogue in both the German language and English prints.Herzog's camera, though, is the real star, advancing the story through imagery, using distortion, shadows, and elongated cuts to set the disquieted mood throughout.Those looking for explicit sex and gore will be dually disappointed to find instead this beautiful expression of terror that will no doubt be remembered as one of the best of its ilk.Ian, this one's for you, brother!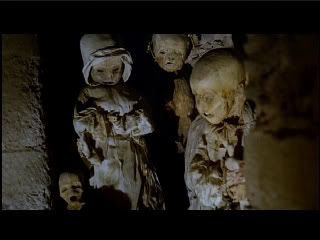 After 146 years the children realized they'd probably won this round of 'Hide and Seek'.
After a fascinating montage of Mexican mummified choleric victims, we meet real estate agent Jonathan Harker(Bruno Ganz) as his chuckle-happy boss Renfield(Roland Topor) assigns him to a four week trip from Germany to Transylvania, to meet with a nobleman named Dracula(Klaus Kinski) who's interested in buying a property in Wismar.After bidding his young wife Lucy(Isabelle Adjani) adieu, he embarks on his journey, which brings him to the obligatory village of superstitious fools who forewarn him of the perilous evil ahead of him.He laughs off the tales of vampirism and continues on to the castle alone, where he meets the blueblood, who resembles a forlorn hairless rat.Dracula is instantly agog at a portrait of Jonathan's spouse, and unhesitatingly signs the property contract.During his nights at the castle, Harker is repeatedly haunted by terrifying avowals of Dracula's lust for claret, while concurrently back in Wismar, Renfield, now inexplicably crackers, has bitten a cow(!) and bought himself a comfy padded cell at the asylum, and Lucy suffers from nightly Eschatonist visions of terror herself.Harker discovers the Count slumbering in his coffin during the day, corroborating the peasants' superstitions.After the sun sets, Dracula sets off for Wismar by boat, bringing caskets full of his native earth on the journey while Jonathan finds himself helplessly left behind and locked in the castle.He attempts escape through a high window by makeshift rope but plummets to the ground and gravely injures himself in the process.He awakens to the strains of gypsy violin played by a young peasant and ends up in a local hospital, rambling incoherently about coffins to the medics.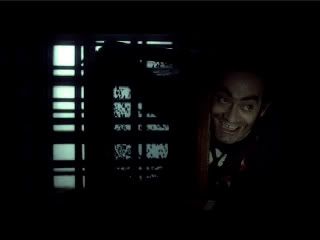 Renfield(Roland Topor) has some pretty flies for a white guy.
Meanwhile, a ghost ship docks in Wismar, packed with a bloodless crew of corpses and a billowing sea of diseased rats that flood the town's streets.Abraham Van Helsing(Walter Ladengast) discovers the ship's log, which tells of a spreading plague that seals the fates of all seamen aboard.Before long, death is visited upon the people of Wismar in the same manner, with parades of coffins on the desolate streets.Plague-affected citizens greet their impending demise with an outdoor feast amidst a swarm of rats at their feet.Jonathan finally returns home, perilously ill, and unable to recognize even his own wife.Lucy encounters the inert, pale aristo, who demands that she capitulate her love to him but she adamantly abnegates his horrific advances to his astonishment.Suddenly conscious of a greater threat to the populace of Wismar, she vainly tries to persuade the discerned townsfolk before devising a plan of attack of her own.Using the Count's adulation for her, she lures him to her bedchamber and allows him to noisily sup at her throat, diverting his attention to the coming dawn.The sun's rays paralyze the vampire in a crumpled heap on the bedroom floor, where Van Helsing finds him, adjacent to Lucy's lifeless form on the bed.He hammers a wooden stake through the monster's heart, dispatching him for keeps, when Jonathan arises from his sickness, now tranformed into a member of the undead himself.Harker calls for Van Helsing's subsequent arrest on charges of murder.He cryptically states that he has much to do, before galloping off on horseback.
"If I coult only train zees plague rats to bite Werner!" thinks Dracula(Klaus Kinski).
Nine years later Kinski would reprise his role of Dracula(sort of) in an unofficial Italian sequel to the Herzog film, entitled "Nosferatu a Venezia", directed partially by Augusto Caminito(and according to Kinski's biography, several others including Kinski himself in spots).Kinski, true to his difficult nature, refused to shave his head for the role or wear makeup other than the signature fangs, instead displaying long blond hair this time around.His trademark shouted insults sent Mario Caiano, the original director, running for the front door.We'll check that one out here in the future, for sure.As for Nosferatu, it's a visually breathtaking and profound experience you really need to check out for yourselves if you've never managed to catch it.On the rating scale, perfection.Highly recommended.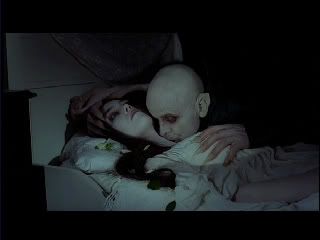 Lucy(Isabelle Adjani) gets blood-drained and squeeze-titted all at the same time.