We're gettin' so close to Hallowe'en here at the Wop that it's bound to file a Protection From Abuse Order against us.We didn't hit you, Samhain, you
fell down
, you got that?!!Now where's my Hungry Man Buffalo chicken strips, you ingrate!If you're into movies about beefy, balding, misogynist Vietnam Vets who look like Divine out of drag, strangling helpless half-naked women and getting into heated psychotic arguments with the friggin' mirror, (and really, who isn't)then tonight's review will fit you like a glove.Sleazy with a drawn out
s
, this one, showcasing the dramatic chops of one Nicholas Worth, who scored himself a Sitges Award for his memorable study of murderous sociopathic behavior here.He manages to pull off one of the more entertaining on-screen psychos I can recall seeing, while being given a veritable landscape of hookers, junkies, and otherwise useless broads to choke the fuck out, aided, in part, by one of the more bumbling investigative teams ever committed to celluloid.Hell, even the female lead protagonist, as portrayed by Flo Gerrish, is vulnerable as all Hell and needs a man to save her ass.No, I did NOT write the screenplay for this one, in advance, smartasses.Phone's relatively bloodless for an eighties stalker pic, but what it lacks in graphic violence, it more than makes up for with shameful levels of seedy filth, making it perfect as a minor exploitative classic of the day; kind of a gutter level psychodrama ripe with stereotypes and epithets, and reeking of stale sweat, cheap perfume, and even staler cigarettes.Not something I'd recommend to everybody, but certainly nasty enough to fit the specialized bill for genre madmen(and women) out there.If you're hunting it down, remember, you're gonna want the rare Bci / Eclipse uncut version disc(which I've seen go for thirty bucks or more), and not the more recent Rhino release that has more than its share of disgruntled buyers complaining about the expurgated cut within.Forwards!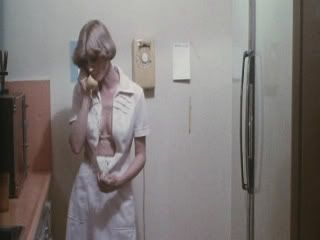 "Why, yes.Yes, I do happen to love the nightlife and boogieing on the disco rooouuuuund, oh yea."
Enter Kirk Smith(Nicholas Worth), a bulky, sweaty, balding Vietnam vet-turned-photographer whose multiple deep seated neuroses and psychoses spur him to use his trade to locate nubile and helpless young victims; Kirk digs raping and strangling chicks with a coin in a nylon stocking a lot.He's also got an affinity for tearfully arguing at great lengths and out loud with his deceased abusive stepfather and sounding like a bull getting a prostate exam while he's meatheading it up on the weights in the mirror.All of Kirk's victims seem to be patients of local radio personality/psychologist, Dr. Lindsay Gail(Flo Gerrish), who he frequently phones himself, to halfheartedly confess his many mental shortcomings and sexual manias to, usually in a hispanic accent so phony it'd make Tony Montana sound like an indio.Investigating the sordid sex crimes are Lt. McCabe and Sgt Hatcher(James Westmoreland, Ben Frank), the two washed-up-on-the-beach detectives morally bankrupt enough to stand a chance of cuffing the cretin.On the side, Smith slides pervy photos to plenteous publisher and purveyor of pornography, Sam Gluckman(Chuck Mitchell) for cash, while keeping his juicier crime scene snuff shots for his own...ahem, personal use.Kirk baits a cheap hooker into a fleabag hotelroom to indulge in some quality vein candy of the speedball variety, calling Dr. Gail and forcing her to be an auditory witness to his crime when he slays her afterwards, brutally bottling her black pimp in the dome in escaping in the nick of time.Hatcher and McCabe correctly surmise that Gail is their big connection in cracking the strangler case.Meanwhile, Smith flexes shirtless in the mirror with a beer, ramblingly mocking the defeated pimp in a derogatory black accent and proclaiming himself the best(!).The cops sieve through the seedy underbelly of the redlight district, searching for the wounded pimp who's seen the strangler's identity, but when they raid his brothel(where whores are dressed like schoolmarms and nazi officers scolding a john wrapped in plastic!) they inadvertently feed him bullet-death in the ensuing coke-soaked fire fight, effectively wiping out their lone eyewitness.Doh!
"See what those kids did to my club?" says Porky(Chuck Mitchell)...oh wait, wrong movie.
Dr. Gail proves ineffective in thwarting a client's suicide attempt, while McCabe succeeds by forefending the doctor's evasive approach in favor of no nonsense action hero-esque straight shooting.The bleeding heart liberal psychologist can't help but be enamored of him after a display like that.Meanwhile, Smith has weaseled his way into the home of a beautiful model(Pam Bryant) under false pretenses of a photo shoot, but the girl is visibly taken aback by some of the...more candid eight by tens in Kirk's portfolio, to which he roughly rhetorts:"You beautiful chick! You love it!", before abruptly snuffing her candle(not to be mistaken for the candle he often inserts into his victim's vagina after penetrating her post-mortem...blech).He's surprised by her housemate, whom he also speeds off to join the choir invisible, but foolishly leaves his glossies at the scene of the crime, after lumbering off to pray at his morbid apartment shrine.Armed with the incriminating photos(which Hatch takes a few of, himself, for his own...ahem, personal use), the cops put the touch on Gluckman, who fingers Smith as the photographer-in-question.The detectives then somehow raid an accountant's office by mistake(!).Smith has already abducted Gail, of course, slapping her around like an autistic alphabet reciter(wow, that was
heavy
) while confessing that he once killed a puppy after it dropped a deuce on the floor, and he, himself, suffered from bed wetting 'til he was eighteen years old and also, "ass problems"(I think my roommate Doc might know something about that).The cops manage to bust in, in the nick of time, and stop Smith from adding Gail to his ever-burgeoning list of victims, while McCabe empties his gun into the strangler's back, as he falls limply into the pool in slow motion(Signore Deodato, are you reading this?)."Adios, creep." he adds, as the movie ends.
"Remember, angelcakes...the safe word is 'sesquipedalian'..."
I'll be damned if this movie doesn't remind me of a cleaned up remake of the Mentors' "Fuck Movie"(1987) without the crass cartoons and executioner hoods, or Lustig's Maniac!(1980) without the gore effects.Hammer never took the director's chair again after tonight's review.Hardcore genre-erds(you like the way I combined those two for you there?) will immediately recognize Worth as Bruno, Arcane's muscle-headed crony who takes the serum and unwittingly shrinks into a midget, chasing girls around the dinner table in Wes Craven's Swamp Thing(1982).Craven also claims working with the bass-voiced actor, who made a career out of bodybuilding and playing criminal henchmen before passing away in 2007, was one of the highlights of his career(!).Westmoreland, who was once known as "Rad Fulton"(!!!) in the business, has enjoyed a long career in soap operas and television roles, as well as a turn in the 1966 underground classic, The Undertaker and His Pals.Check out Phone for yourselves, it's a step above(or below) the usual stalker flicks of the eighties, and you'll probably find yourself snickering at Worth's mirror rants as much as I do.Two Wops on the scale.I'm trying to cram as many horror reviews in before the end of the month, but with the holiday upcoming, we'll have to see how many I can rip through before I pass out in my toga, as usual.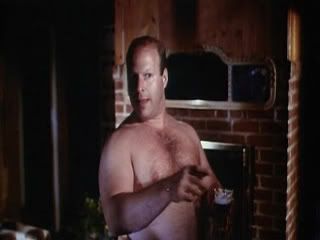 "You'll never get any money from me, cow! Just cause you got them big udders don't mean you're somethin' special. Get the hook! Go fuck yourself for all I care. YEAH! Go fuck yourself!!"