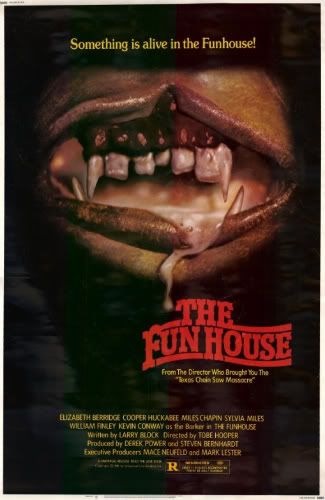 Like most genre enthusiasts, I fully recognize Tobe Hooper's crowning cinematic achievement, Texas Chainsaw Massacre, as one of the greatest horror movies ever made.It's just the erratic shit he followed it up with that I've gotta take issue with.With TCM, he took a high and outside pitch and sent it deep into the upper decks for an uncontestable grand slam.His 1981 offering, The Funhouse, which was ravenously hyped by most horror zines of the day, is closer to a sputtering ground out back to the pitcher.I've noticed a lot of people out there seem to hold fond memories of this one, but it's a fucking mutt, plain and simple.I remember coming away from my first viewing feeling betrayed by all the advance press and leaked photos of Rick Baker's special extreme cleft deformity makeup, having just endured a lethargic, scareless, and mostly bloodless turd.After a few pay-cable viewings and a half-hearted vhs rental in the eighties, I buried the lackluster experience in the darkest recesses of my mind until the technological breakthrough of dvds forced me to re-examine the damned thing, hoping I was overly critical towards it, or perhaps a different cut of the film would change my mind.An emphatic "
Cazzo no
!" would be the case.On the positive side of the coin, Hooper provides some decent old fashioned atmosphere and suspense in a classic carnival setting dressed with creepy vintage animatronic figures and surreal lighting that's reminiscent of Argento in spots.On the other hand, the cast leaves me pretty flat, apart from perhaps Sylvia Miles and Kevin Conway, as a skeevy fortune teller and sideshow/funhouse/stripshow barker, respectively.Also, the story, as novelized from the screenplay by horror fiction icon Dean Koontz under the pseudonym Owen West, takes something like eight and a half hours to finally kick into high gear, and once it does, it leaves me thinking there ought to have been more.More scares, more gore, more of a body count, more focus on Baker's makeups...but there isn't.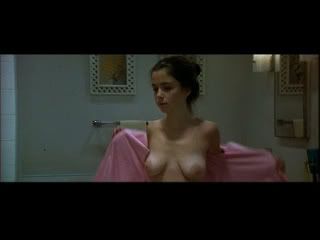 I'm suddenly compelled to whip myself up a pair of fried eggs for some reason...
After Amy Harper(Elizabeth Berridge) gets her titties rubber knifed in the shower by her prank-loving brother Joey(Shawn Carson), she not only renegs on taking him to the carnival(you know, the one where two little girls' dead bodies turned up at last year...) on Saturday, but also vows to exact memorable revenge upon his gruesome little ass for his mischief, before venturing out on a first date with a grease monkey named Buzz(Cooper Huckabee) who can't even pick her up at a decent hour, ferchrissakes.They pick up Liz and Richie(Largo Woodruff, Miles Chapin) and pass around a quick jibber, as Joey climbs out of his bedroom window, determined not to miss the carnival and a perfect opportunity to spy on his older sibling.Buzz wins Amy a stuffed animal and explains his unfunny dancing duck joke to her at the top of the ferris wheel.Amy discusses her troublesome virginity with Liz in the bathroom, when they're interrupted by a over-zealous bag lady(!) who reminds them that God is watching them.Joey gets a ride proposition from a toothy creep who points a shotgun at him.Meanwhile, inside the sideshow, Buzz marvels at a lip-licking cow with a cleft palate and another with a parasitic twin growing out of its face, no doubt, two of the 'eighteen worst mistakes that God ever visited upon man', this movie excluded.Before leaving, Richie drags the double date into a separate tent that contains a mutated baby floating in a lighted jar that momentarily puts a damper on their cannabis-based hijinks.The funhouse barker(Kevin Conway) puts a chill up Amy's spine with his monologue before the group ducks into the magician's tent, as Joey finally makes the scene, dumping a sack of change at the ticket booth.After smoking another discreet pinner(these kids know how to party) behind the tent, the group decides to check out the hooch-slugging fortune teller, Madame Zena(Sylvia Miles), who tells Amy a tall, dark stranger will enter her life amidst her friends' pot-induced giggles("Don't come back or I'll break every fuckin' bone in your body!", she later warns).Richie suggests that both couples stay at the carnival after closing, spending the night in the funhouse.Probably not a good idea, dude.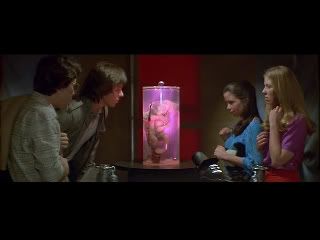 "Ewwwww, Rasputin's penis!I'll give you a buck if you take it outta the jar and tug it like a bell rope!"
Joey watches as the funhouse cars that contained his sister and her friends return to the mute operator in a Frankenstein mask outside without the prior passengers inside as the carnival shuts down for the evening.The couples notice gaps in the funhouse floorboards that reveal an office below, where the wheezing mute in the Frankenstein mask has solicited Zena(100 bucks for Sylvia Miles?C'monnnn.) for sex.While Zena administers a handy to kick off the action, Frankie prematurely pops his cookies, and when Zena refuses to refund him his money, she gets choked the fuck out for her thriftiness.While the gang beats a hasty retreat for the (locked, of course)exit, Richie jacks all the samoleans outta the office cash box, earning the masked mutant a hearty beating at his
own
hands(!), to the glee of his barker/father("You really did it this time, didn't ya?!You killed one of the family!"), until he rips off the latex to reveal a severely deformed, blood-curdling cleft-grill and red eyes.Richie carelessly drops a cigarette lighter through the spaces in the floorboards, alerting the carnage-crazy carnys to the intruders upstairs.At this point there's a whole lotta walking around in the dark, until finally the funhouse power is turned on suddenly, as the barker tries to goad his misshapen son into doing one last bad thing for him so they can bury the bodies and go fishin', like they used to.Richie gets lassoed with a noose and hung in front of his panicked pals as the surrounding props once again come to life, the stolen money floating down around them like so much confetti.Buzz blindly swings an axe down into an oncoming ride car, only to discover his blade planted in Richie's dome instead, with Liz hysterically chasing afterwards and falling through a trap door in the floor, later to be killed off-camera when she plants a dagger in the monster's back.After dispatching the gun-wielding barker by skewering his hayseed ass on a sword, Buzz is, in turn, taken out by the murderous freak, leaving only Amy to fend for herself against it in the dark and foreboding funhouse.Just remember, it aint over until the mechanical fat lady sings, which, in this movie's case, probably should have been directly after the opening credits...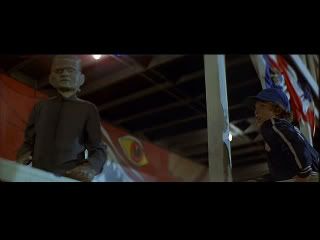 "Sorry, kid. You must be this hideously deformed to ride this ride."
Hooper was approached by no less than Steven Spielberg to direct his E.T. The Extra-Terrestrial(1982), but was too busy working on this movie at the time.He'd team up with the director a year later on the wildly popular Poltergeist(1982), though it's been argued that Hooper had precious little to do with the finished product, as Spielberg directed the actors, designed storyboards, and cast the movie on his own, but was unable to direct another movie while still immersed in E.T. due to a clause in his contract.In between all of that, he was also replaced in the director's chair(translation:quit) by Piers Haggard on the 1981 Oliver Reed/Klaus Kinski thriller, Venom.He would eventually direct Lifeforce in 1985.Berridge would go on to play Constanze Mozart in Amadeus(1984), while Huckabee, who'd scored genre roles in The Pom Pom Girls(1976) and The Curse(1987), has enjoyed a long career in television.On the scale, Funhouse gains a single Wop, not being very much fun at all.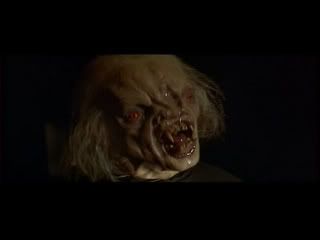 "Hit yerself, you ugly thing!"