It was painfully apparent that, by the end of the seventies, Hollywood cinema, or at least a squeaky toy-sized portion of it, had gone to the dogs.Mainstream marquees had seen fare like The Doberman Gang(1972), Sounder(1972), Benji(1974), A Boy and His Dog(1975), The Amazing Dobermans(1976), The Shaggy D.A.(1976), For the Love of Benji(1977), and even C.H.O.M.P.S.(1979), ferchrissakes.Vampires, on the other hand, were also big business throughout the 'me' decade, but it took the father of the guy responsible for genre flicks like Parasite(1982), Meridian(1990), and a host of even
worse
movies to really try to blend the two(that's right, dogs
and
vampires...and
vampire dogs
) into one headscratchingly incoherent b-gem for the ages.All that's really missing here is one of the
Landers
sisters
in a lycra bodysuit and a van with a bubble window and inflatable air mattress in the back.As it stands, tonight's entry, known also by the ludicrous alternate title, Zoltan:Hound of Dracula,
does
have 70's film journeyman Michael Pataki, Reggie "Salem's Lot" Nalder, Jose Ferrer, and even Arlene Martel, who upper rung sci-fi geeks will instantly recognize as Spock's squeeze, T'pring, from the original 'Amok Time' episode of Star Trek.Don't point any accusatory digits at
me
, you motherfuckers, she looked familiar and I just Googled it.It's also got domestic fanged animals fitted with
bigger
prop fangs and spraypainted a foreboding grey color in an early turn by none other than FX wizard Stan Winston.Hey, they can't
all
be Terminator 2:Judgment Day(1991), right?
Here's one mailman who won't have to worry about his low blood sugar ever again...
As a road crew of Russian soldiers blast the Romanian countryside with dynamite, they unwittingly excavate the previously hidden Dracula family ossuary.One of the guard duty Russkies tugs a stake out of a shrouded corpse inside, only to get neckbitten by a grey Doberman with gag fangs that bounds out of the coffin.The undead pooch then unstakes his master, Veidt Smit(Reggie Nalder), a prune-faced innkeeper who's half vampire and all ugly.A flashback from centuries past shows how Zoltan(yes, the dog's name is Zoltan) foils Count (Igor) Dracula-in-bat form just as he's about to sup upon a young maiden's red stuff, and the vampire latches itself to the dog, transforming it into a vampire, which bites its master, turning him into a vampire.Oh, you get the idea.Rather than unstaking any one of the plethora of Draculas entombed besides them, Smit and his dog choose instead to hunt down the last living descendant of the Count himself.Smit uses telepathy to communicate to his pet, and after hearing his thick German accent shouting "Zoltan!" repeatedly into an echoed-up mic on a soundstage over close ups of his hideous facepiece, well, it's unsexy, to say the least.Branco(Jose Ferrer), the resident inspector/Dracula historian, surmises that one of the empty coffins discovered by the Soviets must have contained Smit, and that he and whoever(whatever) occupied the second casket must be seeking out Michael Dracula(!)(Michael Pataki), who has long since relocated to America, to transform him into a vampire, to serve over an eternity of evenings, unaware that Smit is within earshot behind a nearby tree(!!), and has heard everything he just said, including the guy's last known address.Nice one, jackass.
Veidt Smit(Reggie Nalder) has a grillpiece like a dog dish fulla stale Chuck Wagon.
Meanwhile, Mike Drake, the last living Dracula(apparently his kids don't count for some reason), readies his family for a relaxing camping vacation in their Winnebago, incognizant of his heritage and that Smit and his crated up, otherworldly Doberman have stowed away on a ship to American shores.He even goes through a trunk of old family pictures and stumbles across photos of Dracula himself standing next to the dog(that he casts no reflection apparently didn't stop the Prince of Darkness from taking his pooch to The Picture People for professional shots, it would seem), but thinks nothing of it(!!!).The Drakes make it to the national forest, with their two German Shepards(and one puppy... small litter, huh) in tow, but Smit and Zoltan aren't far behind, in a discreetly understated black
hearse
that they pick up along the way.Uh, yeah.Pretty soon, other campers and fishermen and their dogs are getting neckbitten by Zoltan with increasing frequency; the dogs reanimating into the Pinscher's undead minions, as evidenced by their
own
grey spray paint and oversized joke fangs.Zoltan even sucks the Drake's tiny puppy dry, and when the saddened family buries the lifeless pup, it's soon adorably clawing its way out of the grave to exist as a pint-sized vampire itself.Branco arrives on the scene just as the Drakes are about to blow the clambake, and after five minutes of garbled exposition("You're the last remaining Dracula, there's a vampire dog after you, come with me if you want to live, etc. etc.") that Michael readily buys into, both men find themselves defending a tiny shack from a pack of attacking vampire dogs.When the smoke clears, Zoltan finds himself impaled on a metal fence, his master staked through the heart, and his minions also dispatched accordingly.The camera follows a trail of small, dead animals to the aforementioned vam-puppy, still prowling with his eyes glowing and fangs bared.Awwwwwww, that's precious.
"Zoltan! Get offa that roof! Bad vampire dog! BAD vampire dog!"
French-born Italian Albert Band directed Richard Boone in 1958's I Bury the Living, before helping his son Charles start Empire Pictures in the eighties, helming dogshit like Ghoulies II(1988), Doctor Mordrid(1992), and Prehysteria!(1993) himself, while producing cinematic deuces like Troll(1986), Terrorvision(1986), and Mansion of the Doomed(1976), which just happens to be directed by Michael Pataki, who appeared in genre fare like The Return of Count Yorga(1971), The Baby(1973), Graduation Day(1981), and Dead and Buried(1981), when he wasn't putting the Mallachi Crunch on Fonzie.The burn-yapped Nalder appeared in 1970's Mark of the Devil as well as The Bird with the Crystal Plumage(1970) and 1975 tele-pic The Dead Don't Die before snagging the familiar Barlowe role in Salem's Lot.Ferrer was no stranger to genre pics himself, scoring roles in The Being(1982), Bloodtide(1982), Bloody Birthday(1981), The Swarm(1978), The Sentinel(1976), and even Jackie Chan's Battlecreek Brawl(1980).Winston followed his work up here with The Wiz(1978), The Exterminator(1980), and Oliver Stone's The Hand(1981).On the scale, Dracula's Dog gets its snout rubbed in a single Wop, having been a very
bad
dog, indeed.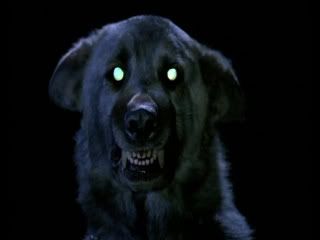 "I can haz yr jugular veins?"