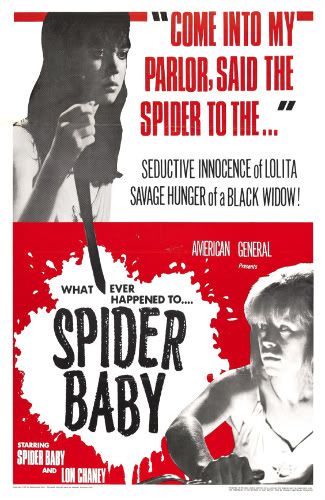 "Screams and moans and bats and bones, teenage monsters in haunted homes. The ghost on the stair, a vampire's bite.Better beware, there's a full moon tonight!" as crooned by horror icon Lon Chaney, Jr. during the title sequence of tonight's review is but a mere hint at the lunacy in store for viewers who sit down to this cult classic, as directed by the man responsible for such jazzy numbers as 1966's Blood Bath and Mondo Keyhole, as well as later grindhouse black-taculars like Coffy(1973) and Foxy Brown(1974), the one and only Jack Hill.Shot for just over sixty grand in twelve days at the Smith Estate in Los Angeles four years earlier(the original producer went belly up somewhere along the line), Baby boasts of a stellar cast comprised of a drip-dry Chaney, Jr.(a rarity if you pay any mind to the old stories), Carol Ohmart, soap opera regular Quinn Redeker, bug-eyed comedian Mantan Moreland, and cult fave Sid Haig in an early turn, among others.Don't let the black and white film stock fool you, woprophiles, this one's crazier'n droppin' blotter acid in Manhattan on Halloween with Gary Busey chaperoning over you.For serious.Interestingly enough, the film was 'rediscovered' in recent years, spawning a modest three year tour as a musical(!) whose soundtrack was the last project recorded at the late, great Buck Owens' Bakersfield recording studio.An independent remake of the film was planned in ought-seven, but never seems to have gotten off the drawing board(you
know
how I feel about remakes in the first place, so yeah,
good
!).I think I first got turned on to this one as a surprisingly entertaining mid-week shot in the dark back in the VHS rental days, though I definitely frowned upon the keeping of mutant relatives in the cellar.Mine lived directly across from me...Ba dum bump.
Girls out there who play "Spider", give yourselves +2.
Living in a bedraggled estate on the end of town are the three adult progeny of the Merrye family, the sole bloodline cursed with a genetic disorder that causes one to mentally and socially regress rapidly down the evolutionary ladder the older they get, as evidenced by the cellar full of inbred cannibalistic mutants sentenced to darkness and shadows, that the children call aunts, uncles, and cousins.The Merryes make the Addams Family look like the fucking Patridges, is what I'm saying here.There's Virginia(Jill Banner), who's sixteen going on six, nicknamed 'Spider Baby' for her affinity to eat bugs and tie people up like a spider's prey with ropes and slash and stab them repeatedly with two sharpened kitchen knives.Whenever she plays 'spider', some sorry son of a bitch meets his maker.Elizabeth(Beverly Washburn) displays a child-like innocence side-by-side with tartareous brutality while her mute brother Ralph(Sid Haig) uses the dumb waiter for transportation and is a sexually aggressive baldheaded moron(I've heard one or two brawds describe me the same way, no worries).The siblings, who's dead father's remains are kept upstairs in a bedroom(Virginia gives him goodnight kisses!) are looked after by the oafish Bruno(Lon Chaney, Jr.), a chauffer/chaperone who vainly tries to keep their madness to a minimum.One day, Bruno returns from his errands to find the slumped body of a black messenger(Mantan Moreland)suspended in the window, Virginia's latest 'spider' playmate.He chastises the unhinged teen like a toddler in the sandbox before relating the news of the impending arrival of two distant relatives claiming to be the rightful heirs to the Merrye legacy.You know, I'll just bet that some hilariously disturbing hijinks are about to ensue...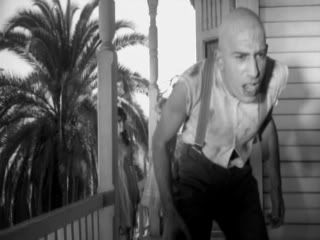 Tocar!Tocar!Quien es? Tiny fucked a stump.
Peter(Quinn Redeker) and Emily(Carol Ohmart) arrive at the mansion, with a lawyer(Karl Schanzer) and his assistant(Mary Mitchel) in tow, to assess the property, insistant on staying, despite Bruno's best warnings about the family's dangerous mental illness, convinced the siblings' lunacy is merely an act to drive them away.Shoulda listened to the big goon while you had the chance, folks.After sitting down to a delectable dinner of mushrooms(only the non-poisonous variety, handpicked, of course), spiders, bugs, and grass(!), with the main course provided by Ralph, who killed a local stray cat just for the occasion(!!), Emily does her best to maintain a cool exterior unmarred by the contents of her stomach, while Peter incredibly puts forth compliments on the delicious meal(!!!).Everything really goes to Hades in a handbasin when Bruno leaves the 'kids' to their own devices so that he can run an errand.Really, Bruno?The dead messenger's disembodied ear in a matchbox kept by Spider Baby wasn't screaming "Watch these psychopathic lunatics like a hawk!"?The girls murder the lawyer, dumping his corpse in the cellar to be devoured by their even further deranged relatives, while Emily shows off her figure in a black neglige, which sets off Ralph, who's been peeptomming her, to chase then make shithouse rat-crazy love to her(!), bringing her
own
case of Merrye's to the surface and causing her to go homicidally nympho in the process.Bruno returns home to find the bloody aftermath with cellar-dwelling relatives running free, and realizing the family's terrible secret will now go public, his control of the siblings forever lost.He sets off some dynamite and blows the entire estate, himself and all crazy Merryes included, to kingdom come, with only Peter managing to escape the blast.As at the outset, he smugly relates his horrible tale to the camera, boasting that the mental illness known as Merrye's Syndrome was never seen again thereafter, though his daughter, who more than resembles Virginia, is seen lovingly admiring a spider in its web.A question mark appears on the end title card.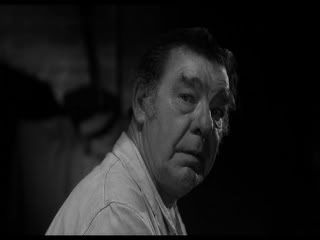 "It isn't nice to hate." quips the caretaker, Bruno(Lon Chaney, Jr.).
It's pretty rare that a film with a mordant storyline successfully handles it with such humorous delight and twisted flair, but tonight's review is surely one of them.Even the more gruesome moments are executed with an off-camera class, probably adding to the deliria abound in the movie.Chaney, Jr. is genuinely warm and likable as Bruno, giving the best performance of the latter half of his film career, I'd argue.The pixie-esque Jill Banner was tragically killed in a car accident by a drunk driver in 1982 at the tender age of 35 while developing scripts for Marlon Brando.I'm somewhat embarrassed to admit knowing Redeker spent long years portraying Rex Sterling on Young and the Restless, but it is what it is.Ohmart you'll likely remember as Vincent Price's treacherous wife in 'House on Haunted Hill'(1959), but she had a long running career on television, as well, also appearing in 1974's Spectre of Edgar Allan Poe.Haig, long a cult celebrity and familiar antagonistic face in b-movies and television, has been in damn near everything and has no less than five new movies in production at the time of this writing.Well, shit the bed!Spider Baby stands as a cult classic of the ages, and optimum viewing for genre fans as All Hallow's Eve draws ever nearer.On the scale, three solid Wops and a strong recommendation.
Would aaaaaaand...would.Yes.