Any comparisons between tonight's movie and 'A Serbian Film' beyond their mutual country of origin should be readily dismissed by discerning film buffs straight away. Serb tackles unspeakable atrocity with strokes of flair and dark wit, while Djordjevic's effort plays like a clumsy
'Multiple Maniacs'(1970)
clone with heaping gross-out dollops of explicit gay sex, rape, bestiality, and faux snuff in place of the subversive black humor of the aforementioned cult fave. I often thought about breaking the frame around my vintage Mark of the Devil earl bag and putting it to good use during this one, kids, and that doesn't happen too often, believe you me.
Auntie Slavna's gonna cream you when she sees what a mess you've made of her raspberry preserves...
Marko(Mihajlo Jovanovic) dreams of directing a horror/fantasy genre piece but settles for the next best thing, which in Serbia, is taking to the dreary countryside in a tacky-looking bus full of ugly, misshapen drug-addled sex-freaks to put on live porn shows in front of small crowds of grinning, toothless rural folk, apparently. Where else was he gonna find the young transvestite that'd would, besides causing a lover's spat between the two gay performers, fellate a horse dick on stage? The theatergoers had grown quite weary of the dirt-fucker, fat chick, and even he and his gal pal horizontal boppin' , as evidenced by the gang rape-by-posse that follows, but hell, even
that
gets the porno gang laughing hysterically, mid-rape. Oh, the wacky adventures these guys are having!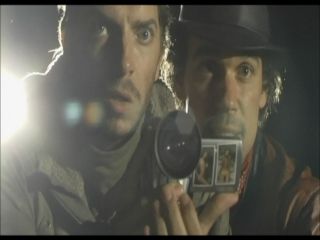 "SMILE! You're on Rancid Camera...."
Unfortunately, heroin costs more than the admission of a live porn show, and Marko soon turns to snuff movies to pay the pusher. Luckily for him, in Serbia there's no shortage of miserable suicidal fucks willing to let him gruesomely whack them on camera in exchange for monetary security for their families, post-mortem. A cutter tears into himself with a straight razor, then a shell-shocked soldier gets dome-mugged by a giant mallet, and a rapist gets his top piece removed with a chainsaw(not complaining here, all of the gore looked the shit). Pretty soon, the porno gang is dropping faster than its many victims; getting shot by the cops, hanging themselves, car accidents, really, you fuckin' name it. If it's gross, it probably happens here. In the end, it's even too much for Marko and his girlfriend, as they open their veins to die in a nice scenic place together. Flush...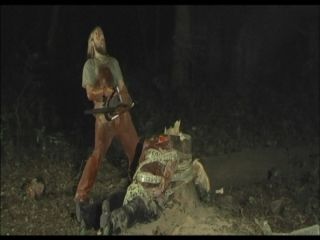 " Cervical vertebra! Errr, ummm Timber, I mean. Timber."
The film may have succeeded if the director gave me characters I could relate to on some level, but all I saw on the screen was a miserable Mystery Machine full of miscreants that I not only didn't give a shit about("Oh, I hope the horse-blowing transvestite goat killer ends up okay," said nobody ever, including not
this
guy), I couldn't wait for every last one of them to die horribly on camera for subjecting me to such a disgusting mess. The only two things Porno Gang really handled effectively were the ultra-realistic gore pieces(the grainy war atrocity vid looked pretty straight up at certain points), and also, moving Serbia further down towards the bottom of the list of places that I'd
ever
grace with my presence. Not for all the Newport's, petite brunettes, and Green Crack you could muster up. Solo wop-o.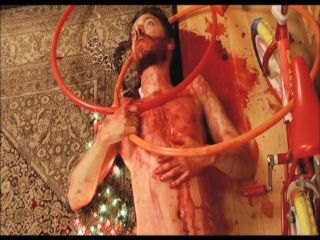 With a resounding crash, Pavle knew the world's record for juggling hula hoops and red paint while nude, wrapped in X-mas lights, and attempting a Superman seat grab, had just slipped through his fingertips.