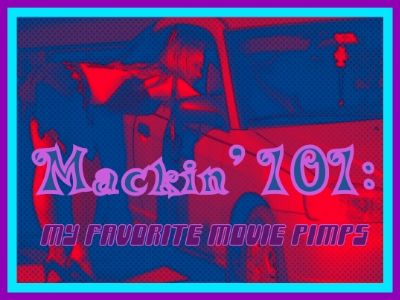 10) "Creeper" from Dolemite(1975)-
Sure, he was a mere junkie/hamburger pimp in the grand scheme of things, but he kicked his own ass twice a day just to stay in shape. That's gotta account for
something
, right?
9)"Baron" from The Candy Tangerine Man(1975)-
Playing catch with Junior in the front yard during the week as 'Domestic Guy', then collectin' long ends off of his stable of money bitches on the Strip on the weekends as 'The Baron'. That's pure
candy
tangerin-ius
, can you dig it?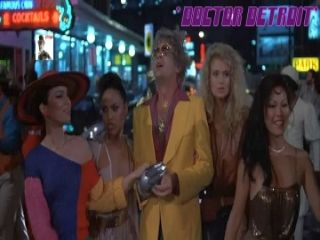 8)"Doctor Detroit" from Doctor Detroit(1983)-
If ransacking the theater's costume rack and affecting a corny accent is all it takes to get Donna Dixon, Fran Drescher, and Lydia Lei out earning a guy some
long
green on the boulevard, then there's a lesson in this one for all of us, I think.
7)"Willie Dynamite" from Willie Dynamite(1974)-
Besides possessing the most outrageous wardrobe of the bunch, hands down, this bitch-shivvin', line-blowing, jive-spittin' mack daddy also happens to be
Gordon from Sesame Street
. Let that sink in a minute...
6)"Sport" from Taxi Driver(1976)-
doesn't know nobody named Iris, man, but has a one hooker stable, and that happens to be a twelve and a half year old runaway named Iris. Also previously had a pony on Coney Island, but it got hit by a truck. G'wan git outta heah, maaaan.
5)"Goldie" from The Mack(1973)-
This innovative cat used a
planetarium light show
to blow his bitches' minds. End of story.
4)"Fly Guy" from I'm Gonna Git You Sucka!(1988)-
His platform shoes had
goldfish bowls in the heels
. If that ain't a sweet mack, I'll turn in my mink pimp cape, baby.
3)"Tony" from Demoni(1985)-
He showed genuine concern for the current whereabouts of his lady friend, Rosemary, and even explained how she put on that mask and scratched herself,
get it
??!! Because of said scratch she then became a demon and an instrument of evil, like they said in that damn movie, you
heard
'em. He taught us how we oughta not touch
thaaangs
, while letting us know how scared we looked to break them. A stellar pimp, indeed.
2)"Tucker" from Disco Godfather(1979)-
In the pimpin' game, he was through with it before most junkyard rat soup eatin' muthafuckas knew what to do with it. Any damned one of Rudy Ray's catalog of blaxploitation classic characters fits on this list, but I chose Tucker, the Godfather/Good Samaritan of the Disco who battles angel dust in the ghetto and
still
manages to find enough time to put his weight on it, put his weight on it, put his weight on it, put his
weiiiiiight
oooon
it! As bad as this brothah was, he still takes the pimpin' silver when compared with...
1)"Ramrod" from Vice Squad(1981)-
Who's the unhinged hayseed trick poppa from the neon sliiiiiiime that controls his bitches with wire hanger disfigurement, chokes out cops with his legs, caves in his hostages' heads with a foot rest, castrates Rerun from 'What's Happening?', and sings the damned theme song, too? Ramrod? Damn right.