Once upon a time, something like a hundred years ago or so, people flocked to the theater to see a string of cheapie, gimmicky beach movies that starred a couple of Italian kids: Frank Avallone from Philly, and former Disney Mouseketeer, Annette Funicello of Utica. This one, followed on the heels of the success of 1963's Beach Party and the followup, Muscle Beach Party, the following year. The words 'sex' and 'carnality' get thrown around an awful lot for a movie that features zero boobs, unless you count the recurring appearances of C.P.O. Sharkey himself, Don Rickles. You could still have a wholesome blast, according to these cats.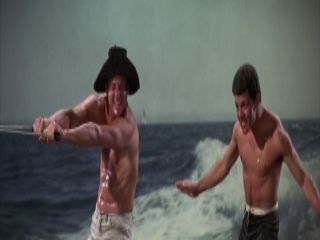 "These studio waves sure are the most, Deadhead!", notes The Frankie (Frankie Avalon).
Out of school (for something like
eight years
at this point, by my count), a zany entourage of "kids" drive to Bikini Beach, where girls perpetually turn heads and cause accidents with their revealing swimsuit bottoms, besides the busty Dee-Dee (Annette Funicello), whose full jutting bosoms while contracted under the watchful eye of Walt Disney, remain fully and tastefully wrapped at all times. Thanks Walt, you dick. Keenan Wynn spies on the surfers from his limo, then sends out his chimpanzee, Clyde (Janos Prohaska), to surf among them, as part of his scheme to eliminate nuisance teenagers on the beach, since they function at a monkey's level. Well, Deadhead (Jody McCrea) does, anyway. Anyway, Frankie (Franke Avalon) seemingly loses Dee-Dee to obnoxious British import, "Potato Bug" (also Frankie Avalon, in disguise, with joke Brit accent), who lip synchs Beatle-esque numbers to the adoring screaming bikinis, when he's not drag racing at Big Drag's (Don Rickles) track. Big Drag dabbles in modern art and has a pet hawk that talks like a parrot. The monkey-suit guy also drag races.
Open you, my eyes, that I may behold wondrous things: Janos Prohaska in a monkey suit on a surfboard in front of some projected waves. But there's more...
Meanwhile, "The Rats" are a bumbling gang of delinquent forty-somethings (The Ladies Auxiliary are called "The Mice" btw) headed by one Eric Von Zipper (Harvey Lembeck), an illiterate dope who continually knocks himself out with a karate finger. The Rats also hate the surfers, while idolizing Hitler, Mussolini, and Harvey Huntington Honeywagon (Wynn's character). They hang out with teenage werewolves and shoot pool at South Dakota Slim's (Timothy Carey). At Big Drag's place, the bald-headed Pyramids play surf rock and the guy in the monkey suit twists with blondes in frilly red go-go dresses. Frankie and Potato Bug have a drag race that the Rats try to sabotage, but they louse it up, just like everything else. There's a big gag punch up with flying paint, Little Steve Wonder joins the band on stage, Boris Karloff pops his head in for a cameo, and Frankie reunites with Dee-Dee. One kiss in front of a projected night tide, some corny love songs, and summer's over already. Cue the blonde go-go dancer and roll the credits.
South Dakota Slim (Timothy Carey) is just trying to get a game of pool, daddies.
The story is nonsense, the flat dialog and hokey jokes couldn't raise a sincere snicker out of me if I was hooked to a tank of nitrous, but somewhere deep inside the Nebraska-level corny wholesomeness of this slapdash affair, it works, somehow. As a time capsule, maybe, of an impossibly exaggerated American ideal that Hollywood once tried to pitch to a generation of kids that was hopefully already having loads more fun getting drunk, getting high, and getting laid by this time. If it wasn't successful, then there wouldn't have been Pajama Party (1964), Beach Blanket Bingo (1965), Ski Party (1965), How To Stuff a Wild Bikini (1965), and let's not forget those Dr. Goldfoot movies either. On the scale, a deuce for historic significance and entertainment sake. Worth a look, daddies.
"Dee-Dee's beach torpedoes are wayyy frightening, like... hold me!"