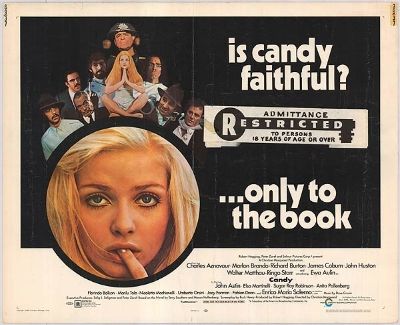 Ewa Aulin is probably my favorite blonde of the late sixties/early seventies, exuding a child-like innocence with sensuality so pure, your heart'd probably stop if you tried to snort a line of it. Nowhere is this more evident than her 1968 star-studded counter-culture sexploitative romp, Candy, based on a satirical update on Voltaire's Candide in the form of Terry Southern's novel (but you knew that already). Unfortunately, Ms. Aulin's acting ability never attained the same levels as her beauty, and this is also painfully obvious to anyone watching the movie, with the bubbly starlet often phonetically sounding out words like she's never heard them before. Propping her up throughout, like a theatrical crutch, are the likes of Richard Burton, John Huston, John Astin, James Coburn, Walter Matthau, and Brando himself. So she's no Bette Davis. She's fucking great to look at.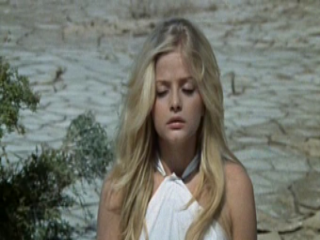 I'd give the Gobstopper to Slugworth for some of this Candy (Ewa Aulin).
Mr. Christian (Astin) has got his square hands full with his teenage daughter, Candy (Aulin), who's snuck off to see Mac Fisto(Richard Burton), the great poet/piss artist who tries to compromise her morals in the back of his glass-bottomed limo (praise heaped upon the upskirt Gods here), as driven by his faithful manservant, Zero (Sugar Ray Robinson), on a ride home from school, with her father walking in on the self-pickled performer raping a mannequin as his daughter sinks Emmanuel the Mexican gardener's (a completely rotten Ringo Starr in his acting debut) balls atop the pool table. While sending Candy off to live with her libidinous uncle (also John Astin), Mr. Christian is knocked unconscious on the airport runway by Emmanuel's vengeance-minded sisters (with no less than Florinda Balkan among their ranks!) just as they board a plane full of soldiers, as led by General Smight (Walter Matthau), and he naturally tries to play 'hide the bayonet' with Candy at 50,000 feet, before sky diving after his men. I'm starting to notice a pattern developing here...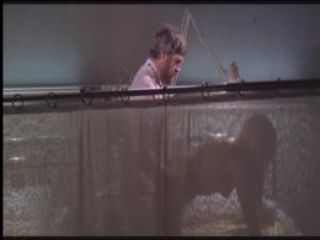 Flint's knocking at yer backdoor, and he's comin' in.
Back on Terra firma, Candy's unresponsive father is operated on in New York by Dr. Krankheit (James Coburn), an unorthodox neurosurgeon who implants an electrical outlet into the back of his domepiece (later used to power a transistor radio at the raucous after party), triumphantly flipping a bloody bird at the medical theater before helping Candy with her...posture. Ahem. When the patient deliriously wanders out into the street, Candy gives chase, after which she's fucked inside a grand piano by a hunchbacked art thief (Charles Aznavour), groped by a pair of beat cops, and enlightened (insert another 'ahem' here, please) by a phony guru (Marlon Brando) who lives inside a customized eighteen-wheeler.She leaves him frozen solid and follows a mysterious hooded figure that turns out to be her father into a collapsing temple before strolling through a meadow in a plain white dress past all the colorful characters she has encountered along the way; her dress becoming more ornately decorated as she goes, finally returning to her otherworldly form and returning to the stars from whence she came.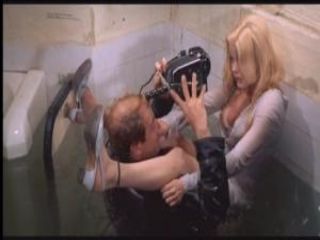 "That doesn't feel like a 'Super 8' to me!!"
The striking Aulin turned up in such genre favorites as Giulio Questi's Death Laid An Egg the same year, and Aristide Massaccesi's Death Smiles on a Murderer as well as Jorge Grau's Legend of Blood Castle, both 1973, as well as an episode of Monty Python's Flying Circus during it's premier season, interestingly enough. I think many negative critics of tonight's film have been unreasonably austere in their judgment. This one plays like a bump n' grind version of an early Jodorowsky journey, though you'll find more honest to goodness T n' A in Alejandro's work than you ever will here. The thrills, like most of the chuckles you'll encounter in Buck Henry's mirthfully satirical dialog, are cheap, harmless fun. A cult classic packed with groovy psychedelia and frenetic energy that entertains throughout that I'd deduce is easily worth three Wops on the scale.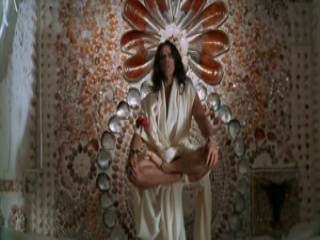 Could you imagine Brando getting airborne like this in '78? Me, neither.