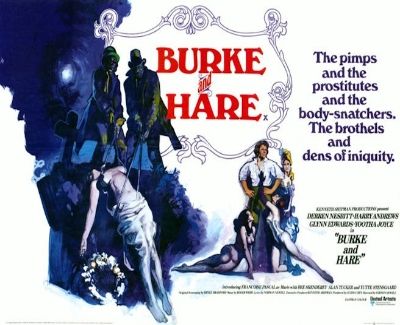 The West Port Murders, carried out over ten months in 1828, by a pair of enterprising body brokers named Burke and Hare, have inspired a slew of genre movie variations to date, from 1945's The Body Snatcher with Boris Karloff and Bela Lugosi, to The Flesh and The Fiends (1960) with Donald Pleasence and George Rose, and even Freddie Francis' The Doctor and The Devils (1985) with Jonathan Pryce and Stephen Rea. Tonight's review is another, the last film directed by Vernon Sewell, the man responsible for Blood Beast Terror and Curse of the Crimson Altar (both 1968), with Derren Nesbitt and Glynn Edwards as the titular duo. This one's played mostly for dark laughs, but you'll have a hard time missing Danish Hammer-pastry, Yutte Stensgaard and dark angel/French Mauritian, Francoise Pascal. Far from a laughing matter, either bird.
These two'd nick your goldfish and pop back 'round for the stringy-wastey bits.
Burke (Derren Nesbitt) and Hare (Glynn Edwards), beware of 'em, the pair of 'em. Life on the dirty streets of Scotland in the 1800's was hard enough with disease and poverty rampant among the flock, and then these two low types decide to go into nefarious business tah-gedder, robbin' corpses o' their final eternal peace and sellin' 'em to Dr. Knox (Harry Andrews) for up to eight bob, as specimens for the dissection table at the medical college, all sneaky in the middle of the night-like. Luckily, there's a brothel nearby, with working girls like Janet (Yutte Stensgaard) and Marie (Francoise Pascal) to...ease the tensions and put good again the humour of young doctors-in-training; one virginal goober ready to fall in love with the very prostitute that deflowers him, after having had a peeped upon romp with a soldier in a kilt, no less.
"Did that feel like sixpence worth to you?", muses Marie (Francoise Pascal).
Needless to say, Burke and Hare expand their business horizons from the freshly deceased to live victims, with Hare holding them down while Burke smothers them, and though the body count begins with sickly old codgers already on death's doorstep and butch, belligerent, booze-soaked barflys who nobody's gonna miss, they're soon setting their sights on club-footed neighborhood waifs and they're also not above icing a fire-displaced hooker or two, should the opportunity arise. When the love-struck student sees his beloved Marie on Knox's slab, he investigates the clues that inevitably lead to our dastardly duo, partying it up on Halloween after having sped a little old lady out of her existence, her body tucked away in a chest. Finally, we're told that Burke is ultimately hanged for his crimes, while an exonerated Hare was set on by a lynch mob and thrown into a lime pit, after which he died a penniless, blind beggar. Cue groovy titular pop tune by The Scaffold and that's another one for the books.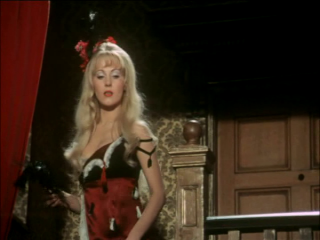 "Don't bother to bring bovver to our brothel, brother.", jibes Janet (Yutte Stensgaard).
The breathtaking Pascal, a fellow Libran who first surfaced to genre fans in the orgy scene in 1970's Bloodsuckers, would famously appear in Jean Rollin's La rose de fer (1973) and in numerous television roles over the years on BBC, from Coronation Street to Mind Your Language.
Man
, she transcends adjectives, she's so
hot
.(Oh, Dub, yer so good to your readers) Sadly, this would be Yutte Stensgaard's last appearance in front of movie cameras,only popping up in an episode of the British television horror anthology, Dead of Night (ironically, her episode was among those lost when BBC purged its back catalog in the seventies) , before dropping off the radar completely. Thankfully, her full talents are on display here, for posterity's sake. Ahem. Two's the magic number tonight on the scale, as well, a body worth snatching once or twice, for sure.
"Stop bloody breevink awready, Papa fancies 'avink a new bowlah!"