Achondroplasiaphobics, proceed at your own risk. Tonight's review stands as the most notoriously insolubrious dwarfsploitation flick of the seventies, a decade that prides itself on quality filth to begin with. From the cheap sets to the actors, most of which never appeared in a film again, and rightfully so, spitting out basic dialog like bitter paste while unable to generate any sizzle in the embarrassing grainy hardcore segments, the whole lurid affair is bound to leave any self-respecting viewer feeling pretty itchy. In other words, a fucking legendary Danish howler that's sure to satisfy the most jaded cult cinephile on movie night, guaranteed.
Torben Bille had a great face for exploitation movies.
Lila Lash (Clara Keller) is a brutal, alcoholic, vitriolic, scarred, has-been of the stage (and she's the
nice
one!), who runs a boarding house in what looks to be Copenhagen, despite whatever they try to tell you here, with the help of her perverted, crippled, dwarf son, Olaf (Torben Bille), who enjoys luring sweet young things into their attic with toy wind up poodles, braining them with his walking stick, then imprisoning them in an especially filthy corner cell and shooting heroin (as regularly supplied inside various stuffed animals by a smack dealer named...Santa Claus) into random body parts (usually an ass cheek) until they're dependent on junk, eventually forcing them to turn free attic tricks for their next opiate fix. Olaf also enjoys peeking in on a pair of destitute newlyweds named Peter and Mary (Tony Eades, Anne Sparrow), who share tins of sardines in their dingy apartment and fuck sloppily all night long when Peter isn't out failing to score a writing job and while Lila and her faithful drinking buddy pound Beefeater and cackle awful show tunes with the sinister little bastard accompanying on piano, like a musical Muttley to her Dick Dastardly.
Mary (Anne Sparrow) does her best to spruce up the dismal surroundings.
When Peter scores a job with Santa, keeping him away from his filthy hole-in-the-wall and wife for long periods of time, it's inevitable that Olaf clobbers the nosy oft-nude blonde while she's sneaking around in the toy-cluttered attic, discovering the naked, filthy, and dope-sick hookers, and becoming one herself, getting a hokey-looking yet effectively sleazy pussy-christening from Olaf's trusty walking stick. Meanwhile, the misogyny is laid on thickly, as spaced out n' chained up objects of love go from being forcibly raped to a state of orgiastic bliss in the time frame of one shaky uncomfortable close up. Safe to say that Gloria Steinem didn't write
this
screenplay... Before too long, Peter finally figures it out and goes to the authorities who bust Santa Claus ( is nothing sacred to you law-upholding bastards?) and converge angry mob style upon the white slave ring. Lila eats a shiv, and then there's the small dummy-chuck off of the rooftop you were waiting for all along.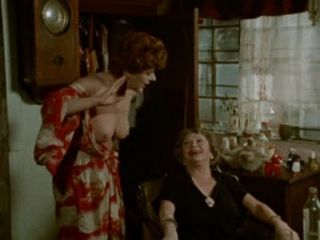 Number of scarfaced, over-the-hill cabaret singers who get 'em out here: One too many.
This one was mostly panned by the Danes at the theaters before getting picked up for distribution under the 'Sinful Dwarf' title by exploitation king, Harry Novak (who else?). The bantam Torben Bille also allegedly hosted some Danish children's shows(!), maintained a career in adult movies(!!), and was even rumored to have married to co-star Anne Sparrow (!!!) at some point before vacating the earthly plane at age 47 in 1993. That's the way to do it, Stallion. Severin delivered the perverted goods in the form of a Special Edition dvd in 2009. Don't let the commonplace two Wop score scare you away from this one, it has to be seen to be believed, for sure.
Olaf makes the girlies say "Ohhh..." while he laffs.