From exploitation king Howard Avedis, the man responsible for drive-in gems like The Teacher (1974) and Sybill Danning boob-nanza, They're Playing With Fire (1984), comes tonight's review, a golden era slasher that features the likes of a scene-chewing Bill Paxton along with Lynda Day George and her husband Christopher in what would be his final role, and let's not exclude a memorable trailer that featured cult legend Michael Berryman, who's interestingly nowhere to be found in the final cut of the film. Though it's pretty standard stuff, borrowing from a handful of earlier genre movies, it can boast of nude scenes from bonny auburn lass Mary Beth McDonough, who you'll remember played Erin on The Waltons. A foine ting, that.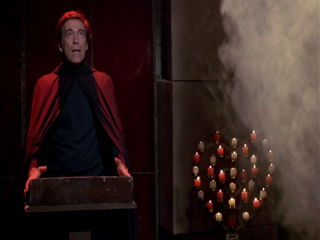 "What a last movie to remember me by!", ponders Hank (Christopher George).
Christie (Mary Beth McDonough) suspects that her father's pre-credit chlorinated pool-death was no accident, her suspicions only strengthened by the onset of nightmares, sleepwalking into the pool in a nightie, and the feeling that she's being tailed by a hooded freak in a morgue wagon. Her goofy boyfriend Greg (David Wallace) doesn't help matters, spying on local undertaker Hank Andrews (Christopher George) as he leads a candlelit ceremony at his warehouse, decked out in red robes, with Christie's mom, Eve (Lynda Day George), in attendance, and getting a tire-heisting pal skewered on an embalming tool in the process. In the meantime, pay no mind to Hank's creepy son, Paul (Bill Paxton), who's got a slightly unhealthy crush on Christie, himself, and is taken to lurking about like a weirdo when he isn't slamming embalming tools into cadavers under dad's militant supervision. Hey, nobody ever mistook this for a murder mystery...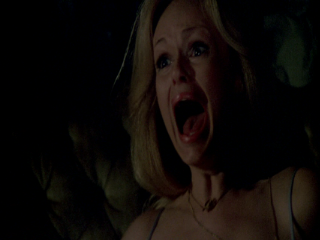 She must be watching dailies from her performance in "Pieces"(1983).
Just as Greg and Christie's investigative spying rules out Hank and Eve, who've been using secret seances to get to the bottom of the girl's father's untimely death, her stalker turns out to be Paul to nobody's surprise, decked out in gothy corpsepaint and hood, eager to terrorize the girl and her mother at the house during a power outage, after Christie wisely interrupts a screw on the living room floor to tell Greg she doesn't want to see him for a while, leaving nobody to protect the women later when Paul gets murderously pokey with his tool again. Hank interrupts Paul's impromptu Happy Birthday to Me (1981)-style wedding at the mortuary, with slumped corpses all seated around the groom and his naked bride-to-be(embalmed), and eats bossy father-type death for his troubles. Greg saves the day with a loaded M-16 he found stashed in a coffin earlier (I would have thrown the top hat at him, but that's just me), only to have the mother's corpse-in-attendance spring to life for a final attack a la Buio Omega (1980) or Pieces (1982). Take your pick.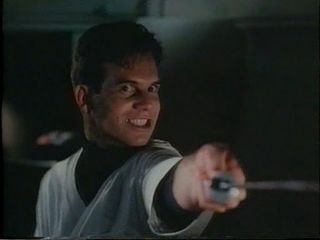 "You bring up that Fish Heads video again, and I'll embalm ya, brah!", warns Paul (Bill Paxton).
David Wallace, who you may have seen in Humongous(1982), went on to a career in television and soap operas. After Christopher's death, Lynda Day George would appear solely in tv roles, with Mortuary serving as her last horror movie appearance to date, as well. Paxton shows up in everything from The Terminator (1984) to Aliens (1986) to Brain Dead (1990) and The Dark Backward (1991), before famously scoring roles in major studio flicks like Titanic, Twister, and Tombstone. On the scale, a mostly predictable cookie cutter slasher with more boobs than blood and more chuckles than atmosphere, and as such, it merits a single Wop. Mehhhh...
Dead chicks can't feel it when you insert the tool. Mortician/necrophiliac jokes make the world go around.