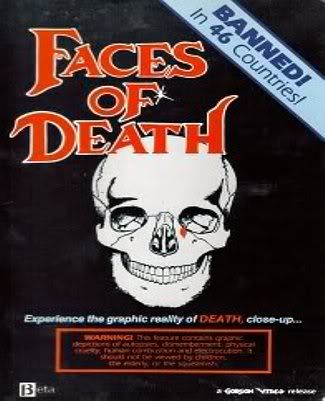 That's a scan of my old big box Beta copy,direct from the long defunct Video World outlet in Kingston.No other box art for tonight's entry will suffice,in my eyes.I can still remember the first time I gazed upon such a loverly sight as this evening's review on video.I had stopped into Hollywood Video further down the Ave an hour or so earlier and picked up the original,only to find the sequel at the aforementioned Kingston store,where a year membership ran you a hundred bucks at one time!Their impressive horror section was primarily comprised of big box releases,of interesting film fodder like Cannibal Ferox(Make Them Die Slowly),Don't Be Afraid of the Dark,the edited Video Gems (Flesh For)Frankenstein,(Blood for)Dracula,and even Andy Milligan's The Man With Two Heads,and everything else in between.With the forefather of all of my generation's shockumentaries in hand(and its sequel),I held a double screening that night in my parents' parlour.
The vast majority of tonight's entry falls hopelessly flat with its many staged scenes of brutality,peppered with enough animal cruelty to flatline Morrissey's ass in seconds,and tied together by an unkempt Johnny Wadd-lookalike who does an awful lot of pondering and wondering throughout the whole sordid affair,which seems slightly less dated than my cousin's blue suede platform heels he wore to junior prom back in 1975 or something.Outdone on every level by later series,Death Scenes and Traces of Death,Faces still holds a special place somewhere in my thoracic cavity,and will probably remain there as a memory until they open me up post-mortem and try to find anything resembling a human lung.Good luck,fellas.I only hope there are no Dr. Gross-types on hand to offer sagacious on camera banter while they're doing it.
That's just double bleeech on the official bleeechometer.Bleeech.
After some open heart surgery footage,followed by body bagged cadavers,we're served up a choice autopsy,some Mexican mummies montages,pointless pit bull fight footage that culminates in some shots of a bloody,dead dog before taking us off to the Green Inferno,the Amazon jungle for more death-related dealings.There's a staged constrictor made to look like a chewed ear of corn by a school of blood-thirsty pirahnas,and some dart-happy Ibaros a-monkey hunting before settling down to fire-roasted simian for dinner with a shrunken head looking on,uninterested.We then travel to darkest Africa for Masai tribesmen supping on cow's blood right off the tap(translation:carotid artery)before cutting the living fuck out of it,leading us to a woman de-headifying some live poultry and some slaughterhouse footage of cows being given the bovine Columbian necktie for the chosen people,followed by the infamous faked monkey brain brunch scene,complete with rubbery scooped out monkey head that's entirely a different color than the original target of dining abuse.Then we get some douchebag hero-type shooting sharks from the safety of a boat with an AR-15,followed by some fur seal clubbings and skinnings,and alligator poachings.Just when you're prepared to flush your last vested faith in humanity down the shitter,the film switches gears and serves up some faked alligator attacks,political assasinations,and SWAT team standoffs with phony head of the family homicides.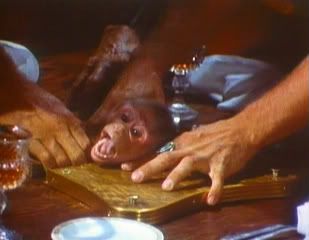 "You've got your salad fork on the wrong side of your plate!",screams the soon-to-be-brained monkey.
Then it's back to the morgue for more cadaver and autopsy fun,before we're treated to a fake death-by-electric-chair execution,where the inmates eyes are taped to avoid them popping out as he's being shocked full of voltage like Ace Frehley(and not to hide the blood tubing for the scene's payoff,mind you).A staged Middle Eastern beheading and fake necrophagic hippie cult's bloody corpse-eating orgy follow that,with a woman's suicide jump to her death over some piped in Dixieland jazz bringing up the rear.Classy.A faked bear attack and some corpse discoveries lead us to the familiar ecological section with hokey protest song about Jesus and a faked man lighting himself on fire sequence before we tread the familiar ground of black and white World War Two footage that includes incendiary bombings and the obligatory concentration camp sequence with emasciated corpses.A section on bubonic plague and rabies leads us to several pieces of film with cholera-ridden Indians and malnourished kiddies.Accident aftermath shots and footage precede an excedingly cheesy paranormal investigation sequence where the ghostbusters monkey with their bunk instruments and sprinkle flour on the floor in hopes of scoring some ghostie footprints.Good luck on that one,boys.Dr. Wadd returns to wax pontificately about living and dying,leading us to a woman popping a tyke out over an appropriately goofy song called "Life" as the credits roll over a mother and her child in a montage Hallmark Cards would find embarrassing.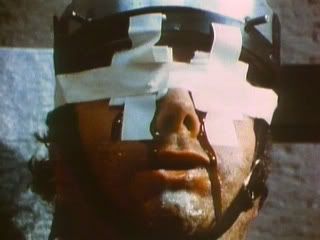 Staged electrocutions are no solution to revenge-minded retribution.
Schwartz wrote and directed tonight's entry under pseudonyms Conan le Cilaire and Alan Black,even starring as the head of the hokey flesh-dining hippie cult within.The film spurred on several sequels of successively declining levels of quality,after reportedly scoring 35 million at the box office alone.It boasted of being "Banned in 46 Countries!",when in actuality,it was closer to five,with dear old blighty the usual suspect at the top of that list(of course).In the decades since,the film has long been surpassed in ferocity by the aforementioned copycat series,and even more recently,in some really heinous mixtapes floating around on the internet these days.For the record,Japanese horse-entrail porn will probably never make it to my list of turn ons.We've come a long way from the innocent days of Mondo Cane,which upon release was actually considered shocking.Welcome to the 21st century,droogies.On the scale,Faces earns one wop for entertainment value,and another for being the catalyst that revitalized the shockumentary sub-genre,dying at the time.Classic stuff.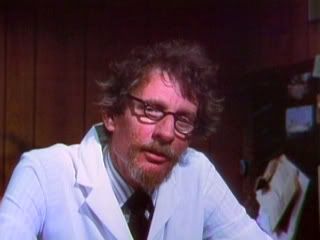 After seeing Dr. Frances B. Gross(Michael Carr),I wondered if having crooked glasses and Autobahn-tested hair was any way to go through the late seventies...