Just when I think I was out, you rascals keep pulling me back in...Not that I don't enjoy reviewing movies for you loverly people,in fact,it's quite the opposite.I
looooove
reviewing movies for you.I just needed a couple of days to recharge the ol' batteries.Much partying was partaken in,and your humble N were very glad of it.Onward. Everything's sneaky up around Sneakyville.Tonight we're covering one of the more recent takes concerning the man who once recorded a song called "Don't Do Anything Illegal" before influencing lysergic acid-drenched members of his flock to go out and "totally destroy everyone...as gruesome as you can" on two consecutive nights in August of 1969,after partaking in a couple of unrelated murders himself a month earlier.Maybe if he took his own lyrics more seriously,he wouldn't have spent the vast majority of his life behind bars,I dunno.In the decades since the outrageous murders,Charlie,or "Jesus Christ" as they used to call him around Spahn's Movie Ranch while wacked out on acid dipped in belladonna and rattlesnake venom,has become somewhat of a cultural icon,appearing on clothing,skateboards,cartoons,trading cards,dolls,you name it and that famous piercing stare with the jailhouse swastika between it has probably graced it.Everybody's got their own opinion on Charlie and his "family",and mine is:Sure,he may have done some questionable things in his day,but at least he almost singlehandedly put an end to the stupid fucking Age of Aquarius.Outside of a Phish or Flogging Molly show,you rarely have smelly hippies to deal with anymore,so thank Charlie for that.
Tonight's review focuses on indie director Jim Van Bebber ("Deadbeat at Dawn","My Sweet Satan",and music videos by Pantera,Skinny Puppy,and Necrophagia,among others)and his labour of love that took over ten years to complete.I've always dug Van Bebber's quirky style of cinematography,and unique visions,so when word began to spread about his follow up to Deadbeat being a Manson movie,I was already on board and eagerly awaiting.Like most of you,I did a
whole
lot of waiting.I'd read people's takes on bits of footage they'd seen here and there and wonder if I was ever gonna catch a glimpse of what promised to be a memorable ride.Eventually,Dark Sky Films stepped in,financing the end of the film,and since,it has enjoyed both a theatrical release and a lush dvd release,as well,which I was all over like Margot Kidder and the shrubbery outside your house.Did it live up to the years of hype?Absolutely.If you're the CSI:Miami type,you might wanna stick with the 1976 telepic,Helter Skelter,but if you're looking for the story through the eyes and words of those actually responsible for the heinous crimes,then you owe it to yourselves to get copies of Manson Family,sharp-ish.Released unrated in the states,there's plenty of gloriously graphic violence and open sexuality to satisfy any hardcore genre nut,as well as a killer soundtrack by some members of Skinny Puppy and Phil Anselmo,who also provides the voice of Satan.Nice.
Really?Three sugarcubes?You should maybe think about sharin',Tate.Insert rimshot.
At the outset,the viewer jumps from 1969 when the infamous murders took place,to 1996 where reporter Jack Wilson (Carl Day) is assembling a documentary about the Manson Family murders utilizing interviews from both eras with the family members,and reconstructing the crimes themselves.The earlier footage involving Tex (Marc Pitman), Patty (Leslie Orr), Sadie (Maureen Allisse) and Bobby (the director himself!)chronicles the hallucinogenic and orgiastic lifestyle the youth had come to realize,and later,the manner in which their self-imposed hedonism finally turned back into a pumpkin,with a barrage of failed record deals,mounting money problems,in-cult rivalries,and the inability to cope with these problems when you're constantly banged out of your fucking gourd on drugs,culminating in the ritualistic slaughter of several innocent people who happened to be at the wrong place at the wrong time.The murders,though slightly hindered by Van Bebber's budgetary woes, are masterfully protrayed with a systemic shock of realism,without the slightest coating of Hollywood gloss,making for a very sobering viewing experience.Make no mistakes about it,Van Bebber's Manson(Marcello Games) isn't the media-concocted,silver tongued sociopath with strange mental powers here,he's simply the uneducated hayseed jailbird with precious little talent,and even less ability to keep his steady flow of indiscernible drug babble to a minimum.That he was able to influence so many people of decent upbringing to such unspeakable acts of sadism remains a historical question mark.The director keeps him mostly in the wings,as a sort of necessary set piece,instead focusing on the "family" themselves.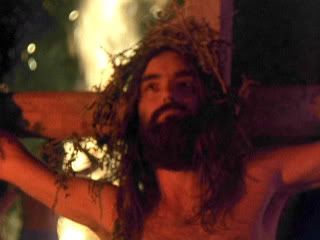 That's what you get for "Garbage Dump",Charlie.
The reporter,a sensible middle aged man,has little compassion for his subject matter,treating the groups constant orgies and mind-altering acid trips with a moral repugnance and antipathy you'd expect from someone like him.What he doesn't realize,is how deeply intrinsic Manson's iconic status is to many disenfranchised youth,even decades after the fact.Due to his publicized work on the documentary,Wilson is unknowingly stalked by a group of teenaged meth-headed psychopaths,one of which goes by the name Zezozose,the name family member Susan Atkins gave her infant son back in the flowery pre-Death Row days.The group eventually overtake the reporter,explaining the meaning behind "Charlie Don't Surf" before violently stabbing him to death then killing each other.Though I've heard quite a bit of negative feedback from colleagues over the director's fictional framework,I happen to like it as a sort of moral to the whole story.As ineffective a shepherd Charlie was and is,he'll never have a shortage of mindless sheep to wrongfully exhalt him to messianic status,and do his dirty deeds,afterall.
I've hosted this same party quite a few times myself.
All in all,the budgetary limitations(some of the makeup,acting) only add to the grindhouse atmosphere present in tonight's review,raising its stock,in my opinion.I've seen just about everything Manson-related,and this movie sits at the top of my list of such cinema.In conclusion,if you find Manson's story halfway interesting,you'd do well to screen this one.Van Bebber offers seldom-visited insight into young lives that were turned upside down or in some tragic cases,ended prematurely, with some obviously hardcore research hours logged(I've done it myself,so it can be said),and his inimitable verite style of filmmaking and editing equivalent to serving up a satisfying slab of genre goodness for all parties interested.He's a base talent of the rawest caliber,for sure.If you aren't a fan of his work already,this will make you one.The highest scale rating possible and a full recommendation from your humble N for tonight's entry.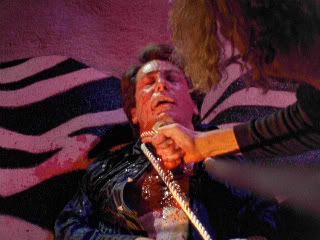 They're just scratchin' peace symbols in his tombstone.