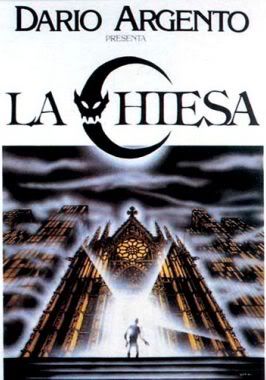 Ah,the lazy,crazy,hazy days of summer are upon us at last,droogies.Hook me up a comfy lounge chair,some grilled animal flesh,an AMP Big Rig,a fat quarter of Iraqi sativa,and some cigarettes,poolside with a bevvy of buxom brunettes in micro-bikinis to fan me down and pop grapes into my yap,and I'll meet you back here at the end of August.I had planned on kicking off the month of July here at the Wop sometime yesterday,but let's face it...I was
far too twisted
to attempt to type even one word for most of the day,all of the evening,and even most of the morning today.Ernest Hemingway,Keith Moon,Syd Barrett...bunch of Marys.Also,I've rethought my official stance on the
"duck face phenomenon"
currently sweeping teh interwebs,and come up with the following lone exception to the rule:Only acceptable if it's
being made by Dai Green,and directed towards me
.'At's more of a smoochy,kissy face than a mallard mouth,anyway,no?Go ahead and accuse me of bias,you think you'd be the first??Hahaha.Onwards.
Tonight we examine the film that was to be the second sequel to Lamberto Bava's Demoni(1985),produced by Dario Argento,and directed by Michele Soavi,with creature and gore set pieces served up by the maestro,Sergio Stivaletti,and a game cast that includes a pre-sultry teenaged Asia Aregento,Giovanni Lombardo Radice,Barbara Cupisti,Tomas Arana,an atmospheric,creepy score by Keith Emerson and Phillip Glass,with tracks by Goblin,and a screenplay collaborated on by Soavi,Argento,Dardano Sacchetti,Lamberto Bava,Franco Ferrini,and Fabrizio Bava.Soavi had grown tired of what he refers to as "Pizza Schlock" and strived to move beyond fare of this type here,and succeeds on several levels,in my opinion,displaying a visual flair that rivals Argento at his best,taking a serious approach on a series that unflinchingly threw the kitchen sink at the viewer prior to this entry with varying success,although there's still a whole helluva lot going on here,with several frames-in-tribute and excellent period and modern sequences adeptly handled by Argento's protégé,as expected.Released internationally as "The Church",tonight's film surpasses either of Bava's first two chapters,and stands on its own as a superlative slice of Italian genre from the eighties.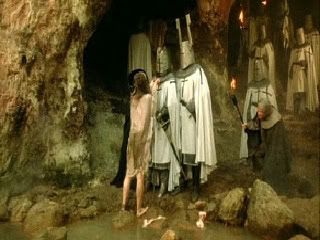 "We're looking to party heartily with young chicks bearing the stigmata...you in,baby?"
In medieval Italy,the Teutonic Knights stumble upon a little village of peasants,and acting on the word of an accuser,slay the men,women,children,and livestock(!)on the spot because one of the girls(Cupisti)bears the stigmata,or Devil's mark on her foot.A mass grave is dug for the victims of the religious purge,then sealed with a massive cross.Moving to modern day Italy,we see that an enormous gothic cathedral has been built on the cursed spot,where Evan(Arana) is beginning his job as librarian.Here,he meets Lisa(also Cupisti),who is restoring sections of the church's fading frescoes,and before you can say,In nomine Patris et fillii et Spiritus Sancti,they're grinding naughty bits together.Lisa discovers an ancient,yellowing scroll after breaking through a crumbling basement wall,which leads Evan to believe something is buried underneath the cathedral,upon translating the parchment.By dislodging the figure of a goat with eight eyes from the basement floor,he unwittingly unleashes demons upon the parishoners and clergy alike,and all Hell begins to break loose.The sacristan,whose hands are usually full with his teenaged daughter Lotte(Argento) sneaking out through secret passages to smoke cigarettes and boogie at local discotheques,becomes convinced he is really the Angel of Death(!),and accordingly runs himself through on a jackhammer(!!),triggering an ancient alchemist-built mechanism that seals off the lone exit to the cathedral,trapping the unleashed evil inside.
Whatever they're combining to form,it ain't Voltron,that's for sure.
There's a throng of victi,errr,people who find themselves on the wrong end of the massive sealed door,ranging from an elderly hip-talking elderly woman and her miserable mate,to an entire wedding fashion shoot,to a pair of motorcyclists,and everything in between,and the possessions and inventive deaths fly fast and furious from here on out with chaotic regularity.Lisa is visited at home by the Goat of Mendes himself,and after the old woman drags her husband up to the belltower,she severs his head and rings the bell with it(!),spouting groovy one-liners the whole way,the bikers dig their way down to a subway tunnel,and the female biker's face is pulverized against the windshield of an oncoming train like flaky oatmeal(!!),possessed schoolchildren prey upon their nearsighted teacher and each other,the main fashion model imagines she has aged prematurely and claws her own face to shreds(!!!).Amidst the madness Ol' Scratch has dreamed up for these unlucky bastards,there's a Satanic ceremony taking place in the basement,where Lisa is being offered to the dark lord and master himself,and a huge writhing orgy of people forming a horned monstrosity rises from the cracked cement below.Father Gus(Hugh Quarshie) enlists Lotte to help him escape the doomed structure through the secret passages in the church's catacombs.In the end the church collapses upon itself with only the sacristan's daughter surviving the modern day purge.She visits the site to place flowers in memory of her parents when some of the stone falls away to reveal a passage beneath.She looks down into the darkness and smiles.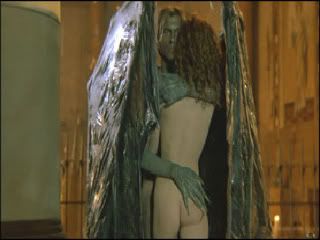 I think Soavi likes Boris Vallejo.A lot.
Soavi,who shows up here as an uncredited policeman in black leather gloves(a tribute to Argento's gialli), would follow this up with La Setta(1990),which we'll be scrutinizing here very shortly,and
Dellamorte,Dellamore(1994),
arguably the greatest zombie film(and one of the greatest horror films) ever made,in my opinion.Quarshie went on to work in Highlander(1986) and Nightbreed(1990) before moving on to recurring UK telly work.Arana would also do Soavi's Setta the following year,as well as Last Temptation of Christ,Ridley Scott's Gladiator,and others.Cupisti worked on Fulci's Lo Squartatore di New York(1982)and Argento's
Opera(1987)
,while Argento's daughter would go on to a fruitful acting career in all sorts of genres,most importantly,scoring a lead in George A. Romero's Land of the Dead in 2004,which we'll also be covering here soon.All in all,a solid effort from one of my favorite directors,with enough gore,chills,and solid performances to keep you glued to your favorite chair for a hundred or so minutes.I really can't wait to see what Soavi brings to the table next.This entry writhingly rises from the depths of the cathedral,with a three wopped goat leading the charge in the fight for immortal souls.Check it out!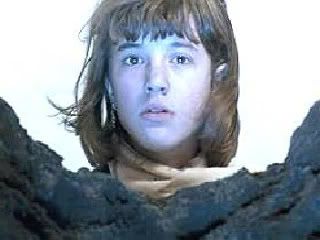 "Pssst,Asia!Yeah,down here.We're giving out free vulva tattoos,you want one?"