Dio scapa da letto senza gambe!
The weather's like your family favorite,overachieving dork cousin out there,pals o' mine,no matter how much time you spend with it,it never seems to get any cooler.That one,like my last live-in girlfriend,was cheap and easy.I'm planning on partying it up a little bit once the sun goes down,but I wanted to throw a new review up for you guys beforehand.I've been dragging ass the past couple of days,the heat's got me moving slower than the second reel of "A Clockwork Orange"(1971) over here.All truth.Current humidity-based lethargy aside,we're on ched to surpass all three previous years at the Wop in review volume regardless,so go easy on me,you ass-slap happy bastiges.I did the rural Pennsyltucky amusement park thing the other day,and if I had a dime for every semi-nude overdeveloped teenage girl with dirty feet I saw,I'd be breaking open a brand spankin' new carton o' smokes right about now.I'm happy to report we've recently moved up to the
number three spot for exploitation movies on networked blogs
,
tanto meglio e molto grazie a tutti dei miei "woprophile" amici,abbracciandoti e baciandoti caramente!E' figo.Vieni con me,non e' vero?
The colorful,eye catching one-sheet for tonight's entry hung in my room for quite a while back in the eighties after seeing it at the Gateway Twin Cinema in '81,and when someone'd ask about the movie it represented,I'd exclaim,matter-of-factly:"You're looking at the best part of it." which is really speaking volumes,because the two hardest things to do in 1981,in no particular order,were:squeezing your ass into Sergio Valente jeans then evening the giant cuffs at the bottom,and convincing an eleven year old me that there was a such thing as a bad horror movie.I'd just never buy it.I'd defend
any
horror movie,regardless of how bad it was,to
anybody
.But even that younger version of me would still tell you that this one sucks.As years went by,the one-sheet came down off my wall,and the movie disappeared from my memory,for the most part.Then,inexplicably,I started romanticizing about it,forgetting what my old man had said as he walked outta the theater with me("That was STUPID!And CHEAP!")and wanting to see it again,recalling an impressive cast of B-movie staples like Erin "Happy Days" Moran,Sid Haig,Edward Albert,Robert Englund,and Ray "My Favorite Martian" Walston,and something about a giant space maggot raping a pillow-chested broad and sliming her to death.As the VHS era had long since passed,and I had dumped thousands upon thousands of video tapes,and since tonight's review had been surpassed for dvd release to that point,I scored myself a bootleg,and got comfy on the couch with two packs of smokes and ample AMP energy drinks,ready to rediscover what I had convinced myself was a "lost gem"...
Alluma(Moran) is psi-sensitive.Mean nothing to you?Don't sweat it,it means nothing to the plot,either.
The spaceship Quest is sent to the far-off planet of Morganthus by a gent called the Planet Master,who's sort of like the Dungeon Master except his head is a glowing red ball of light instead of greasy hair,coke bottle glasses,and zits the size of golf balls,to investigate a recent crash and search for stranded castaways.Aboard the Quest,Captain Trantor(Grace Zabriskie),the lone survivor of a historic disaster which has her entire crew wary of her piloting skills,puts their minds at ease with roughly thirty seconds to prepare for her several dangerously risky hyperspace jumps to the planet,culminating in a crash landing next to the ship they were sent to look for in the first place.See?She was the right woman for the job,afterall.After some limp in-fighting,the crew sends a surface team out consisting of Quuhod(Haig),who has a hard on for crystal throwing stars,Alluma(Moran),who is psi-sensitive and the main love interest of Cabren(Albert),the ship's official porn stache,Cook(Walston),who is...yeah,the ship's cook,Baelon(Zalman King),Ranger(Englund),the ship's high-strung engineering officer who loves to argue,Damiela(Taaffe O'Connell),the blonde with big tits who's afraid of worms,Commander Ilva,and Private Cos,the intergalactic reboot of Don Knott's Mr. Chicken.Upon finding the corpses of the former crew,the quick-thinking,hair-triggered team incinerates them immediately with laser fire.Thinking nothing of it,they return to their ship,leaving Cos behind to have his brain chewed upon by a stop motion insect-thing of palpable low budgeted origins.
Robert Englund,pre-cheesy glove knives,holding a cheesy prop laser pistol instead.
The crew sets out again to locate the rootage of the distress call,this time investigating the giant alien pyramid a few hundred feet away.Ilva,overwhelmed by his duties,hands command over to Baelon,and is then sucked dry by retractable rubber hand puppets.Quuhod uses his crystals to gain entrance to the pyramid,but is emotionally devastated when they break,and even more so when a shard flies into his arm,causing him to sever it before it does any more damage,failing stoutheartedly when that severed arm plants a crystal into his chest.Damiela stumbles upon Quuhod's corpse,teaming with maggots only moments later,and incinerates it according to ship protocol,only one little writhing critter escapes the flame,only to grow to enormous size,and tear off all her gear with its slime-soaked mandibles and hump her to death,coating those sweater puppies with ooze and leaving her slimy,naked corpse very dead,and apparently,well satisfied.The captain manages to cook herself alive like a Christmas ham,Baelon gets dispatched by a lackluster rubbery beastie,and Alluma gets squeezed by disappointingly non-rape minded tentacles that cause her head to explode(wouldn't you have loved to see that on Happy Days?Fonzie:"Whooooaaa,Shortcake's head just exploded,Mr. C!Conference in my office.")leaving Ranger and Cabren to realize that its the crew's own inborn fears that are killing them.So...what's the scientific term for fear of being raped to death by giant space maggots again?Cabren faces off against the Planet Master,who's doffed off his Ray Walston cook disguise,and slipped into his more comfortable red glowing head,and informs the 'stache that the pyramid was a toy for the minds of ancient race's children to overcome their fears.Cabren kills the Master for wiping out his crew,thus replacing him as the
new
Planet Master,his moustache forever obscured by a nifty red glowing head.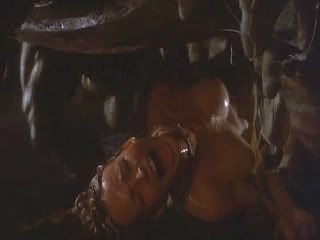 "Baby,that's it!Stroke my laterohypopharyngeal organ,you filthy little minx!"
It took me several days to gather my thoughts on this production,and it'll probably take you twice as long to sit through the damned thing.This would be the second film James Cameron worked on,as production designer and second unit director,and it's been said the infamous space maggot rape scene was handled by Jimbo himself.Gotta give the guy credit for that,at least.That's not something very many filmmakers can throw on a resume,right?Another tasty bit of useless trivia concerning Galaxy,is that no less than four members of the principal cast has appeared in different incarnations of Star Trek,with Haig actually appearing on the original series itself.I'm sure all of them would agree that this was a budgetary step downwards from then.This would also mark the last film Clark would direct,after helming genre fare like Hammer prior to in the seventies,giving rise to the question,how much of a talentless hack behind the camera lens do you have to be before the likes of Roger Corman sends you curbward?Once you've sit through Galaxy,the answer will make itself apparent to you.The film met with ratings board resistance early on,facing an X rating if it didn't greatly expurgate the infamous horny foodworm scene(it was all there in the theater),though later prints would restore the scene in its entirety.Besides the rubbery special effects,it must be noted that the script also fucking sucks and is brutally lazy,where every character's lines are bereaft of personality save for some bickering and whining,all of which is delivered lifelessly,of course.Corman could have had himself a medicore Alien-rip off on his hands,but the finished product falls well flat of even that grade curve.The only positives I could cull from the whole experience are the aforementioned fly larva-fuck scene,and as inept and boring as it stands,at least it
isn't
Inseminoid(1981).Rubbery monster hands emerge from openings on a familiar set used on two or three other movies previously, and slap a mere single wop across your face.As my father said that day in 1981,"That was STUPID!And CHEAP!".Father knows best.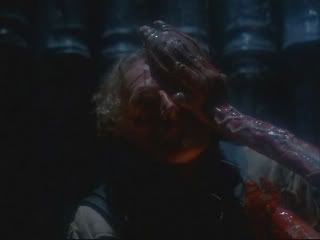 He was about to facepalm himself for signing on to do this yawnapalooza,but a rubber hand beat him to it.