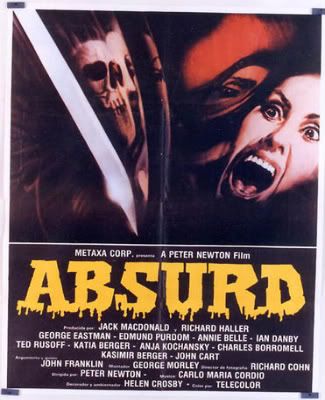 A lot of you droogies' first experience with tonight's entry will have come with the Wizard Video vhs release back in the eighties,as "Monster Hunter" in a big box only slightly smaller than the average Irish girl's ass.Ease up,Molly,I'm just sayin'.Though it was often marketed as a sequel to Massaccesi's "Antropophagus",it bears little resemblance to that film,other than the casting of George Eastman in the antagonist role,and the several outstandingly original gruesome guignol-esque set pieces featured within.It plays more like an Italian Halloween rip-off than the aforementioned cult classic,yet still merited inclusion as one of the infamous thirty-nine Video Nasties successfully prosecuted under the Obscene Publications Act in dear ol' Blighty back in'84,making the original uncut Medusa tape highly sought after in the collectors world.Aristide handles the red meat of the production with the same zeal of his fellow mediterranean colleagues,but fumbles when dealing with most of the scenes tying it all together,instead serving up repeated tear-shedding tedium in its place,apart from a lot of spirited
smoking
...I dig that,you know.Also interesting to note,is the German National Socialist Black Metal band who took their name from one of tonight's alternate titles,Absurd,before strangling one of their fans to death with an electrical cord.And you thought Hall and Oates had some unhinged promotions!The cast of tonight's focus includes Edmund (Pieces) Purdom,Christian(Caligula:The Untold Story) Borromeo,Katya Berger,and the always delectable Annie (House on the Edge of the Park)Belle,with a cameo from director Michele Soavi as a biker bound for the bodycount!Despite its weaknesses,Sangue is a fairly decent little slasher from a director whose main legacy will always be hardcore porn.Good stuffs!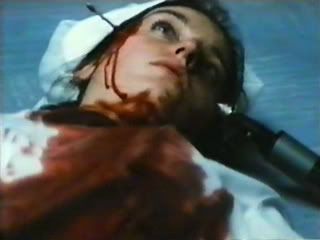 You know the drill,this nurse is a little bit screwed.
At the outset,Mikos(Eastman) is being pursued by a man garbed in black(Purdom)through some dense woods.The chase leads the men to the grounds of a house,where the pursued unwittingly impales himself in the labonza on a gate spike,staggering to the house where he collapses,spilling his entrails on the floor like so much vermicelli into a colander.After he's taken to the hospital,the medics notice that he seems to be healing his own wounds without treatment.Sgt. Engleman(Borromeo),the head badge in charge,takes the mysterious man in black who's been hanging around,for questioning,but his lips will sink no ships.Soon afterwards Mikos breaks out of the hospital,skewering a nurse's head with a portable surgical skrewdriver in the process,and suddenly the stranger is ready to sing the sordid song to the authorites like Samantha Sang belting out her flash-in-the-pan hit, "Emotion" with the Bee-Gees on backup on Solid Gold.It seems he's a...biochemist priest(huh??)who runs a reasearch institute that Mikos managed to escape from after becoming contaminated by...umm,something or other,they're awfully vague here,so just throw in a "how come" of your own,I guess...which gives him the ability to regenerate dead cells and tissue,meaning he can self-repair any damage done to his body,save for his grey dome-sponge which,the priest relates,also happens to be the only way to kill him,and that naturally,the contamination has left him a pychopathic killer.Sounds reasonable enough to me.Mikos is struck by a hit-and-run driver,Dr. Bennett(who's apparently in some kind of rush to catch the football game at a friend's house with his wife,makes sense),while doing in a biker(Soavi),leaving the children,Katia(Berger),the disabled daughter with a spinal problem,Willy(Kasimir Berger)the incorrigible little bastard,and Emily(Belle),the delicious babysitter,as a veritable slasher smörgåsbord for the approaching "beard that slays".He introduces pickaxe-based death to a girl's skull cavity and parts the fissures in a bald orderly's skull with a bandsaw,leaving a superhuman maniac in a house with three virtually helpless victims.Let the chaos begin,right?Not exactly.
So that's where fresh pancetta comes from...
Emily prances around the house,little Willy watches entirely too much of a soap opera on television(which means,
we
end up watching entirely too much soap opera on television,if you know where I'm going here),the priest and cops drive around aimlessly,and the childrens' parents at a friend's house watching entirely too much of a football game(which means...yeah,
that
drill again)which adds up to roughly twenty minutes of screen time.I shit you not.
Where
was Mikos during this lull in the action?
What
was he keeping himself busy with the whole time?Don't be so goddamned inquisitive,horror fans,those details are
Nihil ad rem
to the mind-n-chunk blowing climax that follows.If you thought the drill and band saw deaths were a bit crass with prolonged focus on lurid details,you ain't seen nothin' yet.Mikos crosses paths with the already volcanically hot Emily,and decides to bake her head in an open oven,while she struggles,still alive.Slowly.Like,go and microwave yourself some Hot Pockets,pour yourself a drink,go out for a cigarette,come back in and he's still baking her frigging head slowly.At which point,Katia miraculously loses her traction,straps and weights,and squares off with the Beard to defend her annoying little brother,who she sends off to get help,from the "Boogeyman".She blinds him with a set of drawing compasses(!)before wailing away at his neck with a ornately fancy axe that an Appalachian goober might have bought off of the Home Shopping Network at three am,if she didn't already have it,finally decapitating him,"destroying the cerebral mass" once and for all.As if watching stuff like this on a regular basis doesn't have the same adverse effect on ours!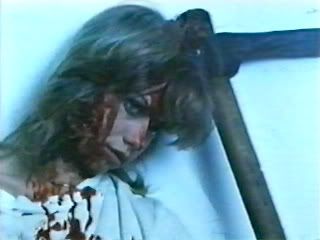 Mikos(George Eastman) is still waiting for her to pick an answer to the question he axed.
The score for tonight's entry was handled by Carlo Maria Cordio,a mash up of electronic synths,cheesy guitar riffs,and a reboot of some of the music he penned for Umberto Lenzi's "Mangiati Vivi" oddly enough.What's missing here is the creepy atmosphere that D'Amato(Massaccesi...tomayto,t'amato) produced for his earlier Antropophagus vehicle.Maybe it was the desolate Greek village,maybe the oatmeal n' latex pussed Montefiori(who also wrote Sangue) that struck a nerve in your humble N,but whatever the former had,the latter seems to be missing.If you're as heavily into Italian genre fare as I am,though,you'll definitely wanna score a copy of this flick for yourselves,if only for the gore effects and another loving look at Longtime girlfriend of Pier Luigi Conti aka Al "I'm a lucky,lucky man" Cliver, Annie Belle.The bottom line is this is a Massaccesi vehicle that
isn't
steeped in graphic depictions of the coital act,and still manages to score two wops on the scale.That,itself,is moderately impressive,is it not?
"That's for doing 'Murder She Wrote'!",Katia(Katya Berger)triumphantly exclaims as she raises Bradford Dillman's exsanguinated domepiece to the heavens.