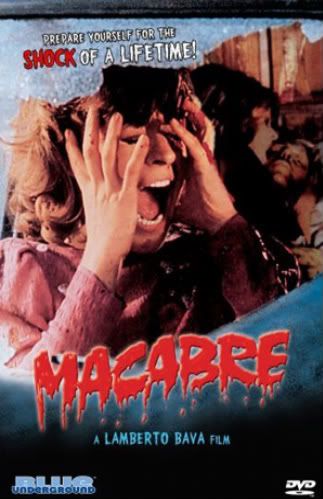 After assisting his father, the iconic legend, Mario Bava, on several of his films in the seventies, Lamberto Bava of
"Demoni"
fame, set out to make a name for himself in the cinema with tonight's entry, a strange, slow-moving gothic number with equal parts psychological and exploitative thrills for the viewer, not overly gory by anyone's standards, but surely perverse enough to delight genre fans.What makes this all the more impressive is the fact that the film's big shocker payoff is given away on most advertisements and sleeve art for the film(hint: there's a severed head involved...).Overall, Macabro is clever in its voyeuristic execution, playing reality against fantasy and daring the viewer to keep score on which is which.Bava daringly cuts between events in contrast as a lovemaking session while a murder is being committed with an eccentric sense of humour, while never losing the suspenseful angle he clearly absorbed from years around his father, throughout the entire affair.To purvey the perversity, Bava enlisted the talents of Bernice Stegers, genre vets Stanko Molnar and Roberto Posse, and oddly enough, Veronica Zinny, whose brother Karl would later appear in Bava's Demoni as prep-creep Ken of the sweater-draped shoulders, and who would not act again after her appearance here(!).The screenplay was handled by Bava, Pupi Avati and his brother Antonio, and Roberto Gandus, and according to Bava himself, is based on a small American news story from the late seventies(just how much fact remains in the finished product is anyone's guess, really).But let's not get a-head of ourselves, shall we?Sorry.Onward!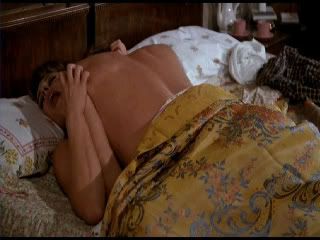 La fica malvagità distruggendosi.Get in there, my son!
Mrs. Jane Baker (Bernice Stegers),a restless New Orleans housewife with wandering eyes, seizes a prime moment for infidelity, sneaking off for a coital liason with her lover, Fred(Roberto Posse), leaving her two children behind.Her daughter Lucy (Veronica Zinny) takes the opportunity to drown her little brother Michael in the tub(!), telephoning her mommy about the terrible accident that's just occurred afterwards(!!). Blinded by grief, Jane lets Fred drive them quickly to her home, but they miss a curve and he eats a guardrail with a side of windshield, killing him instantly and spattering the negligent adulteress with ample red stuff.Twelve months pass when Jane is finally released from the mental hospital(cue classic Suicidal Tendencies track here), returning to the very flat where she formerly got her extramarital fuck on with the currently very dead Fred. There she erects a shrine to his memory and fantasizes about his lovemaking skills, which rapidly retorverts into carnal oestrus.Downstairs resides a blind musical instrument repairman named Robert Duval(another L on that surname and they'd have made a funny) who's taken a shine to the distraught woman.Her husband has custody of the diabolical daughter, while Jane prickteases her new sightless neighbor to no end, leaving him emptyhanded while hearing the sounds of her furiously loud nightly masturbation sessions just above his ceiling.Poveretto!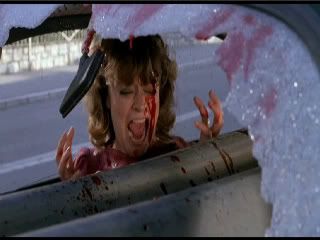 Cazzo no!Ho pomodoro sul mia faccia!
Meanwhile, when Lucy comes to visit her mother, she noses around Jane's apartment, finding the freezer padlocked for some
odd
reason.Yeah, that's an understatement, alright.Her daughter thoughtfully begins to leave framed photos of her dead son around the room as morbid mementos to send her old lady back to the squirrel farm from whence she came.If only she knew the horrible truth.The one 'l' Duval vainly tries to impress the object of his affections by whipping up some Campbell's chicken noodle soup.Strangely, her panties remain in place.Soon, the fuck-racket upstairs has him blindly investigating his way around the homestead, seemingly just fractions away from laying his mitts on something utterly
grotesque
, despite the fact that Jane
never
entertains any company...In divulging the gross details of the mind-blowing finale, Jane has been keeping Fred's decapitated, decaying domepiece locked in her freezer, taking it out for lengthy, foul make out sessions nightly before double-clicking her mouse, I'm not really spoiling
anything
here,as you'd pretty much
know
this within seconds of picking up the Blue Underground dvd, the earlier out-of-print Anchor Bay release, the "Frozen Terror" vhs....Yeah, you see where I'm comin' from, don'tcha.Hit the lights.
"Rub a dub dub, io ha annegato il mio fratello nella vasca.", mocks Lucy(Veronica Zinny).
Bava used this production as a springboard into more genre fare of varying degrees of effectiveness like A Blade in the Dark(1983), Devilfish(1984), Demons & Demons 2(1985, 1986 respectively), and Delirium(1987), before ultimately growing comfortable in the television medium in the nineties.You'll know immediately if this one sounds like a good fit for your Italian horror sensibilities or not.If you're anything like your humble N over here, you'll probably dig a screening's worth alright.On the scale, it gets propped hollowly upon a bed of ill repute with a rating of two B.W.'s.Worth a look, for sure.
"No, no, no!I said the headboard was rotten."